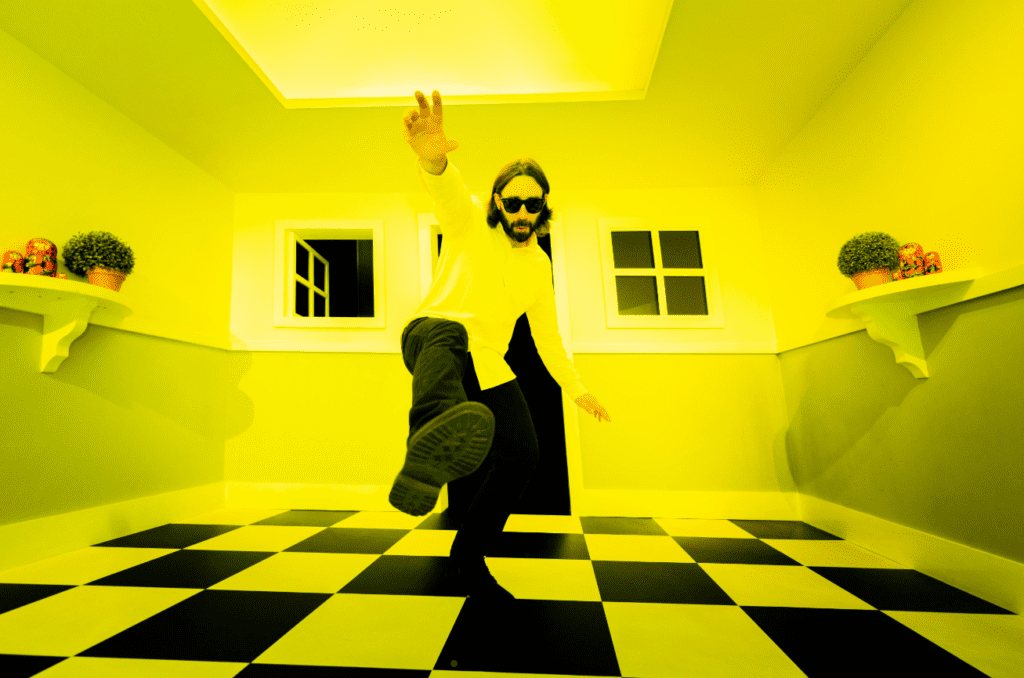 Enigmatic artist def.fo has shared the title track of his hotly anticipated album Eternity due to drop on 15th December. Liverpool-based def.fo, aka Tom Powell, paints a vivid picture of a simulated utopian reality suspended in the cloud forever, taking its inspiration from the evocative San Junipero episode of Black Mirror. 'Eternity' is a place where the cares of the real world fade away, leaving behind a blissful, technicolour existence. A psychedelic kaleidoscope of a song the sonics envelop the listener in a warm cloud of ethereal harmonies. Bleached by the sun, the soundscapes stretch out for miles, bathing the listener in beauty. def.fo's fresh vocals float above jangling multi-layered riffs, laced with Beatles-like harmonies soaring ever closer to the heavens. He sings, "I'm Sitting on a Cloud trying to catch a song…Climb aboard hitch a ride with me" and even within the first few bars, the listener is hooked aboard that cloud, floating with them.
Here in this angelic soundscape; a dream destination where a fine web of psyched-up, synth-like guitars, sweet, hazy melodies, and other-worldly lyrics converge, teleporting the listener to a place where only real happiness and true freedom can ever reign – the wondrous realm of Eternity.
def.fo's latest track gives us a tempting taste of the upcoming album. Eternity is a collection of powerful songs that draw upon the very best kind of Anglo-American exchange: Scouse and Californian psychedelic accomplices- their wayward journey guided by resonance from Liverpool to the West Coast, somewhere between the sixties and the nineties. Watch the futuristic animated video for his latest track here:
Tom's artistic path was destined from the start. The son of a cult record producer, Tom has been writing songs since the age of three and he was the bass player for Michael Head and the Red Elastic Band. He enlisted a collective of proficient studio accomplices to help make a debut record that will stand as a testament to his evolution as an artist.
The rich sonic alchemy of 'Eternity' is brought to life by the father-son production duo of Tom Powell and Steve Powell (The Strands, John Power, The Stairs). The single was mixed by Roy Merchant (Omar, M.I.A, Basement Jaxx), and mastered by the illustrious Howie Weinberg (Blur, The White Stripes, The Vaccines). 'Eternity' showcases the musical talents of Tom Powell (Michael Head and the Red Elastic Band) on vocals, guitar, and bass, and the rhythmic prowess of Jake Woodward (Nova Twins, Peter Perrett) with an infectious and compelling drum groove.
Eternity' is a warm, heady, intoxicating mix- a unique blend of swirling psychedelia, warm folk, and pin-sharp trip-hop. This unique record will guide you, taking you by the hand into the dark corridors and bright, sun-kissed mornings of an active imagination.
Pre-order Eternity now: