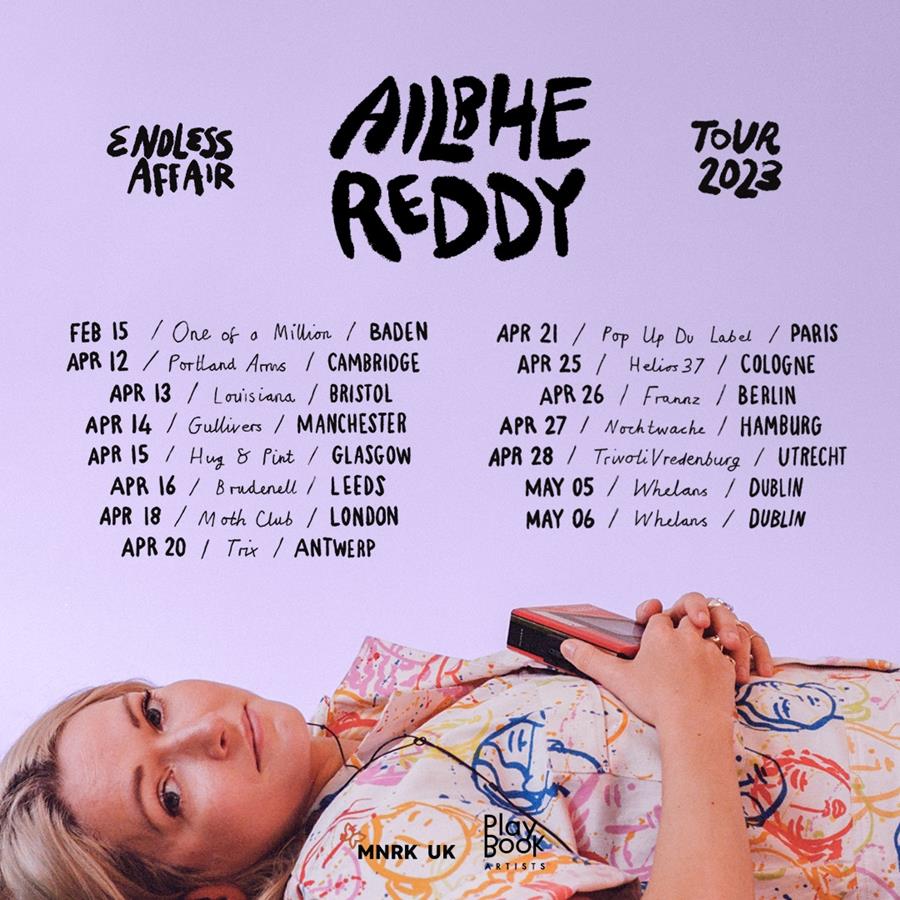 Irish indie artist, Ailbhe Reddy, has just dropped her latest single, 'Last To Leave;' an intensely beautiful and dreamy lo-fi journey of love, romance and embarrassment, giving us another glimpse of her upcoming album, 'Endless Affair' out on 17th March. Known as an artist who finds strength in sensitivity, Ailbhe embraces the full power of the moment in this track.
Speaking of her latest single, Ailbhe says: "It's about having an infatuation with someone who you find frustrating and watching as they make a fool of themselves at a party, while knowing you might be doing the same thing." Listen here:
Ailbhe ended 2022 on a high with her song 'Shi*show,' sound tracking Ireland's highest-rating talk show, The Late Late Show.
Upcoming album, Endless Affair , starts with the lines, "Tell me how did I get here? this endless pitiful affair." It's quite the lyric for Ailbhe Reddy to open her new album Endless Affair with, but one that smartly captures the central idea it addresses: the challenges we face in letting go and accepting finality.
With her new album Ailbhe Reddy poses these ideas across a spectrum covering the playful and up-beat to the sombre and heart-wrenching, plotting the album's path in a way that mirrors life's own evolution from the care-free to the more serious.
Leading up to her album release, Ailbhe will play a number of intimate venues in the United States and the UK, beginning with one of New York's most famous bars and venues, The Dead Rabbit on 3rd February culminating in a performance at SXSW in Austin, Texas. After that, she returns to the UK, where she is now based, where she will embark upon a UK, Europe and Ireland tour, finishing up with two back-to-back Dublin shows in Whelan's Main Room on Friday 5th May and Saturday 6th May. All tour dates below.
Pre-order the Endless Affair album here– out on 17th March 2023 via MNRK UK
Ailbhe Reddy 2023 tour dates
March
10–19 – SXSW, Austin, Texas, USA
April
12 – Portland Arms, Cambridge, UK
13 – Louisiana, Bristol, UK
14 – Gullivers, Manchester, UK
15 – Hug & Pint, Glasgow, UK
16 – Brudenell, Leeds, UK
18 – Moth Club, London, UK
20 – Trix, Antwerp, UK
21 – Pop Up Du Label, Paris, FR
25 – Helios37, Cologne, DE
26 – Frannz, Berlin, DE
27 – Nochtwache, Hamburg, DE
28 – TrivoliVredenburg, Utrecht, DE
May
05 May – Whelans, Dublin, IE
06 May – Whelans, Dublin, IE
Ailbhe Reddy: Facebook | Instagram | Twitter
Ailbhe Reddy | Photo credit: Niamh Barry