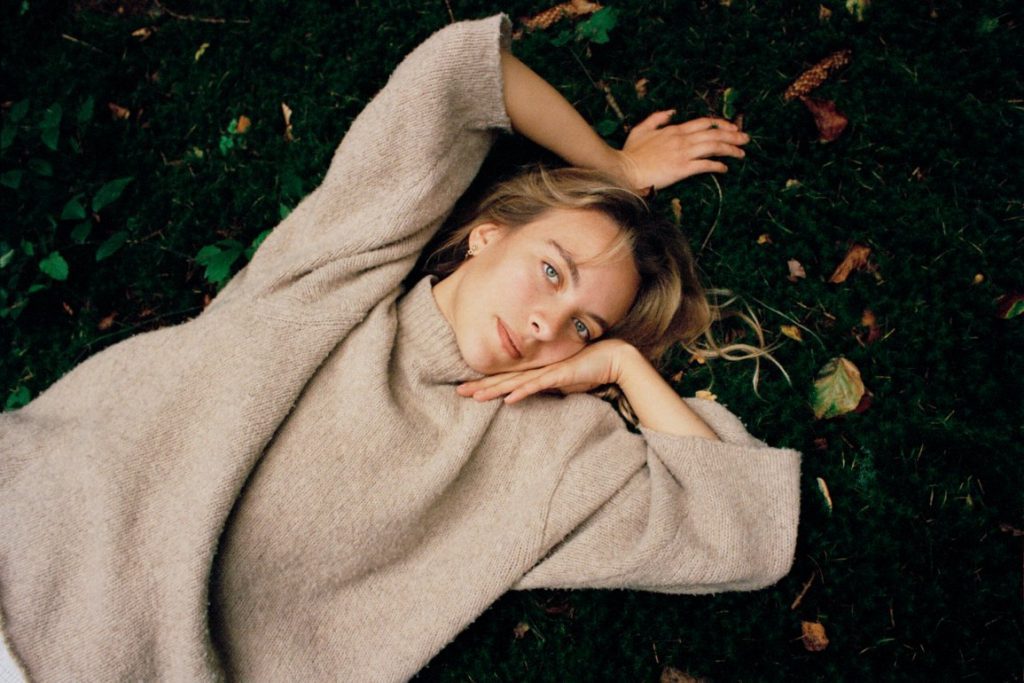 As a former member of the sultry, achingly cool indie/post-punk band, Goat Girl, Naima Bock took a three-year hiatus from the music scene whilst she discovered archeology and gardening. Now she's returned with her debut solo record (taking a much more folk-infused direction than her previous outfit) and a busy touring schedule to boot, with dates in Bristol and London including this weekend's Wide Awake Festival at Brockwell Park.
How are you today and what have you been up to?
I'm good I've been I just came from seeing my friend Ellie Rose Davies who used to be my bandmate in Goat Girl, she has a radio show on Brixton radio and we did a two-hour podcast about anger. We talked for a couple of hours about different experiences of anger, grief with anger, and experiences of trauma and how that relates to anger and how it's expressed. So that's what I did and now I'm just on my way to visit my friend who's had a baby.
You mentioned Goat Girl and that leads me on to my next question, by way of an introduction could you share how your solo project came about?
I was writing my own songs throughout the time that I was in Goat Girl but I didn't really feel a need to do anything with them because I was in the band already and we were touring a lot and then I decided to leave the band for very different reasons. I didn't really have the intention of going solo or doing my own music I just decided that I didn't want to do music, at least the whole touring part I didn't want to do again, and so I decided to change course.
I was running a gardening company and started a degree in Archaeology and then after about three years of leaving Goat Girl I met my producer and we made an album and it started again. A lot of the songs were actually written whilst I was still in the band.
This is your first solo record, can you tell us a bit about it and why the name Giant Palm?
Giant Palm is about being carried, it depicts the image of a giant hand carrying you up in a dream-like scenario and I guess in a way I'd like the whole album to have that effect for people so I guess that would be my spiel about the album name which I've just made up now!
How did you loop in with Sub Pop records and Memorials of Distinction?
Memorials of Distinction is run by Josh Cohen who's my old friend, he contacted me about six or seven years ago through listening to my SoundCloud demos and wanted to release my music and then shortly about a year after we'd been speaking about it I left the band and I told him I didn't want to do any more music and so we started gardening together. Then he took on this manager role once I'd recorded the new record and he decided to send it out to as many labels as possible. Sub Pop picked up on it and we signed to them.
Josh was inspired by a deal that Nirvana had with Sub Pop whereby they were promoted the label on their first album although they were signed to a major, and so he asked if he could do the same with my record. So, technically I'm signed to Sub Pop but we put Memorials of Distinction on there too as a publicity thing for a small label.
How would you describe your music in five words?
Ethereal, quiet, solitary to a degree (in a good sense not in a lonely sense) calming, emotional and to a degree, cathartic, even though it's not angry music I still feel like it's got some elements of catharsis to it.
Your Spotify bio mentions your family heritage as a theme in your music can you explain how this feeds into your songs?
I grew up in Brazil until I was seven and then we moved over to England. I grew up with a lot of the Brazilian classics like Bossa Nova artists such as Chico Buarque and all of these incredible musicians and I think that, indirectly, they've influenced my writing. In terms of a direct influence, we wanted to reference a lot of those albums sonically through the percussion and the natural sound of the whole record.
Through writing, I always admired the strange happy, sad element to all Brazilian music. A lot of the actual arrangements are quite jubilant and sound upbeat and happy, and then the lyrics are so painfully sad, so there's this strange contrast that exists within the music which I enjoy. I'm not sure I succeeded in it but I feel like I tried to replicate it a bit.
You are about to embark on a tour playing dates in the UK and Europe, what does it mean for you to play live and what can people expect at your shows?
I've played so much live in the last year and a half, maybe two years really, and also since I was 16 with being in the band and everything so I'm quite used to playing on stage. Doing this as a project has been a different experience and especially when I've played on my own. I have two setups one is just solo, me and a guitar and I guess people can pretty much gather what that will be like.
The second setup is with the full band, there are five or six of us normally and it always ends up being very different from the record but I think that's a good thing. We've taken some extra leaps with it and challenged ourselves to help keep it interesting for us as well. This year we're mostly going to be playing new songs which I know can sometimes be a terrible thing for people but oh well.
What artists do you admire?
The main one is probably Adrianne Lenka, I love her, also Aldous Harding, Joanna Newsom and Chico Buarque particularly the album Construção.
What would be your dream collaboration?
I think my dream collaboration would be Alex G I would love to collaborate with him….
Ah yes, you're playing on the same lineup as him at Wide Awake festival!
I know I'm just gonna hang out backstage the whole time until he gets there. I met him once and I didn't know his music I didn't know anything about him and everyone around was like "It's Alex G!" And I was like I don't know who that actually is so I don't care and then I got into his music and I was just like this is incredible!
If I looked in your fridge right now what would I find?
I've been away for three weeks and then I got back three days ago and so I haven't actually topped up my fridge. You would find a month-old stir fry (which is disgusting) some (probably) gone-off oat milk, half a lemon. I can actually remember because I looked in it this morning to see if anything was leaking. Some sushi ginger, I love sushi ginger, and a big pot of sauerkraut.