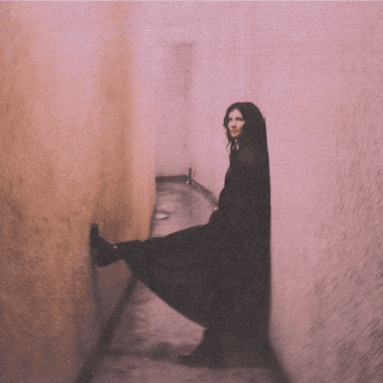 Celestial North has just shared a teaser for her new single 'Otherworld' due for release on 9th June. This glorious dreamscape is the lead single and title track from her forthcoming debut album, Otherworld, due for release on the 7th July 2023. The Scottish, Lake District-based artist, beckons you into her shimmering and ethereal world of spiralling wyrd-pop; a cosmic detour into a land of impossibility and beauty, bathed in folklore. The lead single and title track 'Otherworld' is a sublime rush of celestial pop, enveloping tribal rhythms and twinkling instrumentals. Haunting mantras and hymn-like harmonies are bathed in the dawn light, anchored by a repeated refrain "Don't look back and you'll never feel broken" that's at once comforting and transportive.
Celestial North explains that 'Otherworld' is "A rabble-rousing pick-me-up on days when life feels a bit much, a reminder that it will all be ok and that we are never truly alone in this world. Providing the beat and movement of life for us all to shake it off together."  Watch the intriguing trailer here:
Deeply influenced by her natural surroundings and wild Scottish upbringing, the album was co-recorded and produced with Woody (Sea Power) in the Lake District, creating a stunning tapestry of work that adds a human heart and touch to elements of dream pop, electro-pop, folktronica, gaze, and techno, offering an escape to new realms, adventurous and futuristic, yet with its roots in ancient civilisations of the past. Weaving her self-proclaimed 'Pagan euphoria' across eleven startling songs, Otherworld is another marvellous step forward in her artistry and is the product of years of honing and refining her songwriting and sound. 
Celestial North is a talented, multi-faceted musician and songwriter with her songs regularly played on the BBC, Amazing Radio and BBC Introducing shows.  Her reworking of R.E.M.'s 'Nightswimming' – recorded for our God Is In the TV Zine charity album in 2022, received national radio play with BBC Scotland's Roddy Hart proclaiming it "Majestic". The release was included in Bandcamp's Essential Releases with 'Nightswimming' chosen as the Editorial Director's personal highpoint. Following a run of early singles, Celestial North was touted by Under The Radar and God Is In The TV as 'One to watch in 2021' and one of the 'finest new acts for 2021' while Snack Magazine said, .'This dreamy, effervescent synth-pop from Edinburgh's Celestial North at once evokes a witchy, wiccan naturalism and a music festival dance tent."
Music | Celestial North (bandcamp.com) Celestial North | Spotify
Celestial North (facebook.com) CELESTIAL NORTH (@Celestial_North) / Twitter