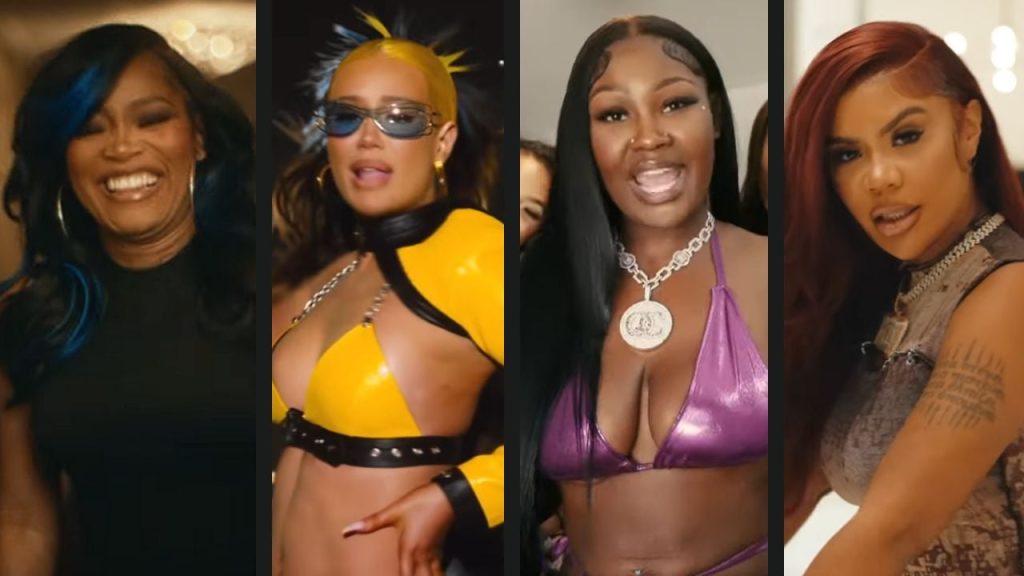 Get ready for a sizzling update on the ladies doing their thang! The spotlight is back on DaniLeigh, who's making a splash in the studio with Keke Palmer. Rihanna's secret baby news adds a new chapter to her journey as a self-made billionaire, Iggy Azalea's return to the music scene has fans buzzing, and more! 
DaniLeigh x Keke Palmer: Crafting a New Chapter
DaniLeigh has been under wraps for a minute! The "Easy" singer has recently popped out and was spotted in the studio with actress Keke Palmer cooking up something hot for the fans. 
Earlier in May 2023, Leigh had also been recognized for the choreography of Queen Bey's Renaissance Tour. This could possibly mean a break from music and focusing more on the visual creativity side, including more collaborations with other artists in the future.
Angel Reese: A Star On & Off The Court
LSU Women's Basketball star Angel Reese never ceases to amaze fans and supporters. On Saturday, August 19, 2023, Reese donated $12,000 to St. Frances Academy in Baltimore, Maryland. 
St. Frances happens to be the basketball player's former high school. Angel's mother reported that the basketball star benefitted from a similar fund during her four years of attending and that the donation was Reese's way of "paying it forward." 
Rihanna's Double Surprise: Baby #2 and Fenty Beauty 
Self-made billionaire, Rihanna and her rapper husband, ASAP Rocky secretly welcomed baby #2 in Los Angeles. While the gender nor name has been confirmed, it is clear that Rihanna enjoys motherhood. 
Ariana Fletcher's Entrepreneurial Spirit Shines
Recently, "TheRealKyleSister," more popularly known as Ari has been in her entrepreneur bag lately. In 2022, Fletcher released her popular makeup line, Remedy By Ari, which garnered attention. 
Then, on August 18, the influencer released a new swimwear line RemedySwim. Currently, the line has colors in white, black, magenta, and royal blue in various styles such as sets, one-pieces, halter necks, and even mesh tops. 
Iggy Azalea's Resurgence
Iggy Azalea has been on a hiatus for quite some time. However, she surprised her fans with an announcement of a new single titled "Money Come," which drops on Friday, August 25. 
The Instagram post, which was originally teased on August 19, was captioned with eye emojis. Her second teaser was a picture of Azalea in a gleaming black jumpsuit holding a gold and pink weapon with money falling. 
Doechii, The Rising Star
Doechii is making headlines with her hit single "What It Is," which climbed the Billboard Charts. Celebrating her birthday with the release of the "Booty Drop" music video, the Tampa native's journey from obscurity to chart-topping success is an inspiring tale. 
Her recent feature on the cover of Allure Magazine cements her rising star status as she discusses being unknown to having a chart-topping song within only three years of music artistry.
Chinese Kitty's Rendition & Musical Ascent
Chinese Kitty has dropped her take on Cam'Ron's "Oh Boy" with the release of "Boy Oh Boy." With her vibrant cover art paying homage to the early 2000s, she's carving a niche in the music industry. 
Gloss Up Goin' Up
The new QC signee first gained the crowds' hearts when she appeared on Hitkidd's "Shabooya" song. Since then she has announced the drop of her new music video "THICC". This will count as the second visual to her "Shades of Gloss" Mixtape. The video will be available on YouTube on August 24th.
Coco Jones: A Collaboration Spree
Coco Jones, after her collaboration with Justin Timberlake on the "ICU Remix," isn't slowing down. Teaming up with singer Brent Faiyaz, Coco's upcoming release "Moment of Your Life" is generating excitement. The artist's momentum in the world of musical partnerships is undeniable.
Sha'Carri With The Swiftness
As we follow these captivating stories, another rising star shines brightly on the horizon. Track athlete Sha'Carri Richardson has earned the title of the "Fastest Woman in The World" at the World Athletics Championships with an astonishing 100-meter time. 
Her incredible achievement adds to the wave of success stories, inspiring many to chase their dreams.
Noname Announces 'The Sundial Tour'
After the long-awaited release of her highly anticipated third album, Sundial, Noname has announced her first tour in four years. The Sundial Tour will kick off on October 11 in Chicago at the famous Riviera Theater, with additional stops in New York City, Charlotte, Atlanta, Los Angeles, and more. 
Lauralie Drops New Grey Single
Singer & songwriter Lauarlie just dropped her video Grey from her debut EP, 441. The 19-year-old has been releasing music for the past year, but this one right here is a vibe.
SOHH family, be sure to support these amazing ladies, and have an awesome, safe weekend!