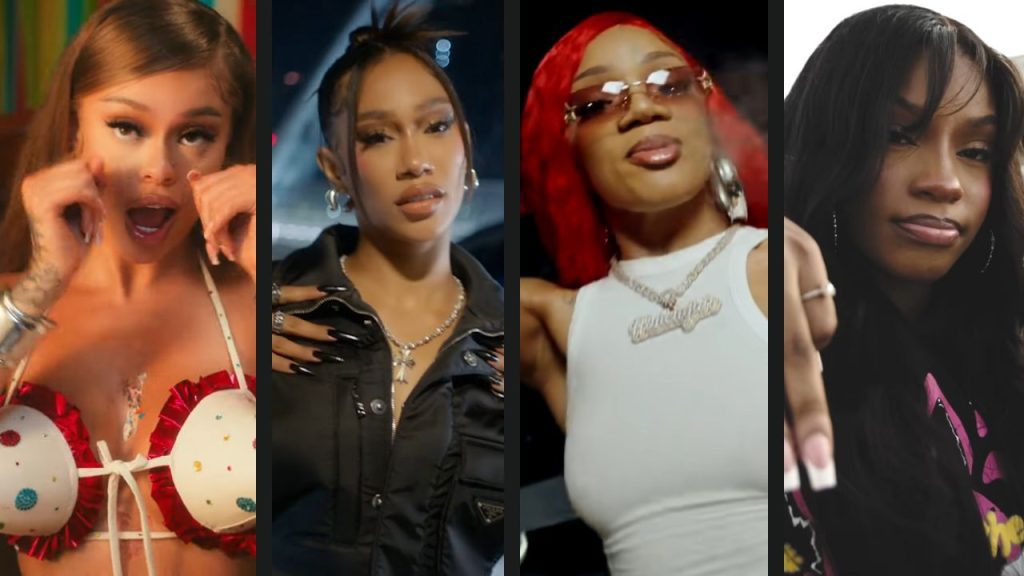 Buckle up, because the hottest artists in the game are making waves in various arenas. BIA drops Really Her Deluxe Edition, GloRilla does the "Cha Cha Cha" with Fivio Foreign, Latto Takes over Magic City, Monaleo scores RIAA gold certification, Cardi B gets spicy on Hot Ones, and more.
Bia Releases The Deluxe 
Amid the announcement of her "Really Her Tour, Bia Bia has released her Really Her Deluxe Edition. The September 28th release includes artists: Tion Wayne, Sfera Ebbasta, Fivio Foreign, Luciano Loco, Pa Salieu, Odumodu Black, Yaisel LM, and Giggs. 
GloRilla Links With Fivio Foreign
On September 28, the "Tomorrow 2" rapper announced a new music video release with Fivio Foreign titled "Cha Cha Cha." Within 16 hours of its release, the audio has garnered over 5000 views.
Welcome To 'Latto City'
Latto continues to receive recognition in her hometown. The infamous strip club, Magic City, based in Atlanta, Georgia, has temporarily changed its sign name to "Latto City" in honor of the "Big Energy" rapper and Baby Drill's latest song release titled "Issa Party."
Monaleo Cries On Her Birthday
The "We Not Humping" lyricist has released a new single titled, Crying On Your Birthday." Amid this news, Monaleo's "Beating Down Yo Block" received its RIAA Gold certification on September 26.  
The Houston rapper took to her Instagram to express her gratitude to her team and supporters for the record's success. 
Cardi B Gets Spicy
On September 28, the "Bodak Yellow" artist was featured on the interview platform, Hot Ones where she discussed her thoughts on different topics, talked about her career, and her creative process, and even tasted some great wings with the Hot Ones Hot Sauce. 
Megan For Mental Health 
Megan Thee Stallion is not only making waves in the music industry but also advocating for mental health conversations among young adults. In a recent public service announcement (PSA), the Houston rapper highlights the importance of normalizing discussions around mental health. 
Megan is also showing support for her alma mater, Texas Southern University, by teaming up with Frito Lays to raise funds for the university.
Nicki Minaj Teases New Snippet
On Wednesday, September 27, following the release of her Pink Friday 2 cover art reveal, Nicki Minaj released a snippet for one of her newest songs, "Big Difference." The preview art features an all-pink background, a replica of the Queen of Rap's hand swinging an iced-out Pink Friday 2 necklace, and her popular arm candy. 
Ice Spice Poses For The Camera 
Since her collaboration with Dunkin' Donuts, Ice Spice has been making even bigger moves. The " Munch" rapper has been featured on the cover of popular magazine, Variety, for "The New York Issue." 
In her issue, she discusses her rise to fame and also the building blocks that contributed to her success. On the cover, Spice can be seen rocking her infamous curly ginger afro, with her iced-out next piece. 
Rihanna Caught In Target 
On September 29, Fenty Beauty teased a photo of Rihanna with a Target cart full of Fenty Beauty products. The popular makeup line will be in Target's Ulta Beauty section starting Sunday, October 1st. 
Customers can expect to see full-size sets, travel-size sets, and mini-products in stock. 
High Fashion Doja 
Doja Cat is proving that she's not just a talented rapper but also a fashion icon. The Planet Her artist's new Skechers collaboration, released on September 28, showcases her unique style and sets everything ablaze. 
The promotional advertisement captures Doja in an all-white aura, perfectly symbolizing the fire her collaboration brings to the fashion world.
Jhene Aiko Back On The Scene 
Jhene Aiko, who recently took a small mommy hiatus after the birth of her baby boy, Noah, is back on the scene. She announced an upcoming performance featuring talented artists like Coco Jones, Tink, and Umi. 
The event, set to take place on December 2nd at the Oakland Arena, promises to be a memorable night filled with soulful performances.
'Club Sexxy'
Sexyy Red is set to take her upcoming tour, The Hood Hottest Princess Tour, to another level. The St. Louis rapper announced her new V.I.P. experience called "Club Sexyy Experience," offering fans an exclusive and unforgettable experience.  
This exclusive experience will give fans lavish pre-show access to a bar, limited-edition merchandise, and a live DJ.
Saweetie Wants Everything New
The "Icy Girl" was featured in the music video for Tyga, YG, and Lil Wayne's new hit titled, "Brand New." Saweetie can be seen with her "new nails, new bundles, and new boobs." Since the September 27th  release of the video, it has garnered over 1.7 million views. 
Issa Rae's Tea Advocacy 
On September 28, the Insecure creator, Issa Rae, revealed a new collaboration with well-known tea brand TAZO. According to Issa, this partnership is "A new initiative to celebrate and support independent cafes and the creative beverages they serve."
Alicia Keys Or Alicia Teas?
Alicia Keys is also expanding her brand with a new venture in the beverage industry. The R&B sensation recently filed a trademark for her upcoming line of teas. 
Her company, AK Worldwide, has secured the rights to the name "Alicia Teas," a clever play on her stage name. This exciting news hints at the possibility of Starbucks lovers being able to enjoy Alicia's teas in the popular coffee chain in the future.
Doechii Releases New Music 
On September 27, the Swamp Princess released a snippet of an unreleased song titled "Pyramid." This news is amid the drop of her newest rager single, "Pacer."
SOHH Fam, let's support these boss ladies, and have a fun-filled weekend!