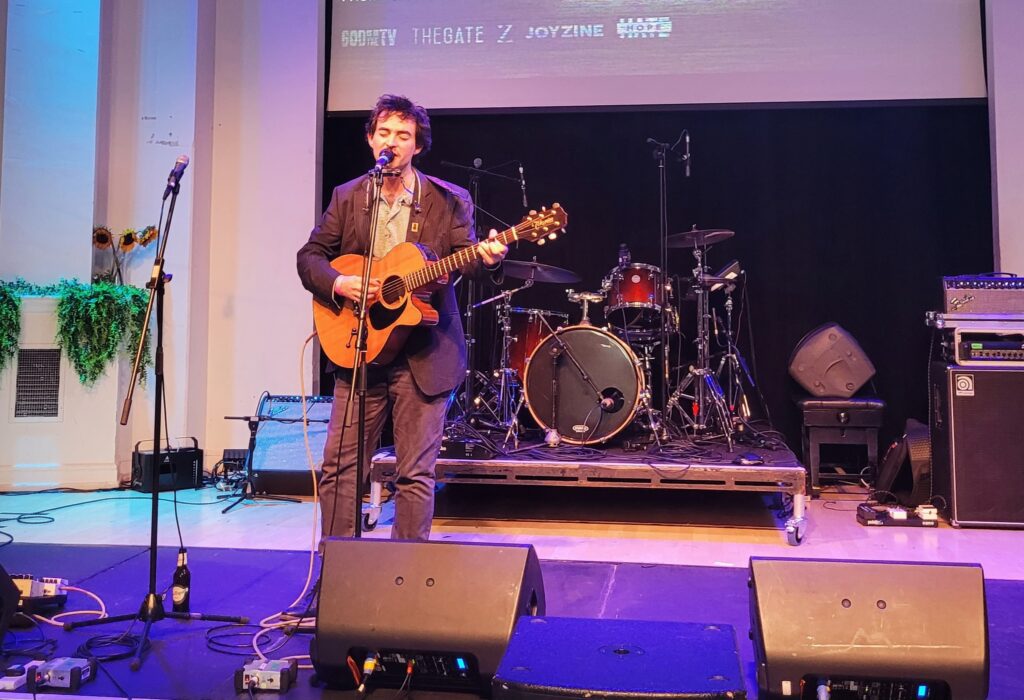 This weekend marks twenty years since Elliott Smith died. The visionary American songwriter expressed the human condition in the most sensitive yet powerful way, and 'Stained Glass Eyes' from the year 2000 (approximately) is amongst his most beautiful reflections.
Singer songwriter Tom Emlyn – who last month performed at God Is In The TV's birthday all dayer last month along with Chroma and Ani Glass at The Gate in Cardiff – releases in tribute his own simple, emotive version.
Some songs need no frills, see?
Tom explained his longstanding relationship with Smith's music.
'Elliott Smith has been one of my favourite musicians for years – when I first discovered him there was a long period of a couple of years where I listened to him almost exclusively. He's the most intimate of songwriters, whispering confessions and wry observations like a friend in the night, someone you can rely on to be brutally honest and real in a dishonest, sugarcoated world. Musically he's unique, like a one-man Beatles with his own harmonic language that feels almost Brian-Wilson esque at times. Impressionistic, poetic sound worlds, more like dreams than anything dealing in black and white morality.
I wanted to pay tribute to him on the 20th anniversary of his death and decided to cover this little-known song 'Stained Glass Eyes', which has never been officially released. I first heard it as part of the fan compilation 'Grand Mal', which was a huge collection of his rarities and lost material. I recorded it spontaneously, while my drummer Jack was recording some tracks for me in a studio in Bristol last week. I learned the song in the control room and quickly recorded it in one take at the end of the session, guitar and vocal together.
The result was a fairly raw, unadorned performance that feels like a fitting tribute, mixed expertly by my friend Evan Collett who is producing some other material for me and also supplied the artwork for this cover.
I love the song – the lyrics in particular seem to sum up his music and his life. I thought it would be a more interesting choice than recording one of his more well-known tunes. Hope you enjoy!'
Stained Glass Eyes lyrics:
People sink your boat
When you cut a tragic figure
They drink their lemonade
And throw you a line
Boil your problem down
To yes or no, what's the matter?
They bomb your promenade
And this makes it shine
So you must play the comic if they want one
And describe their moment
When they're in one
People pass you by
Passing up the chance to know you
They're irregular in the usual way
You should crack a smile
Once in a while, it makes you pretty
It makes you want to give them
A piece of your mind
But they can't be people not if I'm one
If I have to be like them
I'd rather be no one
Couldn't make the scene
Not with all the people looking
All these connoisseurs on guard all the time
Rather spend the day
Blank as hell by the window
Looking out of my stained glass eyes