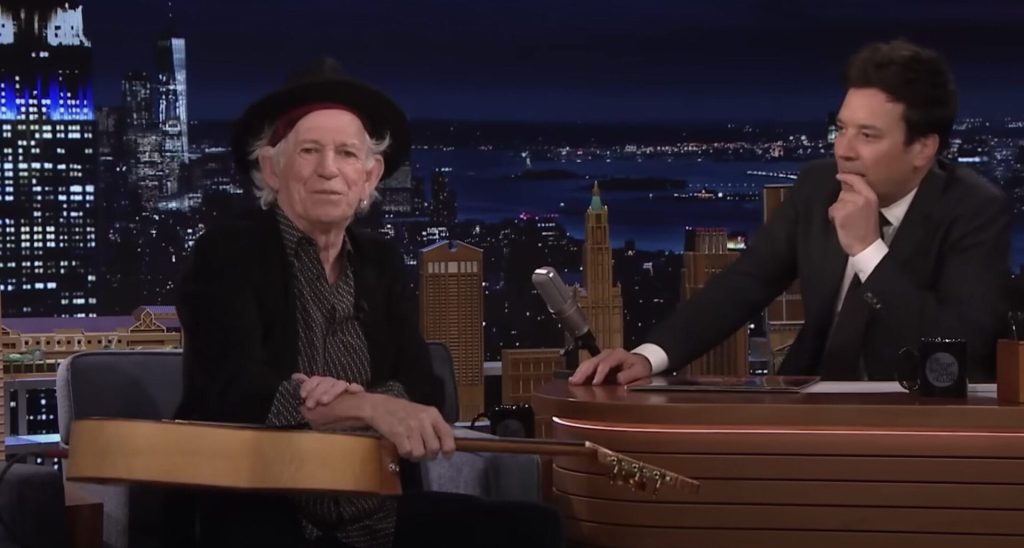 Following the surprise album release party of the Rolling Stones' new LP in New York City, Keith Richards kept fans expecting the unexpected by dropping in on The Tonight Show – briefly disrupting the ongoing filming as Jimmy Fallon shared his experience attending the Hackney Diamonds gig with his audience.
Richards had already been slated as a guest for the episode, and Fallon took the opportunity to set the stage for the forthcoming interview by recounting his own close encounter with the band's performance at the 650-person venue Racket NYC the night before. He also excitedly mentioned Richards' impending appearance on The Tonight Show later in the episode.
Possibly upon hearing his name, Richards emerged from the wings of the stage, casually strolling in front of the cameras and passing Fallon to the astonishment of the audience. After a brief moment of soaking in the applause and rounding the stage, Richards returned backstage to await his formal segment.
Fallon, responding to the interruption, quipped, "Not now. He'll be on the show. Not yet. How cool is that guy right there? 'Yeah, I'll walk out.' He doesn't care; he's Keith Richards. He does what he wants!"
When it was finally time for his interview, Richards and Fallon delved into the details of the previous night's concert and the experience of playing Hackney Diamonds tracks live for the first time.
"Last night marked the first occasion we performed new songs, with the exception of one or two. It was an incredible feeling, and the band is really thrilled about it," Richards shared. "The heart of a band lies in a small room with a crowd of people; that's where you refine your craft."
Richards also reminisced about how Paul McCartney made a guest appearance on Hackney Diamonds and delved into the long-standing history between the Rolling Stones and the Beatles, dating back to "1962, 63," and their collaboration on the Lennon/McCartney-penned Rolling Stones single "I Wanna Be Your Man." Although Fallon praised "Bite My Head Off" as the first instance of McCartney featuring on a Rolling Stones track, Richards corrected him, noting that John Lennon and McCartney had previously appeared on the band's 1967 single "We Love You."
As a musical treat, Richards showcased his guitar techniques, strumming acoustic renditions of "Honky Tonk Women" and "Jumpin' Jack Flash," with some behind-the-scenes assistance from the Roots and Fallon channeling his inner Mick Jagger.
Enjoy clips from the segment below.