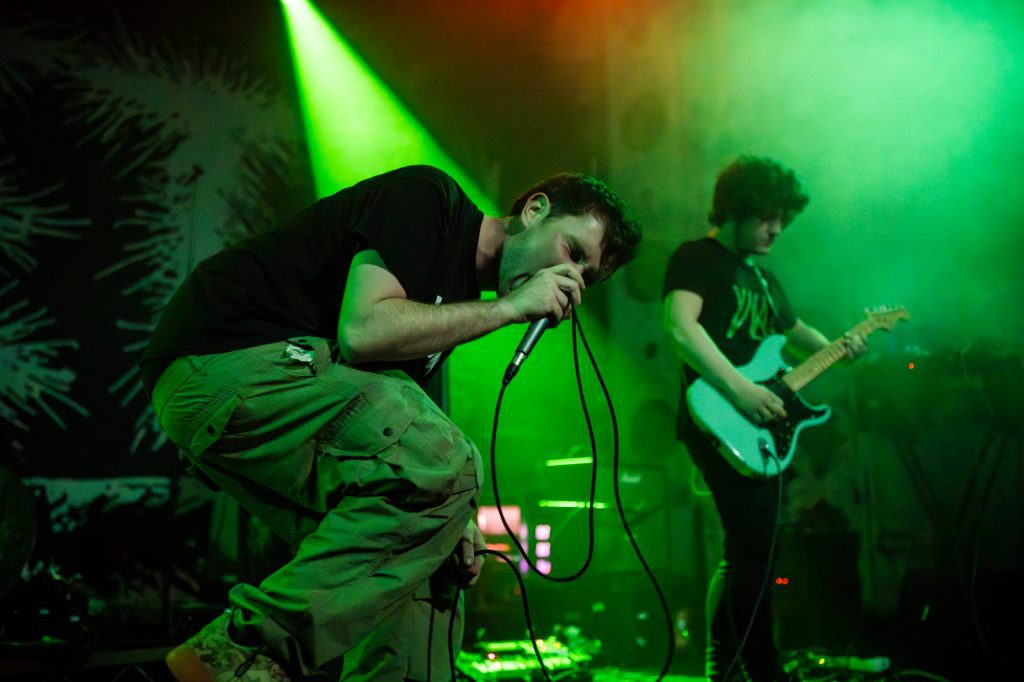 It's been a blistering summer of festivals for Belfast's Enola Gay, including Download and 2000 Trees. However, the highlight has to be Jehnny Beth joining them onstage during their set at Chicago's Riot Fest. Now the four piece release their second EP Casement via Mother Sky, and share new single 'terra firma'. The latter is a collaboration with Irish electronic producer and Berghain veteran Neil Kerr (aka Mount Palomar). Fans will be surprised by the handbrake turn in the new track, it demonstrates the versatility of Enola Gay. Lyrically it reflects on the weight of the past, its effect on the present and the fleeting nature of time. It touches on how nostalgia can seem like a façade and how one should cease dwelling once they've learnt and grown from their experience.
Enola Gay reached out to the Belfast based producer Mount Palomar, to collaborate on the EP's closing track. Having heard a few of vocalist Fionn Reilly's folk musings, Neil suggested using one of these stripped back acoustic tracks as the basis for a new two-part song that would shift from Irish folk to abstract shoegaze electronica. With the chopped up and sampled guitars serving as the impetus for the new work, Mount Palomar created an innovative bed of sound, over which Fionn's somber vocals take centre-stage. Capitalizing on Mount Palomar's inventive knack for song arrangement and moulding new timbres and textures, a cacophony of shoegaze guitars, deep sub bass and experimental jungle beats add to a track that explores the band's electronic influence and desire to continue to push forward. Detailing 'terra firma', Enola Gay explained:
"There's a case to be made that Irish folk is punk music in its purest form, songs for and by the underdogs of society. Feeling like it is the right time to broaden our sound, we want to offer something unexpected so we turned to our good friend and mentor Neil Kerr, Mount Palomar. Fionn put down the bass and stepped up as our singer once we heard his capabilities through his folk renditions. Fionn had written 'terra' some time ago and it was debatable whether it would ever become an Enola track however upon hearing it, Neil sensed it was our chance to delve further into areas of our potential which so far, have remained dormant. After a session of Neil sampling 'terra firma' was born."
Enola Gay's Casement EP also sees Johnny Hostile take the helm as producer. Hostile is best known for his production on both Mercury Prize-nominated Savages albums, a pairing that transpired after he reached out to the quartet directly wanting to know more. Commenting on their EP release, the band revealed:
"Casement explores the untapped potential, displaying more of our sonic palette. We've proven we can do heavy, now we're showing you we can do more. We will continue to become a more dynamic band and push the limits of what a punk band can be."
'Casement' EP – Tracklist
1 – Leeches
2 – PTS.DUP
3 – terra
4 – firma (feat. Mount Palomar)
5 – terra firma
Enola Gay Live Dates
14th Nov – Mash House, Edinburgh
15th Nov – Room 2, Glasgow
16th Nov – Adelphi, Hull
17th Nov – Key Club, Leeds
18th Nov – Crofters Rights, Bristol
21st Nov – Le Pub, Newport
22nd Nov – YES (Pink Room), Manchester
23rd Nov – Underworld, London
24th Nov – Green Door Store, Brighton
25th Nov – Joiners Arms, Southampton
27th Nov – UBU, Rennes
28th Nov – Le Grand Mix, Tourcoing
29th Nov – Le Point Éphémère, Paris
30th Nov – Trix Cafe, Antwerp
2nd Dec – De Gudde Wellen, Luxembourg
4th Dec – Bumann & Sohn, Cologne
6th Dec – Hafenklag (Goldener Salon), Hamburg
7th Dec – Badehaus, Berlin
For more information on Enola Gay please check out their facebook and instagram.