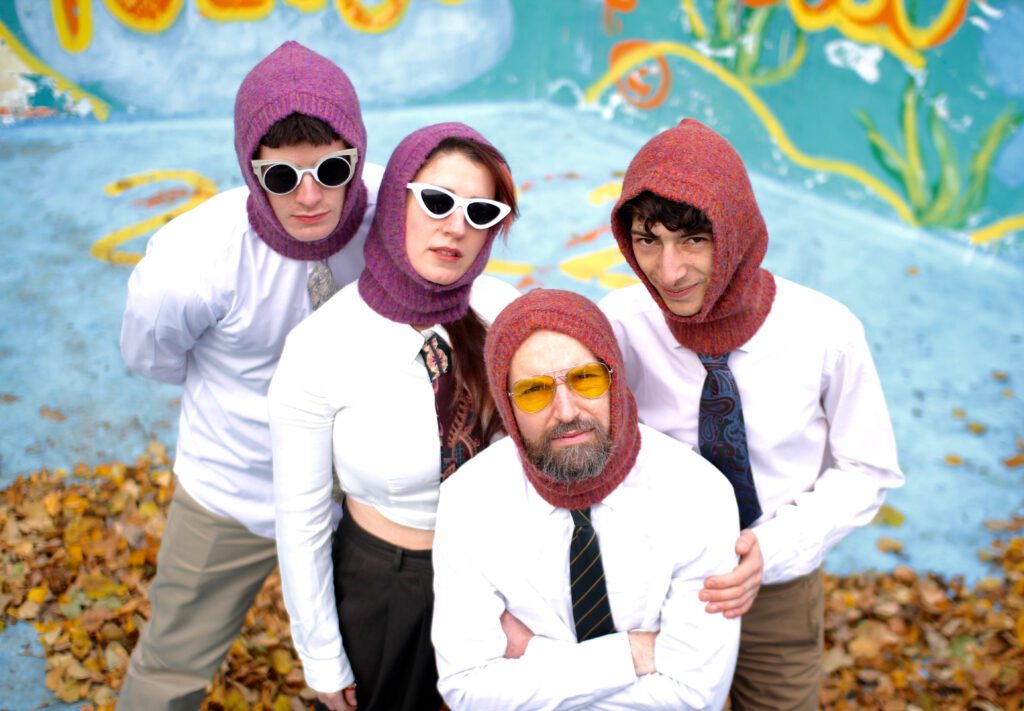 The third studio from HMS Morris Dollar Lizard Money Zombie might be highly melodic and playfully poke fun but asks – and answers – the bigger questions. Issues around capitalism, rural Welsh second homes are dissected along with the more personal.  Heledd Watkins (vocals/ guitar/ synths) and Sam Roberts (bass/ synth/ loops/ backing vocals) are joined on the record by Billy Morley and Iestyn Huw Jones on guitar and drums. Dollar Lizard Money Zombie ranges from 50s cowboy sweetness to electro-metal madness, from rambling acoustic prog to the tightest of synth-pop ditties.
Braindead money zombies versus giant dollar lizards. Which would HMS Morris rather be, what elements of both – and why?
On the one hand, dollar lizards live lives we can only dream of; sunbathing on luxury yachts, Michelin star dining on demand, private jets to see the northern lights – who wouldn't want that right? But then look at Kendall Roy (from TV show Succession, creatively based on the toxicity of the Murdoch clan) . What an awful awful life. I'd probably rather be a non-human zombie consumer. The point is though that humans don't fit neatly into either one of those boxes, and the process of being squashed into them by the forces of late-capitalist society is making us quite ill unfortunately.
There have been a good few songs around the Welsh holiday/second homes issue grabbing attentions of late. 'House' is musically dramatic and lyrically sarcastic, why did you choose that approach to tackle the subject? 
I think most of HMS Morris's music is pretty dramatic and lyrically sarcastic so I think it would be quite hard for us to approach this topic in any other way, also I think ranty or dry lyrics can be tiresome especially on a subject spoken about quite regularly so If you want to get your point across you need to get a little bit creative with it.
'Balls' wins the GIITTV Best Song Title of Year 2023 award. Is there anyone in particular you had in mind when writing it? Or do you have a list.
Thank you very much, I'd like to thank my mother, my father, my future cat……
Balls isn't really about a person, it's more of a motivational speech, one that people are welcome to use when they're questioning themselves, before entering a job interview, before getting on stage or even if they're having difficulty getting out of bed in the morning. It's about eradicating shame and embarrassment and the freedom that comes from being able to let all that crap  go. That's something I (Heledd) am still trying to learn.
The 'Cockapoo' is the ultimate middle-class dog, the name makes owners feel a bit 'aren't we whacky, cock and poo in the same word'. Any thoughts?
Not gonna lie, I've giggled many a time when approached with a situation in which I have to name that dog. 
I think you have to have reached a certain point in your life to be able to own a cockapoo, we're talking, steady well-paid job, a house big-enough to accommodate it's energy, I guess that's the middle class lifestyle; that's a position many people who have have committed to pursuing the arts as a career will never reach and it's ok to dream of that now and again, it's natural, I certainly dream of snuggling up with my dog on a massive sofa on a winter's night in front of a roaring fire now and again…
'Bingo', a story of a potential reconciliation, although witty, manages to have tension and a whole lot of emotions. 
Thanks! That's pretty much what we're going for, it's a commentary on early relationships in your 20s, it's full of emotions: cringe, longing, embarrassment, sadness all rolled into one, I think we've all been through that in some form or another so I hope that there's enough there so that everyone can relate to it in in their own way through their past experiences.
When were HMS Morris last 'Offended' at something and now you think 'oh dear, shoulda let that one go'.  
Sam got quite offended the other day in Bordeaux when he saw an English rugby fan wearing a Wales shirt. The guy was part of a big group of them all wearing the shirts of nations that weren't their own – in fact, nations that had beef, to a greater or lesser extent, with England. Then he realised that he himself owned a fairly large collection of football shirts of teams he did not support, and that when he wore those he wasn't necessarily taking into account the depth of feeling and cultural significance attached by some people to those shirts. So yeah. Whatever someone does to offend you, you've probably done something kind-of similar at some point ey.
Listening to 'Books' – in the world of HMS Morris, how are rich folks guaranteed a place in heaven?
Books is about how rich folks are not guaranteed a place in heaven, despite us automatically acting as though the rich = good and the poor = bad. It would be cool if the good were in charge rather than the rich.
The album closer 'Datganaidau' is solemn and melancholic and beautiful – but I can't decide if the piano reminds me of a church or a bar in a cowboy movie. Intentions?
Well this one was recorded at Christmas time in St Asaph Cathedral (that's Sam's home City), so you will probably get a churchy vibe from it. 
The intention is for this one to feel stable, calm and forward looking, leaving the listener with a sense of peace and strength at the end of what may have been a wild ride of an album. It's all about setting intentions for the future and taking control (as much as you can) of your future behavious, similar to 'Balls', it's about just getting on with it with proper focused intent.
'Dollar Lizard Money Zombie' is out now via Bubblewrap Collective.
Tour dates:
14/10/23 Y Seler , Aberteifi
18/10/23 Ivy House, Peckam, London
19/10/23 Crofter's Rights, Bristol
20/10/23 Common Ground Cafe, Oxford
27/10/23 Cell B, Blaenau Ffestiniog
28/10/23 Other Voices, Aberteifi
03/11/23 Elysium Gallery & Bar, Swansea
10/11/23 Clwb Ifor Bach, Cardiff (Supporting Tricot)
17/11/23 Telford's Warehouse, Chester
03/02/24 Trawsnewid, Aberystwyth
Photo Credit: Rhiannon Holland