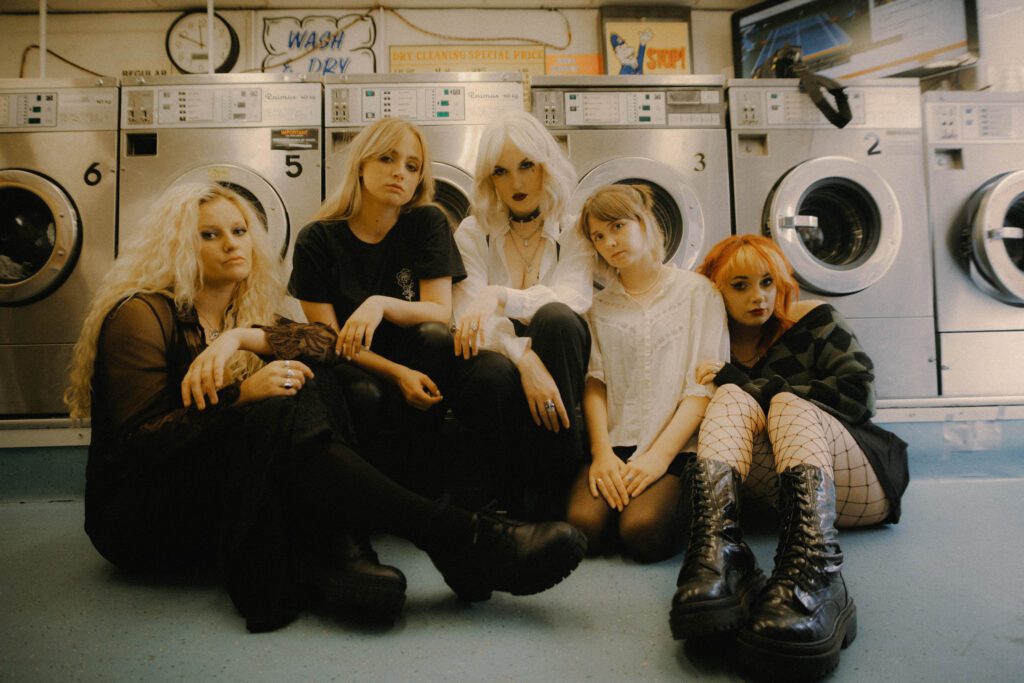 Welcome Venus Grrrls!  Could you start by introducing yourselves, and sharing how you came together?
We're a band based in Leeds/Newcastle. We're very focused on channelling our experiences as women into our music. Four of us met at university in Leeds, and we met our guitarist Eliza at show she was playing in an old band.
With current single 'Liar, Liar' sadly its themes are still relevant today as current news will confirm. Could you expand on the influences for this track?
Liar Liar's influences come from a collection of experiences we've all had within various different relationships, platonic and romantic, serious and non-serious. It's not a direct account of one story, more a metaphorical portrayal of a general theme. I think lyrically it's an amalgamation of what we've learned, almost our own guidebook on spotting red flags. Which, of course everyone has on some level; we're just touching on the red flags that can cause lasting damage, and are signs of a harmful issue. It is sadly a relevant topic, and the abuse of power is rife within multiple industries and day-to-day life. 
What is your creative process?
We generally start by writing demos and recording them straight away to begin playing around with the arrangement and melodies. This will usually start from a vocal melody, or a bass line. After we have a skeleton, we take it into a band room and develop it further before taking it into a studio. The studio is always a creative space for us too, oftentimes a catalyst for the song to develop to its final stages. Being in a studio environment really helps us to get into the nitty gritty of the song and scrutinise it. Usually arrangement will change again, and some new embellishments will develop.
Your EP Potions was released in 2021. How do you think your music has changed since coming out of lockdown?
Just like time does to anything, it's matured. We went into the pandemic a certain way, came out different. Especially with GK's cancer journey shortly after the pandemic too, it's changed us. We most definitely are less apologetic, more up front and have less time for sugarcoating. We're certain of who we are and what we want, and it really feels like we're starting to channel that sonically too. We're really wanting to lean into a lot of goth influence, such as Bauhaus, Siouxsie and the Banshees, Sisters of Mercy, and Killing Joke. There's always been a bit of that, and it can be heard in Potions, but we're wanting to amplify that up a little more now. 
What are the plans for Venus Grrrls over the next few months? Any live dates we need to know about?
We're at Live at Leeds and Twisterella Festival in Middlesbrough on October 14th! Both have absolutely solid lineups that we're very excited to be a part of.
If I looked in your fridge right now what would I find?
Currently, some tomatoes in a little glass bowl, naan bread, and mushrooms that absolutely need to be eaten. Oh, and half a can of baked beans.
For more information on Venus Grrrls please check their facebook and instagram.