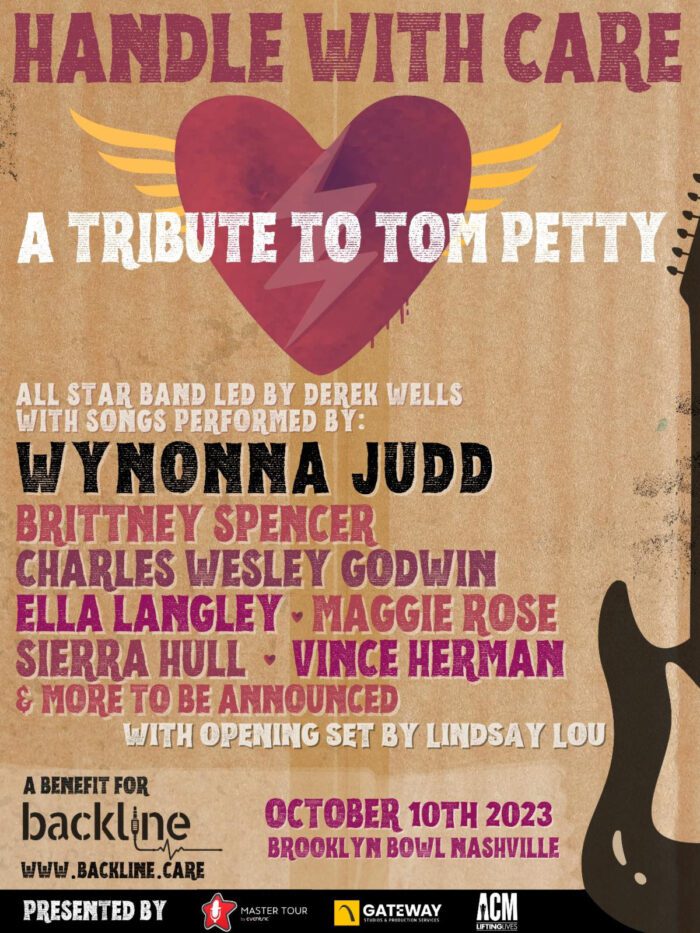 Backline, the 501(c)(3) nonprofit organization that provides mental health and wellness resources to the music industry and their family member, has announced World Mental Health Day events slated to take place in Nashville, Tenn. Included is Handle With Care, a Tom Petty Tribute slated to occur on Oct. 10 at Brooklyn Bowl Nashville. 
Handle With Care will bring together a talented lineup of musicians who will revive the music of the late "I Won't Back Down" singer during the early fall event. Billed to take the stage as the All-Star Band, led by Derek Wells, are Wynonna Judd, Brittney Spencer, Charles Wesley Godwin, Ella Langley, Maggie Rose, Sierra Hull, Vince Herman, and more. 
Also on the bill is an opening set courtesy of Lindsay Lou. The benefit is presented by Master Tour, the music industry's leading software for touring and logistics, Gateway Studios & Production Services, a world-class live touring rehearsal complex and production services company, and ACM Lifting Lives, the philanthropic partner of the Academy of Country Music.
Before the Handle With Care event, Backline will host the inaugural two-day Harmony In Practice Clinical Training Workshops for mental health providers. Backline maintains a clinical community of 582+ vetted providers across all 50 states. These providers accept referrals from Backline's Case Management program, where music industry professionals can receive custom mental health care plans. 
The Harmony in Practice Clinical Training Workshops will be guided by music industry professionals and licensed providers. It will cover Backline's firsthand experience, profession-specific situations, and practical treatment approaches, equipping providers with invaluable skills and tools to support their clients. 
Sessions slated to occur during the Practice Clinical Training Workshops range in topics such as Working with Relational Trauma in the Music Industry, Family Systems in the Music Industry, Fear to Fearce: Embrace your Dark Side, Unleash Your Mental Warrior, and more. The workshops are open to all mental health providers within the United States interested in serving the music community.
Clinical Training tickets are on sale now and include entry to the Handle with Care Concert on Oct. 10. Scholarship opportunities are available for a limited number of counselors, therapists, and social workers in the BIPOC & LGBTQ community by application only.
More information and tickets can be found here. For more resources provided by Backline, visit their official website.