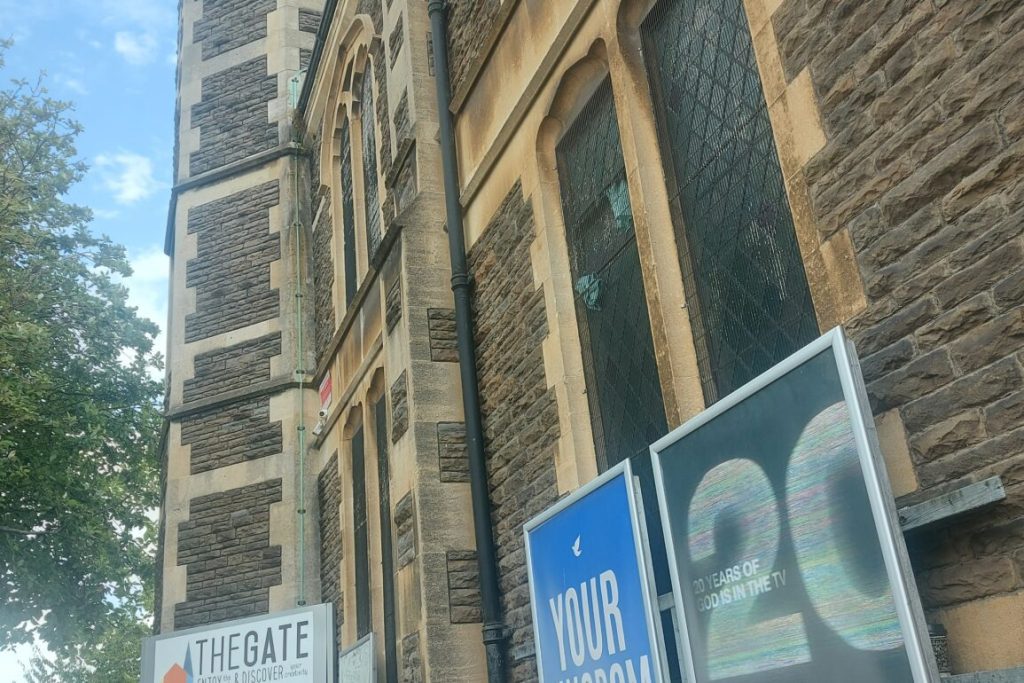 When: 30th September 2023
Where: The Gate, Keppoch Street, Cardiff, Wales. CF24 3JW
To mark twenty years since God Is In The TV Zine started, we are throwing a party at The Gate, in Cardiff on Saturday 30th September 2023, featuring some incredible bands and artists. The bill includes the two-time Welsh Music Prize winners and GIITTV favourites Adwaith who will be headlining. Main support comes from bilingual noise pop trio Chroma fresh from supporting Foo Fighters and ahead of the release of their debut album Ask for Angela this October. They will be joined by master Welsh songsmith Carwyn Ellis of Rio 18, Colorama and The Pretenders live band, who will be playing an exclusive stripped back set, plus emerging artist The Honest Poet, who blends soul, hip hop, and pop into personal songs full of heart.
Opening the show will be one of our tips for 2023, Half Happy, a wonderful bittersweet indie-pop band who have captured our hearts in recent months. Great practitioners of soulful lo-fi pop Papaya Noon will then ease you into the late afternoon.
Finally, on the decks we have former Boomtown booker and local legend Kaptin who will be bringing the party with his encyclopaedic collection of hip hop, soul, disco music and beyond. We are incredibly excited to be bringing this event to such a historic venue from 3pm onwards until late, in association with Hope Not Hate, our friends at Joyzine who are also celebrating their twentieth year, and The Zine. Tickets are £20 in advance, more on the door, order your tickets here.
An independent publication, GIITTV, started life in 2003. This was an era even before blogs, before YouTube, and Twitter. Inspired by webzines like Drowned in Sound and the punk zine spirit of Repeat fanzine, editor Bill Cummings started posting early reviews from the Cardiff University newspaper, Gair Rhydd on a basic Yahoo Geocities page. Over the years he was then joined by writers from around Britain and the world. Since then GIITTV has evolved through many incarnations and evolutions as a website and publication and now boasts a passionate and hardworking editorial team, over 200 writers, and the contributions of artists and web designers, without whom this website would not have grown and thrived for so many years. With a solid following, we hope we have grown into one of the most lasting online portals for music and culture that is around today. We have always championed the artists that excite us from throughout the country and beyond, no matter their level or label, providing a platform for emerging artists and groups. The site has also had a special focus on Welsh music over the last decade, championing the new Welsh wave of artists. We have developed this by spotlighting as many genres as we can in the principality, sponsoring a stage at the Focus Wales festival and by featuring the likes of The Anchoress, Adwaith, Carwyn Ellis, Aderyn and many more artists besides on our podcast Show Me Magic.
As well as delivering a stream of quality writing, our achievements over the years include raising £5000 for Help Musicians from a R.E.M. Covers compilation that was endorsed by the band and helped to promote several charity shows including G Spot in London and Mind Fest in Cardiff. We have also staged shows by the likes of Frightened Rabbit, My Sad Captains, Orphans and Vandals, Rose Kemp, Love Inks, Eric Chenaux, Slow Down Molasses, HMS Morris, Vessels and many more. Our deputy editor, Simon Godley, received an award for best festival journalist at the Festival Congress in 2015.
With an independent voice free of corporate constraints, we have always believed in giving new artists and writers a platform to gain experience, hone their craft, and explore their passions. We are powered by the goodwill, knowledge, and enthusiasm of our writers, the support of labels and artists, and the readers. We hope this event – set in the heart of Cardiff at one of the city's most impressive venues- a converted church with listed status as a building – marks this special occasion in style with an event that celebrates some of Wales's finest artists and which will act as a huge thank you to everyone involved.
Tickets here: https://www.gigantic.com/giittv-20th-anniversary-tickets/cardiff-the-gate-arts-centre/2023-09-30-15-00
Related