Finesse2Tymes has announced that he plans to convert to Islam. The news was met with mixed reactions from fans who questioned the authenticity and timing of his conversion.
'I'm Converting Muslim'
Finesse2Tymes has recently caused a stir among fans with his announcement to convert to Islam. On Tuesday, Nov. 7, the Memphis rapper took to his Instagram story to share his plans, stating:
 "After this album, I'm converting Muslim."
The "Back End" rapper's revelation about his intention to convert to Islam has attracted attention and raised eyebrows among his fanbase. Supporters were quick to express surprise, with one fan admitting, "I lowkey thought he already took that step like they all do while in there." 
Others questioned the rapper writing, "It's like being Muslim is a trend now, lol wtf, and why wait till you drop an album?"
Finess2tymes Responds To Backlash
Following the backlash, Finesse2Tymes frustratingly responded to his critics:
"Ya'll always making fun and laughing when a person trying to get they life together, If u struggling and wondering why, it's because u look down on everybody and u still down yourself. U don't get blessings having a sour heart, I'm graduating from the streets, I outgrew the old me, Im seeking knowledge and wisdom more, financial literature, parenting skills etc. Me personally IDGAF, I'm strong mentally, But this message is for the ones who laugh at people who actually have problems, and come to the internet for help because no one else is helping them. Mental health awareness is real, And converting to Islam, Muslim, it's all the same, but ya'll look successful or doing more than u, I understand, god bless u people, inshallah."
Some fans remained skeptical despite his defense, writing, "It wasn't because he was converting. It's because he put G*d on a layaway plan talking about he'll get to it once the album is done. Simply Weird."
Amid the controversy, Finesse2Tymes has been noticeably absent on social media, with no posts on his Instagram feed and limited presence on his Instagram story. On this platform, he shared:
"I thought I had it all figured out, I was so naive, I was so vulnerable, I was so blind, I let anybody around me, i trusted people who I didn't suppose to trust, I let people in my life that I didn't suppose to, I just wanted love, I didn't even care about the money, I blew it on everybody around me to show them I love the, but I learned u can't even pay people to keep it real, ain't no such thing as LOVE or LOYALTY both them words man made, The definitions are man made. I been ugly since I was young never cared, Mf say I'm handsome, I get mad on the inside because I know they lien to me just to make me smile."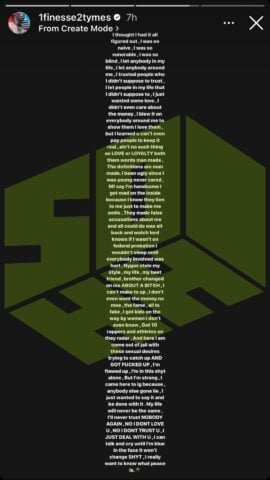 Finesse's Legal Woes
The "Nobody" rapper has had a history of legal entanglements throughout his career. The rapper was most recently arrested in August due to multiple charges stemming from a 2018 warrant. 
These charges included possession of marijuana, cocaine, and property theft. Additionally, prior to this, the rapper had served a five-year prison sentence in Arkansas for possessing a firearm.
In July 2023, another arrest warrant was issued against the rapper for the theft of a rental car. Failing to return the vehicle to the Enterprise dealership, he was charged with felony theft, estimated to range between $30,000 to $150,000.
NLE Choppa Announces New Spiritual Journey
Another rapper who has been vocal about their spiritual journey is NLE Choppa. The young artist recently demonstrated a fresh start by cutting off his locs. While the Memphis native has taken a different path, his public exploration of spirituality aligns with Finesse2Tymes' quest for personal growth and a new direction.