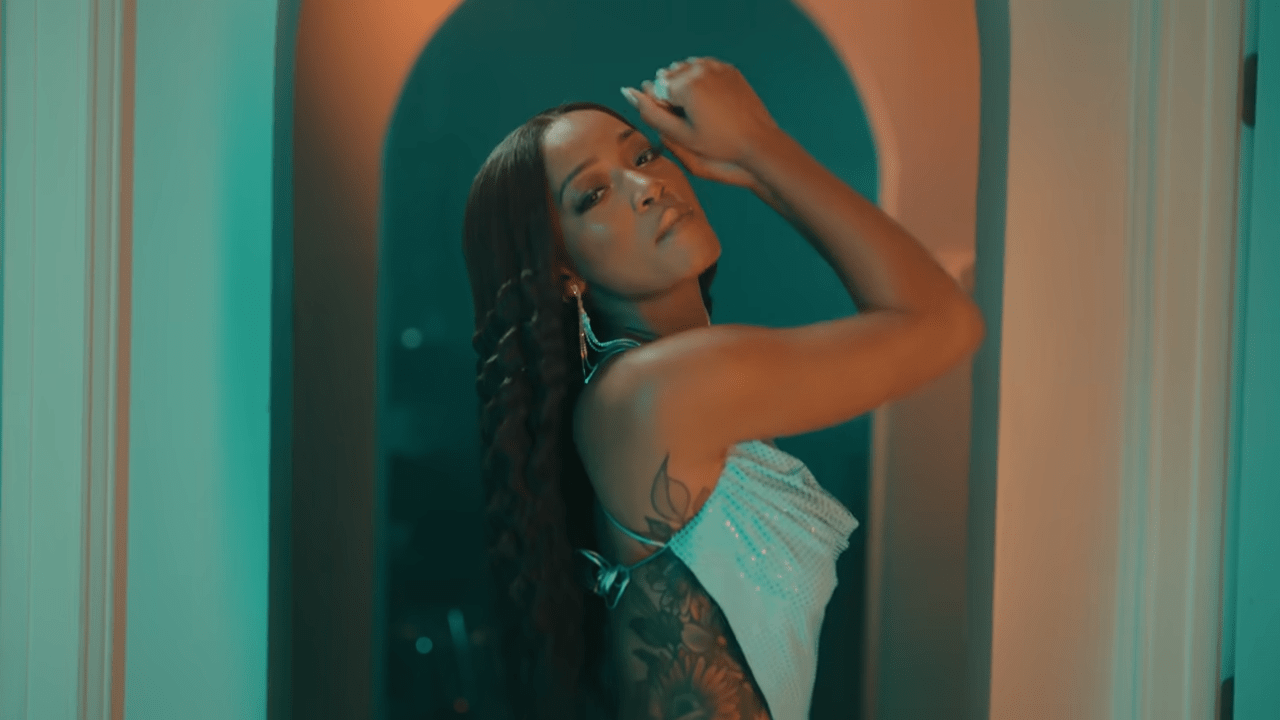 Keke Palmer has once again demonstrated her resilience in the face of adversity. After responding to shameful remarks by her boyfriend, Darius Jackson, she broke her social media silence with a TikTok video showcasing her classy response. Palmer has also turned the situation into an opportunity by launching her new T-shirt line, "I'm a Motha," celebrating motherhood and empowerment. Additionally, she shared heartwarming moments with her 4-month-old son, Leodis, emphasizing her strength and gratitude.
Keke Palmer reclaimed her power by responding to the shameful remarks made by her boyfriend, Darius Jackson. In a TikTok video, she recited the words from a previous interview, "If you gonna act up, I'm bout to link up," showcasing her class and dignity. 
This confident response marked the millennial icon's return to social media and demonstrated her ability to turn a negative situation into an opportunity for growth and empowerment.
"I'm a Motha" T-Shirt Line + Heartwarming Moments With Baby Leodis
Palmer used the unfortunate incident as inspiration for her new T-shirt line, "I'm a Motha." The line celebrates motherhood and empowers women to embrace their roles as mothers. 
In a social media post, Palmer proudly declared, "One thing is certain and one thing is true, IM A MOTHA, through and through!" The T-shirts feature empowering messages and are now available for purchase, allowing fans to join Palmer in embracing their strength and resilience.
Amidst the adversity, Keke Palmer found solace and joy in spending time with her 4-month-old son, Leodis. She shared a video of herself singing Stevie Wonder's "Isn't She Lovely" to her son, expressing her gratitude for the transformative power of motherhood. 
In another video, she showcased her dancing skills on TikTok, radiating positivity and embracing the moment's joy. Palmer's connection with her son and her ability to find empowerment through motherhood has resonated with her fans, inspiring them to embrace their journeys.
The Trending Topic
The singer/actress' response to the shaming incident and her subsequent endeavors, including the "I'm a Motha" T-shirt line, have sparked conversations on social media. Fans and supporters have applauded her resilience, positivity, and ability to turn lemons into lemonade. 
The trending topic has allowed Palmer's empowering message to reach a wider audience, encouraging individuals to rise above adversity and find strength in their journeys.
Updated By: Catherine Dallum (7/10/23 at 5:18 pm)
Should Keke Palmer Stay With Boyfriend Darius Jackson After Public Shaming?
Keke Palmer and her boyfriend, Darius Jackson, who is also the father of her child, have found themselves amid public controversy. After a video surfaced of Palmer enjoying Usher's performance in Las Vegas, Jackson publicly criticized her outfit, sparking a debate about relationships and public shaming. As the couple navigates this turmoil, many question whether Palmer should continue her relationship with Jackson.
Keke Gets Serenaded By Usher
Keke Palmer's presence at Usher's Las Vegas Residency became a topic of discussion on social media when footage captured her being serenaded by the R&B legend. Palmer appeared joyful and engaged as she sang along, wearing a stunning mesh black dress. 
However, her boyfriend and the father of their child, Darius Jackson, publicly commented on the video, expressing his disapproval on Twitter by remarking, "It's the outfit tho.. you a mom."
Jackson's comment triggered a backlash, with many criticizing him for publicly shaming Palmer. He defended his statement in a follow-up tweet, expressing:
"We live in a generation where a man of the family doesn't want the wife & mother to his kids showcase booty cheeks to please others & he gets told how much of a hater he is. This is my family & my representation. I have standards & morals to what I believe. I rest my case." 
Keke Palmer's Instagram Post + Fans React
Amidst the discourse, Palmer has not responded publicly to Jackson's remarks. Instead, she shared photos from the night at the Usher concert on her Instagram, and wrote:
"I wish I had taken more pictures but we were running late! I am telling ya'll right now, if you haven't seen @usher YOU MUST GO!! HE WAS SO FABULOUS!! Giving theater, Atlanta downnn, tips and tricks and just absolutely iconic. I was truly inspired as a performer. I whooped some ass in spades too! Where is that pic of us all together with the King himself?? @noraradd."
The incident drew significant attention on social media, with various users sharing their opinions. Some criticized Jackson, likening him to his brother and implying a negative characterization of their family. 
One user tweeted about Darius Jackson saying, "So, he's a b*tch like his brother. A family of bitches. Got it." Insecure actor Sarunas J. Jackson responded to one user, expressing, "Now this is crazy. I'm confused lol we ain't never met.. what did I ACTUALLY do lol and please don't repeat the lies ya'll love to say."
Another social media user expressed, "Keke Palmer man being a hater out loud. This why you don't publicly claim men especially ones with less money than you." 
In response to the backlash, Darius Jackson has deactivated his Twitter account, presumably to avoid further scrutiny and negative comments. The public nature of the incident and its subsequent fallout highlights the challenges individuals face in maintaining personal relationships in the age of social media.
In February 2023, Keke Palmer welcomed her baby boy into the world alongside her boyfriend, Darius Jackson. The pregnancy announcement was made during Palmer's appearance on SNL, and the couple has since embarked on the journey of parenthood together.
Keke Palmer has also launched her podcast, Baby, This Is Keke Palmer, available for streaming on platforms like Amazon Music and Apple Music. 
Rubi Rose Exposes DDG
In a separate incident involving relationship drama, rapper and YouTuber DDG was exposed by rapper Rubi Rose, who shared DMs while DDG was dating singer and actress Halle Bailey.
Originally Written By: Yasmine Duhé (7/6/23 at 6:03 pm)