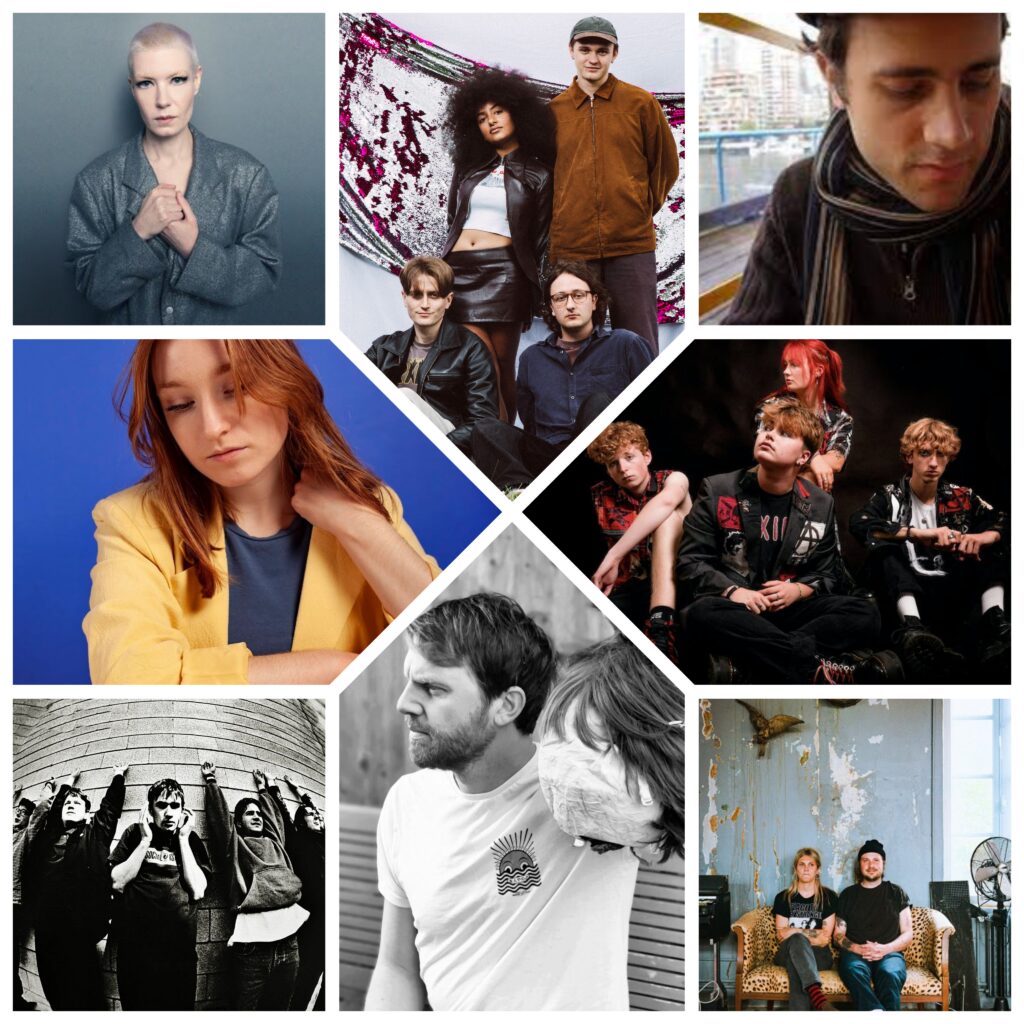 Ghost Woman – Yoko
Why we love it: Because 'Yoko' is dark, dangerous, and once more delivers the shape of things to come on Ghost Woman's upcoming album. The second single to be taken from Hindsight is 50/50 – due out 24th November on Full Time Hobby – sees Ghost Woman edging ever nearer to the point of self-actualisation. As the band's songwriter and multi-instrumentalist Evan Uschenko explains when talking about the album, "the first two albums were never meant to be albums: they are like pages from diaries that have long since been burned. With the introduction of Ille van Dessel as co-writer/drummer, the project feels like it has a direction".
And 'Yoko' embraces this spirit of realisation. It is the sound of a Canadian ghost coming to life, populating their world more fully formed, more expressive, more fleshed-out.  It promises much for their forthcoming tour in support of the new album. (Simon Godley)
[embedded content]
Noah and the Loners – Hell of a Day
Why we love it: The youngest band to sign the Marshall Records, Noah And The Loners release their new single 'Hell of a Day'.  And to see that there are two versions, one clean and one explicit is a statement of intent.  Punk teens Noah and the Loners are fronted by 18-year-old singer songwriter Noah Lonergan on vocals and guitar, with Amber Welsh on bass, Joseph Boyle on guitar and Noah Riley on drums.  They are seeped in old skool punk, raw, ferocious and with something to say.  Their sound may be influenced by legends such as X-Ray Spex, The Clash and Buzzcocks but they are absolutely in the here and now.  'Hell of a Day' is just their third single following 'Teenage Tragedy' and 'Protest Anger'.  It's a total blast.  It's staggering to hear this music coming from such young artists – that's not to be patronising, it's to be complementary.  The attitude is there in spades with lyrics literally spat out at times by Noah.  The pace is rapid, its not even a gallop, it's so much faster than that.  The guitar riff at the beginning is static fuelled and sets the tone for the track.  Lyrically it's a personal narrative, a weariness with everything that's going wrong on a particular day. 
Do not let the age of Noah and the Loners distract from their obvious talent.  A genuine punk band to be taken seriously, as evidenced by their signing to Marshall Records.  'Hell of a Day' is their third single and there's no sign and them running out of steam.  Quite the opposite. (Julia Mason)
[embedded content]
Symposium – I Like To
Why we love it: because even though this isn't technically new, in fact is at least 28 years old, it's new to all Symposium fans of a particular vintage who recognise the energy and exuberance of youth. The band reformed last year for a one off gig at Islington Assembly Halls, with a Best Of accompanying it. Now, they've doubled the gigs for 2023, with one in Manchester and another in Camden, this time a B- Sides and Rareties LP will arrive just before. 
'I Like To' was originally only a B-Side on a limited edition 7″ single, it is one of the first songs the band wrote and played live and also opened the demo tape that was sent to London venues to get their first gigs in 1995.
It displays the early punk influences and exudes a certain Dookie-era Green Day sound, but then, that's their best album, so, whats not to like?!? What it does beautifully is show where they came from to get to the iconic Symposium sound on debut mini album One Day At A Time. And it'll go off in the pit next month.  *DEVIL HORNS*!!! (Jim Auton)
[embedded content]
Off World – Impulse Controller
Why we love it: Because Sandro Perri, operating under the banner of his project Off World, continues to produce music that will not trouble the daytime radio airwaves and it is all the better for that.
'Impulse Controller' comes from the final album in Perri's Off World trilogy of leftfield electronics, which began in 2016 and is built around numerous and varied collaborations. Clocking in at just shy of eleven minutes long, 'Impulse Controller' is a sprawling soundscape of electronic rhumba, modular synths, and various samples over which the exploratory trumpet excursions of Nicole Rampersaud just floats.
The album Off World 3 is out on 3rd November via Constellation. (Simon Godley)
[embedded content]
Proteins of Magic – Flesh it Out
Why we love it:  Voluptuous and resonant, 'Flesh It Out' has a primal feel as synths, woodwind, and tribal percussion lay foundations for PoM's vocals that reverberate with melodrama, sexuality and brooding mantras. "If I give you a smile will you resuscitate me?" She sings as entwining vocal flourishes spiral into the sky like dead spirits. Mysterious, foreboding and enveloping there's a hypnotic quality to 'Flesh It Out'  that's both addictive and menacing in the way the likes of Fever Ray can conjure, while her vocals have a depth and inventiveness of Grace Jones or Bjork. Foreshadowing a bleak future, these spectres emerge to erode the wide eyed innocence of youth and replace it with existential questions and hollow false promises. Imperious. 
Written while gazing into the flickering flames of an open fire in her current base of Nashville, Proteins of Magic found herself caught in the daze of a flashback in which she had seen a young couple openly having sex during the day on the beach in Aotearoa / New Zealand. As Kelly Steven AKA Proteins of Magic remembers:
"The hope and the idealism, the youthful sheen on their skin, being unaware of what life lies ahead for them. That is what triggered the start of the lyrical process. I think the song lays out an emotionally treacherous life for them, a day in the life spanning 10 years and 2min52 seconds." (Bill Cummings).
[embedded content]
Kitty Perrin – First Love
Why we love it:  What's the opposite of feeling 'butterflies'? What's the name for that sense of confusion and loss when you encounter a first love again after many years? Norwich songwriter, Kitty Perrin doesn't have a word for it either, but 'First Love' is the closest thing to rekindling and making sense of those emotions. Perrin's easy, conversational style is what modern folk is all about, and this track is as relatable as it is engaging.     
They say: "First Love came out of a phone call with an ex after we'd split up when I realised for the first time it was really over: 'I didn't know you'd had your hair cut and it's really changed your face.' It's about discovering that someone you once knew so well has grown and changed without you. The fact that you can speak to someone every day and then suddenly know nothing about their life seems so strange to me but this song is about accepting that." (Trev Elkin)
English Teacher – Nearly Daffodils
Why we love it: because it's English Teacher being their usual fantastic selves and bringing a brand new sound to their burgeoning canon of styles. You think its going to sound like one thing throughout but it has a brilliant wig out that sounds like Psych Squid on poppers with Lily Fontaine as poetic as ever. Her voice feels like the street poet for Yorkshire, from her Colne home and through the Leeds backstreets that people slip down. 
She describes it as "'Nearly Daffodils' is about heartbreak and acceptance of unfulfilled potential. How, no matter how much you may want something, no matter how much effort you may put into something's growth or development, no matter how beautiful you can envision its fruition; life is a bitch and about as unstoppable as a freight train" (Jim Auton)
[embedded content]
Teenage Tom Petties – Bad Hire
Why we love it: Because Teenage Tom Petties is a slacker indie punk band split between Wiltshire, England and Portland, USA who were created by vocalist and guitarist Tom Brown and who knock out some killer tunes. Latest single 'Bad Hire' is absolutely no exception in this regard. Taken from the band's second album, Hotbox Daydreams – due out on the 3rd of November – 'Bad Hire' embraces the sound, style and spirit of punk music and fast forwards it to the present day.
Talking about the new single, Tom Brown says: "Bad Hire began life as a small finger-picked acoustic song, but once I had the idea of bringing it to the band it changed the energy completely. The verses have this easy-going lightness to them, before the chorus brings in some real urgency. It's fun as hell to play."
Packed with its customary melodic hook and rattling along with breakneck speed, 'Bad Hire' continues Teenage Tom Petties' aural assault on our senses. (Simon Godley)