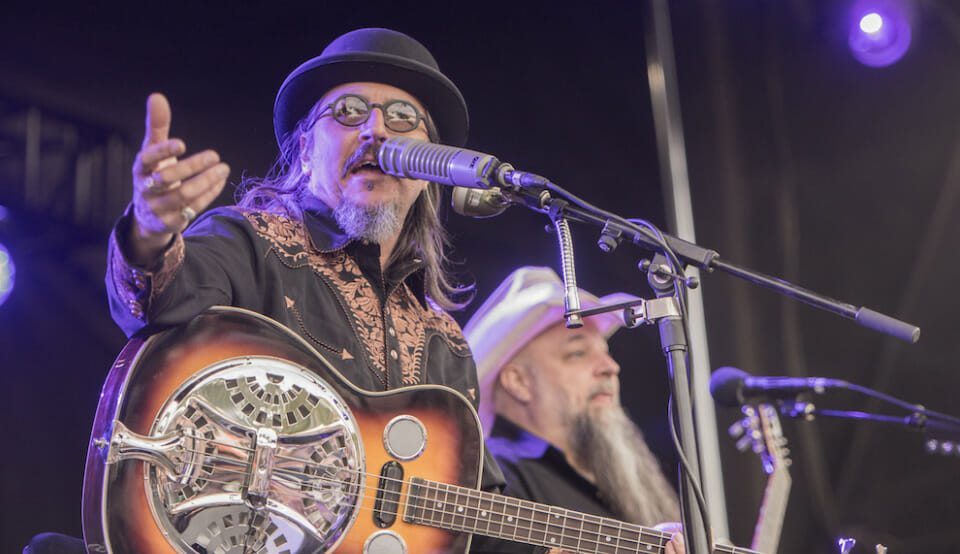 Les Claypool has confirmed the release of Adverse Yaw: The Prawn Song Years Box Set, a five-album set collecting his 2000s solo recordings. The compilation will officially drop on Feb. 9, via his own Prawn Song Records.
Documenting music recorded during the past almost 25 years, Adverse Yaw: The Prawn Song Years Box Set, will feature his work with The Fearless Flying Frog Brigade (Live Frogs Sets 1 & 2, Purple Onion) and Colonel Claypool's Bucket of Bernie Brains (The Big Eyeball In the Sky), as well as his solo LPs (Of Whales & Woe, Of Fungi & Foe), which featured members of The Fancy Band. The bassist admits that part of the reason for releasing the box set is to help organize his catalog on streaming services. 
"On many levels, Zappa was way smarter than me," Claypool said. "He just called his album Zappa—it was either that or the Mothers, so it was all under one umbrella. We have been all over the place."
The announcement comes as Les Claypool's Fearless Flying Frog Brigade kick off their  The Hunt for Green October Tour in Oakland, Calif., tomorrow. It will mark the Northern California-based outfit's last Bay Area performance of the year. 
"When I did my [early solo project] Holy Mackerel, I said, 'Those were songs I wouldn't inflict upon the guys in Primus. And that's kind of what all this stuff is," Claypool said. "It's all stuff that I didn't really feel was Primus. Primus is a democracy. And except Bucket of Bernie Brains, these are all my bands. It's like directing a film—you bring in actors to fill certain roles, and that's what these projects are. It's my vision, though there is obviously collaboration and these guys take it to the next level. I'm the colonel."
The set will also spotlight some of Claypool's more oft-overlooked bands, like the beforementioned Bucket of Bernie Brains. The supergroup came together at the first Bonnaroo in 2002, when prog-heroes Praxis pulled out at the last minute. Though the bassist had played with Brain in various groups, including Primus, and had known the enigmatic Buckethead since the guitarist was 19, he had never played with Bernie Worrell before. They just decided to jam, later entering the studio to record The Big Eyeball In the Sky. 
"We took some of the jams from that first gig, organized them, arranged them into actual songs, and then some of it came together just in the studio," he says. "It was all about being very organic and improvisational and shooting from the hip. When we went out and did the tour, we actually had songs to play, but there was still a big element of improv within it."
When it came to delineating the Fancy Band from The Frog Brigade, Claypool explained, "There's no real guitar on it or any of that stuff. It's a lot of strings which I played—percussion and bass and whatnot." He also notes that the LPs credited to his name are true solo records, which originated from some film and video game soundtrack work he did. He then brought them to some friends, including Eugene Hütz, to flesh out.
Coinciding with the announcement of Adverse Yaw: The Prawn Song Years Box Set, Claypool promises a new two-set Frog Brigade show that will dig deeper into his solo catalog, including some gems that haven't been performed yet. Longtime member Skerik, who was forced to sit on earlier legs of the tour due to health reasons, will also be back.
"It was a bit of trial by fire because Skerik couldn't do the tour because of an injury, and he was my running back," Claypool says. "He was the guy that would grab the ball and run for the end zone all the time. I was a little nervous but, lo and behold, everyone stepped up incredibly well. This last tour was amazing, even though nobody had really played together before. 
The ensemble will also play Pink Floyd's Animals in its entirety each night for the last time for the foreseeable future. 
"We have a bit of a ringer in the band, having Harry Waters, Roger Waters' son, in there telling us what we're doing wrong or pointing out things that I missed. But also Shiner [Sean Lennon] has really stepped up, and the Frog Brigade V. 2 is really handling the Floyd stuff very well."
The Hunt for Green October Tour will also be the "lilypad." At all upcoming general admission shows, a special green section will be marked near the stage, known as the "lilypad," welcoming attendees dressed in costume or donning the Fearless Flying Brigade Frog Hat. In addition, all attendees, whether at seated or general admission shows, are encouraged to come in costumes. A contest at every show will reward one outstanding costume-clad fan with an autographed show poster.
Looking ahead, Claypool, who recently turned 60, will regroup with Primus—who released their first EP of new music in five years recently—for a big tour with  A Perfect Circle and Puscifer, celebrating Maynard James Keenan's own 60th birthday next year. He also has a "hankering" to regroup his country project Duo de Twang and to finish his long-gestating LP with Billy Strings, which is also "twangy" and the next Delerium album with Lennon.
"I'm just moving forward, trying to keep the barnacles off the hall," he added. 
LES CLAYPOOL'S FEARLESS FLYING FROG BRIGADE – The Hunt For Green October Tour
Wednesday, October 11th – Oakland, CA – Fox Theater*
Thursday, October 12th – Riverside, CA – Riverside Municipal Auditorium*
Saturday, October 14th – Albuquerque, NM – El Rey Theater*
Sunday, October 15th – Denver, CO – Mission Ballroom*
Tuesday, October 17th – St. Louis, MO – The Factory*
Wednesday, October 18th – Chicago, IL – Salt Shed*
Friday, October 20th – Albany, NY – The Palace Theatre
Saturday, October 21st – Wallingford, CT – Toyota Oakdale Theatre*
Sunday, October 22nd – Brooklyn, NY – Brooklyn Steel*
Tuesday, October 24th – Montclair, NJ – Wellmont Theater*
Wednesday, October 25th – Philadelphia, PA – Fillmore*
Friday, October 27th – Live Oak, FL – Hulaween
Sunday, October 29th – Charlotte, NC – The Fillmore*
Monday, October 30th – Cincinnati, OH – Andrew J Brady Music Center
Tuesday, October 31st – Nashville, TN – Ryman Auditorium
*General Admission Lilypad show