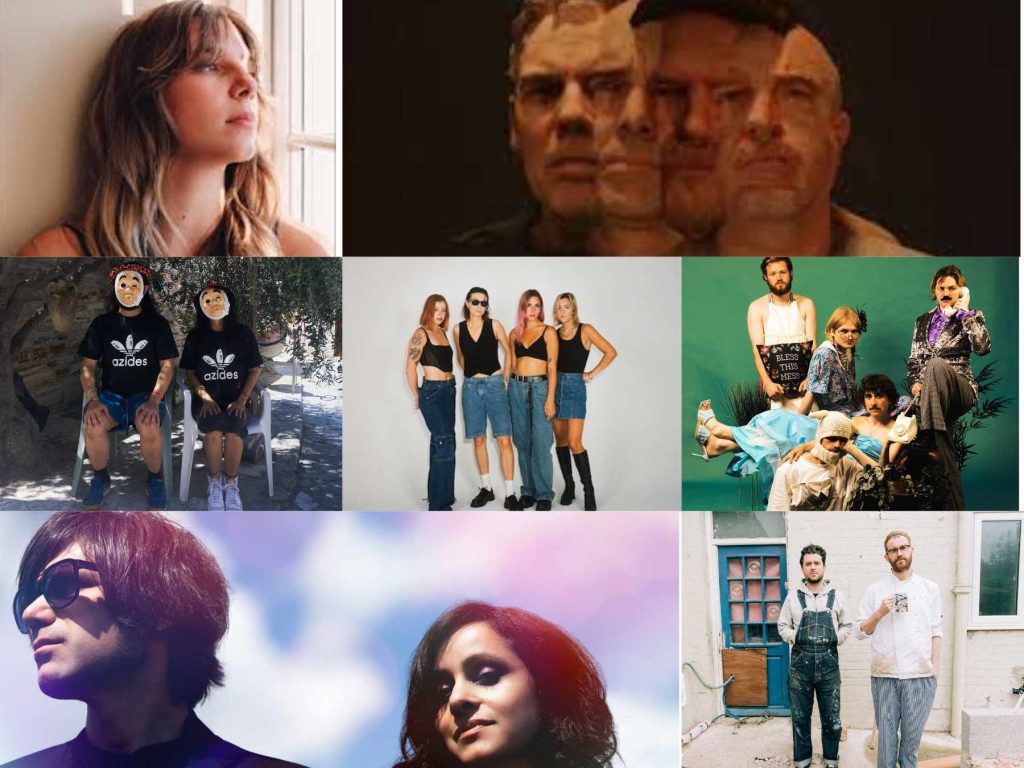 Lloyd's House – Ribbons
Why we love it: Because if you go into Lloyd's House you will be entering a seriously off-kilter pop world where nothing is quite what it seems. 'Ribbons' is most certainly such a case in point. The first single to be taken from the new Lloyd's House EP The Masochist – out 20th October on Wish Fulfillment Press (the DIY Art House Publishing Platform set up by Phillip Jon Taylor from PAWS) – sees the delightfully eccentric pop brainchild of Lloyd Ledingham shifting through the gears of sonic illusion with considerable sleight of hand. 
Here Lloyd's House fixes a gimlet-eye (and an associated ear) on the pop idiom before proceeding to take the listener on a mesmerising waltz through the corridors of Europop and gentle psychedelia. If you don't believe me take a gander at the video that accompanies 'Ribbons' where Lloyd and his pals goof around a little and show considerable strength in unity.
As Lloyd himself explains: "We wanted to push the idea of being so overly pop and in-your-face that it's visibly distressing. We wanted it to look as if One Direction were held captive and forced to dance, ending in nothing but chaos. It fits the music pretty well given the direction we were going in, and the comedy of it all is a good contrast with the kind of pineful vibe of the track." (Simon Godley)
Das Koolies – Out Of This World
Why we love it: Das Koolies is four-fifths of Super Furry Animals and their latest single, 'Out Of This World', is an electro-psych blend of sonic ideas from their lives old and new.  It's the fourth track to be taken from their debut album, DK.01, set for release on 22nd September via Strangetown Records in association with Amplify Music. Incredibly the album promises 17 tracks and if they are all in this vein we are in for a treat. This is a techno dream but with a vocal that is perfectly aligned with the bobbing beats. Layered over the top but to be honest 'Out of this World' is all about the instrumentation – and what instrumentation it is. Music for the dancefloor, dripping with synths, euphoric and impossible to ignore.  
The band shares the following:"'Out Of This World' is an amalgamation. Two songs melt into each other to become one.  On one side, a source from the distant past, on the other a voyage of sonic exploration from subterranean Penge. Playing one into the other, they connected.  Out of this world indeed."
Three Rough Trade instores are scheduled for the album's release but there are rumours of further live dates. Fingers-crossed. (Julia Mason)
Rosie H Sullivan – Chapters
Why we love it: Because 'Chapters' is a breath of fresh air. The new single from Scotland's breakout singer-songwriter Rosie H Sullivan is a summer breeze of a song, as bright and cheerful as the gentle cycle ride along the St Andrews' seafront where its accompanying video was filmed. 
The second single to be taken from her forthcoming EP which will be out this autumn – following hot on the heels of her impressive debut EP 123° East which was released earlier this year – 'Chapters' confirms Rosie H Sullivan's promise as an emerging talent for the ages. There is a life-affirming quality in Sullivan's voice and she certainly has an ear for an infectious melody.
"I wrote Chapters when I was 17," says Sullivan, now in her 20s and revealing her uncertainty on unearthing the track now. "It's been sitting gathering dust, but I put my trust in those who believed in the song and me. A new stage of life, a new chapter, how terrifying, but how lucky and how thrilling to have that. The middle 8 that was born whilst recording it in the studio which Ross Hamilton helped me write. We brought the song alive, and I could have cried when I heard it all as one. Who knew?" (Simon Godley)
John – Riddley Scott Walker
Why we love it: JOHN – comprised of John Newton (drums, lead vocals) and Johnny Healey (guitar, backing vocals) – have released their new single, the utterly ground-shaking 'Riddley Scott Walker' which features a guest turn from former Bad Seed and Magazine man Barry Adamson. The title is from the Russell Hoban novel Riddley Walker, which imagines a post-nuclear war future in which society has regressed and history has been obliterated to such an extent it's open to widespread misinterpretation. It's a thunderous track, even by JOHN's high standards. The speed of the drumming is simply phenomenal and it's accompanied by the most ferocious guitar. 
"Having identified that visual references as just as important as audible ones, we really wanted to continue driving the cinematic leanings of our music. This is something that has steadily grown throughout our back catalogue and was a key reason why we felt it relevant to collaborate with other cinematically-inclined individuals such as Simon Pegg and Barry Adamson."
The collaboration came about after Adamson chose Nocturnal Manoeuvres as one of his favourite releases of 2021 in a list for Brooklyn Vegan which led to the band approaching him to guest on the track."His album Moss Side Story is self-described as the score to an imaginary film, and this is often how we feel about the music that we both enjoy," continues Newton."It's great to have someone who understands a similarly cinematic approach to music, having also created music for David Lynch's Lost Highway." (Julia Mason)
WaqWaq Kingdom  – 'Buri Buri (ft. Catu Diosis)'
Why we love it:  WaqWaq Kingdom (aka Japanese musicians Shigeru Ishihara and Kiki Hitomi) have shared 'Buri Buri (ft. Catu Diosis)' an insanely funky afro beat, riven with foot-stomping percussion and addictive earworm refrains with references to Sampa the Great and M.I.A as well as music from the African and Asian continents, it's a record that's a bubbling hot pot of dance music that responds to ecological anxiety. It's lifted from their upcoming new album Hot Pot Totto out on 22nd September via Phantom Limb
The swaggering new single 'Buri Buri' features Ugandan DJ, producer (and core member of the Nyege Nyege Crew) Catu Diosis and centres around the lyric "Turn disaster to our advantage / good fortune and happiness will come to those who smile," offering not regret but encouragement and empowerment with its neon alien sonics and relentless vibrancy. (Bill Cummings)
The Beaches – What Doesn't Kill You Makes You Paranoid
Why we love it: Canadian four-piece The Beaches unveil their newest single 'What Doesn't Kill You Makes You Paranoid' leading up to the release of the quartet's second LP Blame My Ex on September 15th. 'What Doesn't Kill You Makes You Paranoid' is a hooky garage-pop anthem, rife with cathartic singalong built for anyone tired of the insecurities and 'what-ifs' plaguing their minds. Simmering fuzz guitars of Kylie Miller and Leandra Earl, 'What Doesn't Kill You Makes You Paranoid' reflects a restrained tension that releases in the addictive chorus that echoes the likes of Alvvays by way of Hole, delivering a clunking vocal right hook.
Lamenting the trials of navigating self-doubt in relationships, powerhouse lead vocalist Jordan Miller flips the script on the classic adage 'What doesn't kill you makes you stronger,' instead bluntly singing "What doesn't kill you makes you paranoid/What doesn't kill you makes you feel like your love ain't s***' with an incredible performance that roars into a singalong moment. Self-empowered, catchy, singalong single. Brilliant work.
On the new single, The Beaches share; "'What Doesn't Kill You Makes You Paranoid' is a song about feeling intense anxiety after a breakup. This had been my experience when my relationship had just ended. I wasn't used to being on my own, so I found myself feeling really insecure in social situations – which was really surreal because I'm usually very confident and self-assured. However, the more people I've shown this song to, the more I've come to understand I'm not alone." (Bill Cummings)
prismatiqk – It"s Not All About You
Why we love it: Monaz Parry and Steven Horry are a multi-instrumentalist songwriting and production duo prismatiqk who both individually escaped London for Kent. 'It's Not All About You' is their latest offering a "sad banger" for the morning after the night before flipping the script on someone being particularly selfish, musically it reminds one of Madonna's Erotica or Bedtime Stories era or I Break Horses, with widescreen backdrops framing Parry's luxurious vocals underpinned by 808s and trap hi-hat patterns. It's the second single from our upcoming debut EP 'Refractions'. Superior alt-pop.
Steven Horry says "It's Not All About You began life when The Guilt attacked during a quite severe hangover. An early version of the song started prompting singalongs during live performances and strangers asking me when it would be released, but despite recording multiple versions I was never 100% happy with it. Cue Monaz…"
Monaz Parry: "He's missing out the part where he angsted for ages about playing it to me, 'cos he got all shy about his singing, and left the room when it started. Frankly insane, because it was a fantastic melody, but I realised it could be kind of magic to flip the script and see it from the other person's perspective."
Steve: "So some new – far superior – lyrics, new melodic parts, we worked up a whole new arrangement, Monaz added a soaring middle 8, and now: bosh. 100% happy." (Bill Cummings)
Related