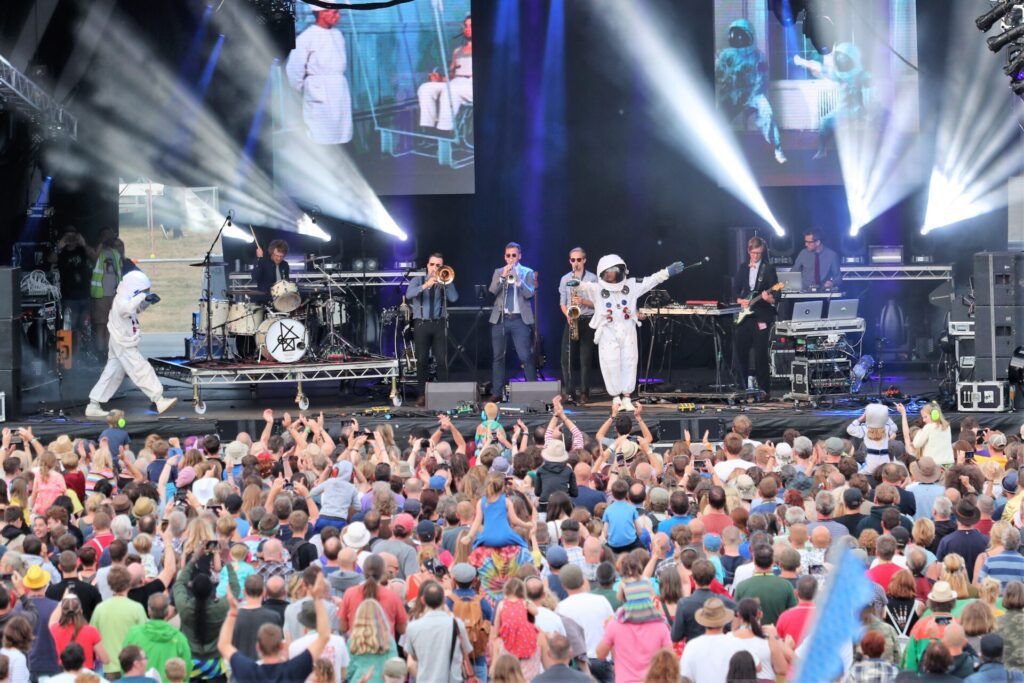 When:  28th – 31st July 2023
Where: Baldersby Park, Topcliffe, North Yorkshire, England
Well, that's come around very quickly! In a fortnight's time, we will be heading back to the lovely rolling countryside of Baldersby Park for another Deer Shed Festival. It will be the 13th annual edition of this wonderful, family-friendly festival of music, comedy, arts, science, theatre, and sport for all ages, and just like its predecessors, this year's event promises to be yet another cracker.
Music headliners for 2023 will be The Comet Is Coming, Public Service Broadcasting, and The Delgados who will be topping the bill on Friday, Saturday, and Sunday night respectively. A strong undercard is characterised by the perennial innovation and variety of Deer Shed's line-up and this year features music from a diverse range of artists including Gaz Coombes, The Big Moon, This Is The Kit, BCUC, Dream Wife, Grove, and Gwenno.
Deer Shed 13's Big Top Programme is similarly adventurous and will see appearances from Phil Wang, Bridget Christie, Mawaan & the Band, Amy Gledhill, Lauren Pattinson, Brennan Reece and many more top comedians besides.
The Arts are well represented too in the ever-popular Literary & Spoken Word Programme where both Public Service Broadcasting and the American record producer Gordon Raphael can be found in conversation, as well as The Northern News Podcast, The Egg Bookclub with a special guest, and Waterstones Children's Literary Laureate, Joseph Coelho alongside a host of other great events.
And all of this is before we even get onto talking about the consistently creative programmes that have been scheduled for Science, Sports, Under 5s, Well Being, Theatre & Cinema, and a number of assorted Workshops. There truly is something for everyone at Deer Shed.
Full details of the line-up, plus additional information on all the excitement and adventure that Deer Shed Festival 2023 has to offer can be found on the official website.
And the last few remaining tickets for this year's festival can be bought HERE