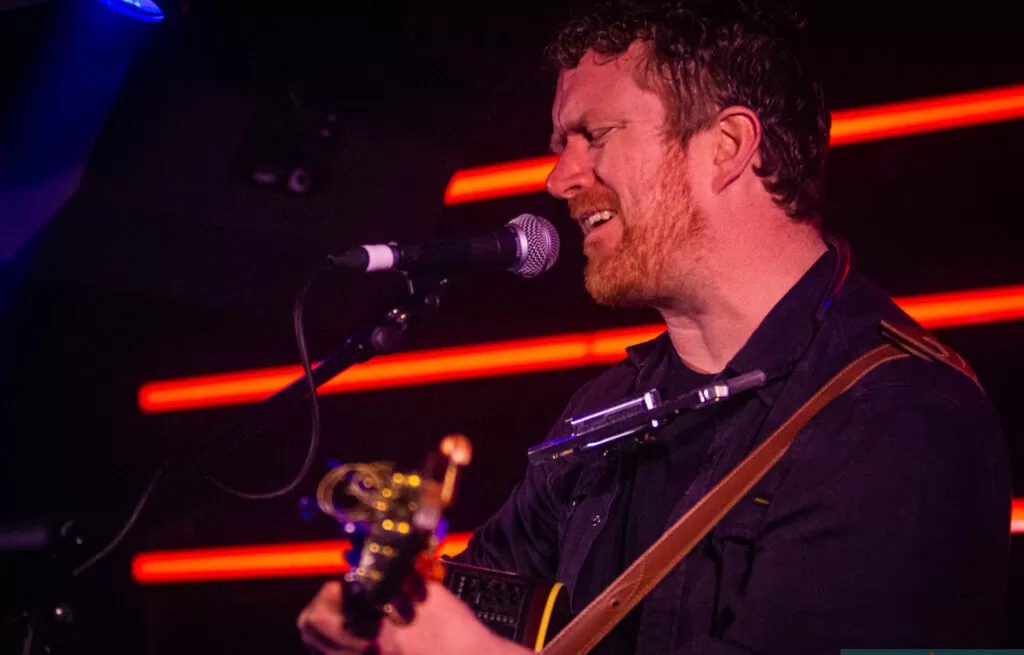 Aran Islands artist Padraig Jack has been making waves with his spell-binding bi-lingual compositions including hit track, 'Making Sand ' which spent four weeks at number one in Ireland's RTE Radio Airplay Chart in summer 2022. Seamlessly blending Gaelic with English lyrics his LP Making Sand was named the RTE Radio Album of the Week and the title track was even nominated for 'Best Original Track' at the RTE Folk Awards. Padraig grew up in a bilingual family in the Aran Islands with strong musical and poetic roots. Hot Press described him as "One of Ireland's most exciting artists."
Counting Mike Scott of The Waterboys and Miles Hunt of The Wonder Stuff amongst his fans, he is fast becoming one of the most buzzed-about names on the folk scene. He has been supporting Miles Hunt on his solo tours across the UK as well as his own multiple headline sets across Ireland with support slots for folk legends including Damien Dempsey and Sharon Shannon including a crowd of 4,000 in the Iveagh Gardens last year.
Having released his critically acclaimed album Making Sand in 2020, Padraig is currently recording his second album with renowned producer John Reynolds (Sinead O'Connor, Damien Dempsey) which is due for release in 2024.
Padraig started this year with tours of Wales and the Basque country and will be playing shows all around Ireland in 2023. Fresh from festival appearances at Doolin and Galway Folk Festivals, Padraig Jack has given us another glimpse of his upcoming album with the release of 'What Is Love' which he says "is not so much a love song as a song about exploring love, pondering the interpersonal connections between people and the universal nature of a powerful force that doesn't distinguish between cultures and borders. '
To celebrate the release of his latest single, Padraig Jack sat down with GIITTV to talk about his creative process, his number-one single, his famous fans and the influence of the landscape on his soundscapes.
Congratulations on reaching the number one spot in Ireland How did that feel? Was this your proudest musical moment or were there others?
"This was definitely one of them, there was a degree of validation with this as it meant I might be doing something right, and some people might like my music. It felt extremely satisfying and I felt very proud that it was a song I wrote about my home too."
How would you describe yourself and your work to anyone new to Padraig Jack?
"I describe my music to people as something like REM mixed with Sinéad O 'Connor and no one has told me that's a mis-characterization yet. I'm a bilingual singer songwriter from an island off the west of Ireland. I take song writing seriously and I consider writing the most important aspect of my music, with singing, performing and composing being secondary"
Miles Hunt of The Wonder Stuff is a big fan of your work saying that your album 'Making Sands' "would be a life time favourite" of his.
"It's such an honour to get compliments like that from Miles". After a recent gig, Miles told Padraig that his songs, "Lit up the Room'" to which Padraig replied, "I am but a salt lamp adding hue to your chandelier!" It is this poetic talent, musical prowess and self deprecating charm that has led him to win over have audiences from Camden to Liverpool, Warrington to Brighton during his UK tour with Hunt.
I hear that Mike Scott of The Waterboys s a big fan of your work too saying that 'Making Sands sounds beautiful'
"I was at home one evening when I got a few emails about comments on my YouTube page and they were saying that Mike Scott had tweeted about my song Making Sand. It was very satisfying to learn that a great songwriter had complimented my song- a pinch me moment as they say."
…and you have supported Sharon Shannon on tour and Damien Dempsey Iveagh Gardens in front of 4000 people. That must have been amazing. Tell us more.
"Yes I did a couple of UK tours with Sharon in 2019 which was a great experience for me and touring with Damo this year was like a dream come true. I was meant to tour with him in 2020 before covid happened but it was better this year. I opened his show in Iveagh Gardens before 4000 people and that was just one of the most surreal experiences of my life. Although I was surprised at myself at how relaxed I was, I felt very comfortable on stage that night for some reason which made it more enjoyable I think."
You sing in both English and Irish. Does it feel more authentic to sing in the mother tongue. Do you think that different personality traits come out in different languages?
"That's a good question. I'm not sure if it makes me feel more authentic as I grew up speaking English as well as Irish but I do think that might be the case that certain personality traits might come out in different languages. Languages inherently contain certain qualities about the place where they are spoken or where they evolved from. I think singing in Irish will make me more likely to summon imagery or feelings relating to the west of Ireland and where I'm from."
Making Sands is in both languages- Was that a conscious decision to connect the two?
"No, that's just the way it came out. It felt natural to have an Irish language verse in it, I know a lot of people who hear it won't understand that verse and a half, but I think it sits well there in the song."
"The ocean lives amongst us" is one of your lyrics. Do you feel more connected with the landscape where you live? Has modern society lost some of this wisdom in urban areas maybe?
"I think I do. They say someone who grows up near the sea always longs to be near it. I guess I feel connected to the landscape around me. When I'm not in Aran I'm in Oranmore near Galway and from each of these places I can see Black Head (in Co Clare) from opposing sides.
My partner Ciara does laugh at me sometimes as I reference everywhere as where it is in relation to Aran. I'm not sure if modern society has lost some its wisdom in urban areas. That's a complex question I think, or at least I can imagine a complex answer. What I do find is when in London I cant get over how there is no quietness anywhere. I put off making a phone call until I get some peace and quiet and then I don't make the phone call as there is always noise form traffic, chatter, machines etc all the time. I'm probably just living in paradise that I'm used to the quiet I have at home. What was the question again?? lol"
Do you feel that there is a big connection between landscape and soundscape?
"Yes I do I guess. To me those are the same thing except one appeals to the eyes and the other to the ears, sight and sound. I love the idea of trying to create a soundscape that will illustrate to the listener what's in my head. It could be any kind of sound that helps execute this, or a lyric or an arrangement. But I can definitely see a similarity between the two."
What is your creative process usually? Do the lyrics come first?
"It depends but usually music comes first actually. Then I might get a couple of words in the music and go write the lyrics from there. I started recording music during lockdown and this did change my process a little. I was always very non-prolific when writing songs, I would only write about one or two songs a year that I was happy with, but since starting making my own demos, I found I was writing a bit more as I was able to put some instrumentation down on track and that would give me some more ideas to finish the song.
And how do you nourish your creativity ? I can imagine the landscape and history of the Aran Islands feeding deeply into the process
"Yes they do for sure, because its 'home' but also because there is a wealth of history associated with the place that adds to it also. I try to just live and enjoy life and when the mood is on me for writing that inspiration will present itself form the subconscious."
Do you feel the Draíocht when you play?
"Damien Dempsey uses that word sometimes, draíocht, which is a great word to describe something good that moves you. I do feel it sometimes I think, I do try to create the conditions for that in every show but it doesn't always work. There is a feeling in the room sometimes which feeds into the mood of everyone, (or everyone's mood can cause the feeling in the room) and playing music can be magical at times like this. It just takes you over."
Would you say there is somewhat of a Gaelic revival going on at the moment?
"I would say so. Its cool to speak Gaelic in Ireland now whereas it wasn't when I was young. There is now TG4 the national TV station and multiple radio stations like Raidió na Gaeltachta (national) and regional stations like Raidió na Life, Raidió Fáilte and lots of Gaelic language shows on other stations."
There seems to be a celebration of the Irish language and trad fused music at the moment with Lankum winning the RTE Choice Music Prize and Tom Coll from Fontaines DC releasing a Trad Compilation and yourself, Damien Dempsey, The Scratch and The Mary Wallopers generating interest on the International stage
"Yes. Irish music seems to be experiencing a resurgence at the moment, I think it might be the case for music in many minority languages, Welsh too for example. I haven't toured too far out of Ireland of late but from what I can see that seems to be the case."
With the likes of Lankum and Gwenno, Contemporary Celtic Folk seems to be hitting the mainstream- Lankum previously featured in MOJO's 75 Best Albums, while Gwenno's 'Tresnor' was the first ever album in a language other than English to be shortlisted for a Mercury Prize. She sang mainly in Cornish- another Celtic Language. Do you think that Society is more open to Irish and Celtic-based languages and traditions at this current point in time?
"Yes I do, I'm not sure if it's a symptom of the way the word is at the moment with some shifts happening in geopolitics, the effects of COVID on work practices, climate change, people seem to be looking for more pure and honest and meaningful forms of music maybe and this naturally might lead to music in Celtic languages like Irish, Cornish and Welsh."
Maybe Padraig Jack will be the next big name?
"Perhaps."
Padraig Jack's latest single What Is Love', is released on Friday July 14th on Good Deeds Records with a second album currently being recorded with legendary producer John Reynolds. Follow Padraig Jack here: Padraig Jack Music | Home
Upcoming Live Dates:
August
16   Campbells Tavern, Cloughanover, Co Galway
September
01   Crane Bar, Galway
02   Unitarian Church, Dublin
08   South Armagh
09   Clare Island  
October
07   Inis Meáin, Éigse Dara Beag
14/10   Féile Raiftrí, Loughrea 
November
10   Linenhall Theatre, Castlebar
Photo Credits: Redtop Images