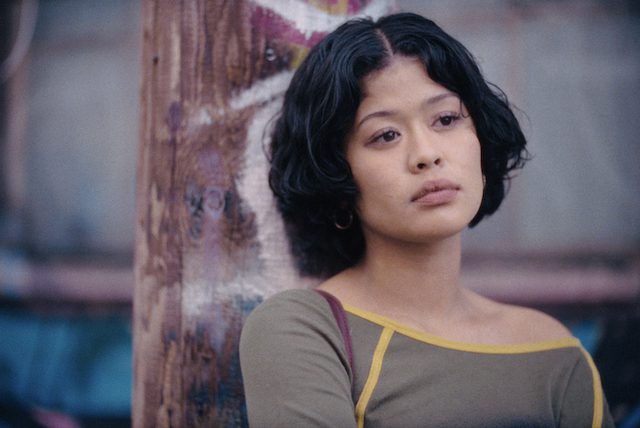 Unflirt has announced details of her second EP, April's Nectar, out on November 29th. She's also revealed the wistful and gorgeous first single and video 'Someday'. With a sensitive and contemplative delivery that sighs beguilingly like a blanket over a cycle of percussion, strums, and fuzz-tinged guitars. It's an exquisite moment of yearning that takes time out of the day to dream of wanting and needing more, inspired by the sting of separation. Its tapestry of longing harks to the more subdued moments of Soccer Mommy or The Sundays.
Written by Unflirt and produced alongside Iain Berryman (Wolf Alice, Young Fathers, Beabadoobee) she shares, "Someday is about the struggles and feelings that come with being in a long-distance relationship. I wrote it thinking about those first moments after I dropped my boyfriend off at the airport, and it was honestly the most gut-wrenching horrible time ever. Writing the song I guess helped console me in a way, because even though I was incredibly down with the uncertainty of our situation, it let me reminisce on the beautiful time we had just spent together and know that at least there's always someday."
The coming five-track EP is the follow-up to her debut EP Bitter Sweet, and arrives after her recent standalone single 'Stains.' As well as a recent string of live slots including at All Points East Festival alongside HAIM, Unflirt also supported beabadoobee for a stretch on the EU leg of her tour, with further appearances later this month supporting Alex Lahey in London and at Live At Leeds Festival.
Landing in early 2023, Unflirt's debut EP Bitter Sweet charted the ebb and flow of teenage love and heartbreak – moving from rose tinted reverence ('Before Dawn,' 'Anywhere') to regret and serene acceptance ('Out Of Time'). On April's Nectar, Unflirt expands her world, dissecting a more complex range of emotions alongside fleshed out instrumentation (yet with her unmistakable vocal tone still firmly at the fore). This new collection of songs represents a maturity in Unflirt's songwriting process too. Where her past songs were penned strictly at home before arriving in the studio, this time she placed her trust in her subconscious, turning up to sessions "empty handed" to excavate her present emotions and introspections in the company of her collaborators. She worked primarily alongside Mack Jamieson (Clavish, Wallice, Mahalia), with additional contributions from Iain Berryman and Bastian Langebæk (Olivia Dean, Nilüfer Yanya, Birdy.)
April's Nectar is named after a metamorphic month for Unflirt which she credits for the many ways her life has since bloomed, its five songs being "the fruit of what began during that time." Here, the palpable intensities of her young adulthood are displayed in technicolour.
Speaking on the EP, Unflirt shares; "These songs touch on a range of much more complex emotions that come with the reality of being in love. A huge part also that I feel has influenced my writing on this EP is what this experience has shown me about the best and worst parts of myself. I feel like I've gone through a second puberty from the ages 20-23, so I feel like this EP is really symbolic of that and all of the things I've learnt about myself from these experiences."
Immensely proud of her heritage, Unflirt was born and raised in West London, the first generation daughter of Filipino parents. Her earliest musical experiences are performing karaoke ballads of Whitney Houston, Stevie Wonder and The Beegees with her mum and dad – a "staple activity" in every Filipino household. These happy memories aided her in forging her musical identity. With no formal music training aside from basic guitar lessons imparted in her childhood by her father, she began releasing music independently during lockdown. She bought herself a microphone and a basic interface and began making music from the sanctuary of her bedroom as a way to process her emotions during the pandemic at a particularly pivotal moment of her adolescence.
Unflirt live dates:
OCTOBER
11: Hackney, London, UK | Oslo supporting Alex Lahey
14:  Leeds, UK | Live at Leeds Festival
NOVEMBER
02: Brighton, UK | Mutations Festival