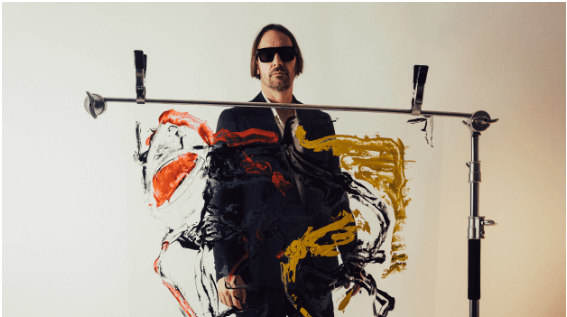 Speedy Wunderground's Joyeria has just released a buoyant new video for his latest single, 'Death,' taken from the artist's FIM (Fuck I Missed) EP which was released in October 2022 to rave reviews, followed by the vinyl drop in January 2023 and live shows in support of Independent Venue Week. FIM is another example of Speedy Wunderground's boundary-pushing vision, with Joyeria's singles on heavy rotation on radio stations across the globe from America to Spain, Italy to Canada, Ireland's RTE 2XM to BBC Introducing and 6 Music.
If you are looking for a record that's cinematic, edgy, wild, lavish, original, oozing with dark charm, pathos, warmth and bursts of frenetic energy then look no further than Joyeria's FIM.  Award-winning producer, Dan Carey's, contributions to the EP, "were plentiful," said Joyeria, "Dan Carey is an incredible producer, and an exceptionally accomplished musician and a very kind person.  He is driven by curiosity and experimentation and has the mastery of the craft to execute on any idea. Any."
Carey has been responsible for producing the likes of Fontaines DC, Slowthai, Wet Leg, Foals, Kae Tempest, Kylie Minogue, Tame Impala, Squid, Moreish Idols, The Lounge Society and Miss Tiny (Carey's own project with Benjamin Romans-Hopcraft) many on his own cult label, Speedy Wunderground.
From Canada via London, Joyeria's latest video 'Death' sees Joy reclining barefoot on an invisible cloud floating over the stunning landscape, making witty observations about the absurd state of existence. With a luminous flashing subliminal message saying "Well, I like Joyeria Artistically...."
'Death' has a bluesy guitar riff woven with a jazzy clarinet referencing cowboys looking at horizons and witty allusions to everyday phrases like, 'I've never seen a dog eat a dog' and 'I've never seen a rat run a race' with the energy changing as the track progresses, saying 'It's a comical dynasty' and a 'performance art piece,' before breaking out into a cathartic free jazz frenzy which could be a performance art piece in itself. It is a beautifully original reflection on existence and mental health with poetic lines like, 'By the time the moon hears the howls, the wolf will have lost all its teeth.' Like all tracks on the EP, this is one that demands to be listened to on a loop, because every time you listen you hear something different.
Speaking of the track, Joyeria said, "If you don't love anything, nothing can kill you. But good luck with that."
"The life of the mechanic, accountant, doctor, artist, rebel, lover, fighter, recluse, sober, drunk, Pius, fit, unwell et al. They have been lived an infinite number of times. Maybe the same words were said in the same order."
Joyeria will be playing a headline show at The Lexington in London on 18th May, as well as playing at The Great Escape in Brighton on 11th May. Order FIM here Joyeria – FIM (EP) (ffm.to) and see Joyeria Live here:
May
11 Brighton, The Great Escape
18 London, The Lexington
October
19-21 Rotterdam, Left of the Dial Festival
Follow Joyeria here for more updates:
Joyeria (@Joyeria_sounds) / Twitter Joyeria | Facebook Joyeria (@joyeria.sounds) • Instagram photos and videos