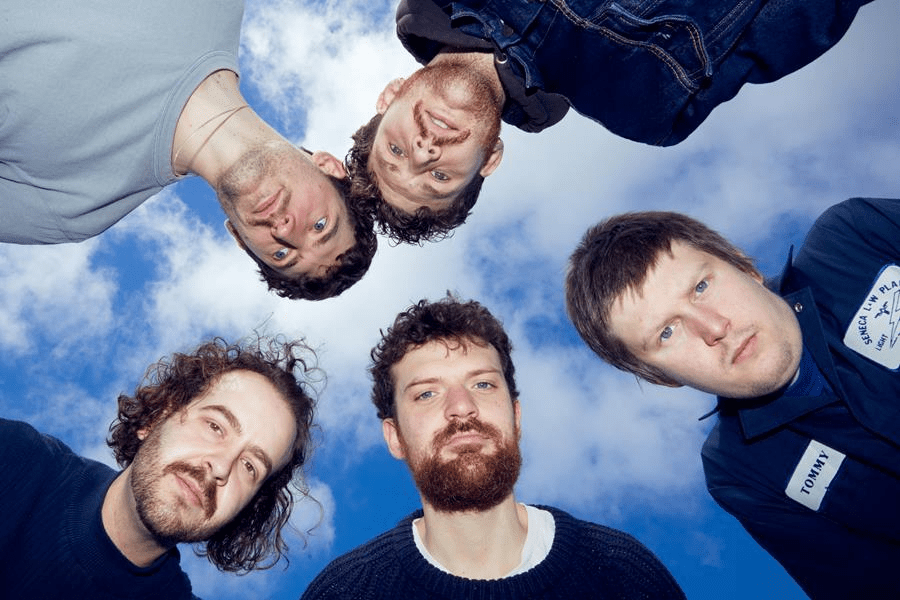 South London's Moreish Idols arrived fully-formed last year with their celebrated debut EP, Float, via Speedy Wunderground. Packed with crashing frenetic riffs, surrealist wordplay, cleverly constructed sonic layers, and an energy that urges you to move, combining jazz, funk, krautrock, dub and punk. Today, Moreish Idols announced that their highly anticipated second EP Lock Eyes and Collide, which will be out on April 28th on limited 12″ vinyl and digital release from Speedy Wunderground. You can pre-order HERE
Today they also share a final single from the upcoming EP, 'Chum,' a slice of insistent, grungy noise-pop that teams knowing melody with Sonic Youth-style dissonance. Tied to a Sambu-directed video, where a deranged TV presenter (played by Joyeria) welcomes the band to his late-night TV show Hellscape to perform the single. Watch here:
Moreish Idols said: "'Chum' is our latest single, a sacred offering to the hungry sharks out there. It's a bittersweet story about a pair of lost souls getting mad at each other.
Our new EP 'Lock Eyes and Collide' is born out of a shift in artistic approach. Focusing more on personal experiences and how people can change when they collide with life's challenges. 
We've tried to shed light on the strengths of each of our roles within the band with care and vulnerability, giving each of us a place to be heard."
Since the start of the year Moreish Idols have released both the arch recent single 'Between These Ears,' playing on the more esoteric persona of the band and the acclaimed 'Nocturnal Creatures,' a woozy slice of indie-pop that demonstrated an already tight songwriting team growing only stronger. In a recent BBC 6 Music Roundtable on Steve Lamacq's show Moreish Idol's 'Nocturnal Creatures' single was rated a glowing 9/10 by all three guests.
Pre-order Lock Eyes and Collide on 12″ vinyl here: Moreish Idols – Lock Eyes and Collide (EP) (ffm.to
The band will play a number of festival shows in support of the new EP, and have announced a first headline tour for late May, starting at London's The Lexington and ending at Oporto in Leeds.
Moreish Idols live:
April
01 – Fair Play Festival, Manchester
16 – Outertown Festival, Bristol
May
11 – The Great Escape, Brighton
24 – The Lexington, London *
25- Stockroom, Liverpool *
26- King Tuts, Glasgow *
28 – Yellow Arch Studio, Sheffield *
29 – Oporto, Leeds *
June
10 – Brighten The Corners Festival, Ipswich
Speedy Wunderground are currently celebrating their 10th Anniversary with the release of a limited boxset "The Dubs: Volume 1" featuring label head Dan Carey's dub remixes of Speedy singles from the likes of black midi, Melt Yourself Down, Black Country, New Road and Loyle Carner & Kae Tempest among others.
The label will also promote a 10th Anniversary show taking place at Village Underground on Saturday, September 15th from 8pm to 3am. It will feature a variety of performers who are currently or previously have been signed to the label, as well as DJs and other special guests.
Speedy Wunderground 10th Anniversary Tickets | £21.22 | 16 Sept @ Village Underground, London | DICE
https://soundcloud.com/speedywunderground
http://speedywunderground.com/