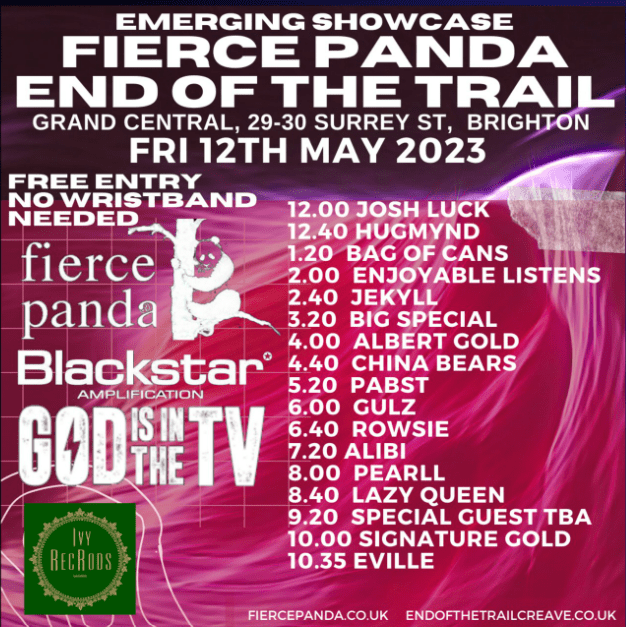 On Friday 12th May 2023 God is in the TV are delighted to sponsor the End of the Trail and Fierce Panda's Emerging Showcase during Brighton Festival Weekend at The Grand Central. End Of The Trail has been consistently running quality unofficial shows at the event for over five years, highlighting "the real upcoming bands in the industry," said organiser Kelly Munroe. "It's always great to see new bands for free." FREE ENTRY ⚡ Fierce Panda & End Of The Trail | Brighton 12th May 2023 | Facebook
The event runs all day from midday onwards including emerging stars from the world of alt-rock, indie, goth, shoegaze, pop, metal, soul and more.
See below for more details of artists and running times
12.00  Josh Luck   (Alt/Rock) https://www.instagram.com/joshartois/
12.40  Hugmynd (singer/songwriter) https://linktr.ee/hugmyndmusic
1.20 Bag Of Cans (indie/rock) https://bit.ly/3GO3ssE
2.00 Enjoyable Listens (inspirational/pop) https://youtu.be/aMgpMwU4xwE
2.40 Jekyll (indie/goth) https://linktr.ee/Jekyllband
3.20 Big Special (big/special) https://linktr.ee/BIGSPECIAL
4.00 Albert Gold (soul/alt) https://linktr.ee/albertgold
4.40 China Bears (indie/alt) https://www.musicglue.com/chinabears
5.20 PABST (rock/alt) http://pabstrules.com/
6.00 Gulz (indie/nufc) https://linktr.ee/GULZBAND
6.40 Rowsie (rock/americana) https://rowsieband.com/
7.20 Alibi (indie/rock) https://linktr.ee/alibiofficial
8.00 Pearll (indie/shoegaze) https://www.youtube.com/@pearll1249
8.40 Lazy Queen (indie/pop) https://www.lazyqueenband.com/
9.20 Special Guest TBA
10.00 Signature Gold (fuzz/rock) https://instabio.cc/SignatureGold
10..35 Eville (brat/metal) https://linktr.ee/evillemusic
A host of fresh new acts will be playing throughout the weekend, including eighteen-year-olds, Noah & The Loners. Recently signed to Marshall Records, the band won the BBC Radio 6 Roundtable and were handpicked to play at The Great Escape Opening Party on the Beach Stage on Wednesday 10th May. Sixteen-year-old Dan Ottewell who is playing Glastonbury this year will also play together with Family Jools whose single 'Georgia' has just passed 1.5 million streams and Enjoyable Listens will treat gig-goers to " Indie Serenades" as described by Steve Lemacq.
See below for more details:
Brighton Festival Weekend 2023
Wednesday 10th May 2023, Brighton
9.00pm – Noah & The Loners – Beach Stage (TGE Opening Party)
Thursday 11th May 2023, Brighton
1.00pm – Noah & The Loners – East Street Tap
1.30pm – Family Jools – The Mesmerist
4.00pm – Noah & The Loners – venue TBA on day
4.40pm – Enjoyable Listens – Grand Central
6.00pm – Dan Ottewell – Post House
6.00pm – Hollows – Grand Central
7.20pm – Dan Ottewell – Grand Central
Friday 12th May 2023, Brighton
2.00pm – Enjoyable Listens – Grand Central (Fierce Panda stage)
2.40pm – Family Jools – Grand Central (Fierce Panda stage)
4.00pm – Family Jools – Inn On The Square
4.40pm – Noah & The Loners – Inn On The Square
5.20pm – Hollows – Inn On The Square
6.00pm – Enjoyable Listens – Inn On The Square
6.40pm – Dan Ottewell  – Inn On The Square
Saturday 13th May 2023, Brighton
1.20pm – Jekyll – The Folklore Rooms
3.00pm – Jekyll – Arcobaleno
4.40pm – Hollows – The Folklore Rooms
5.20pm – Family Jools – The Folklore Rooms
6.40pm – Dan Ottewell – The Folklore Rooms
7.45pm – Noah & The Loners – North Laine Brewhouse
10.00pm – Enjoyable Listens – The Folklore Rooms
(2) FREE ENTRY ⚡ Fierce Panda & End Of The Trail | Brighton 12th May 2023 | Facebook