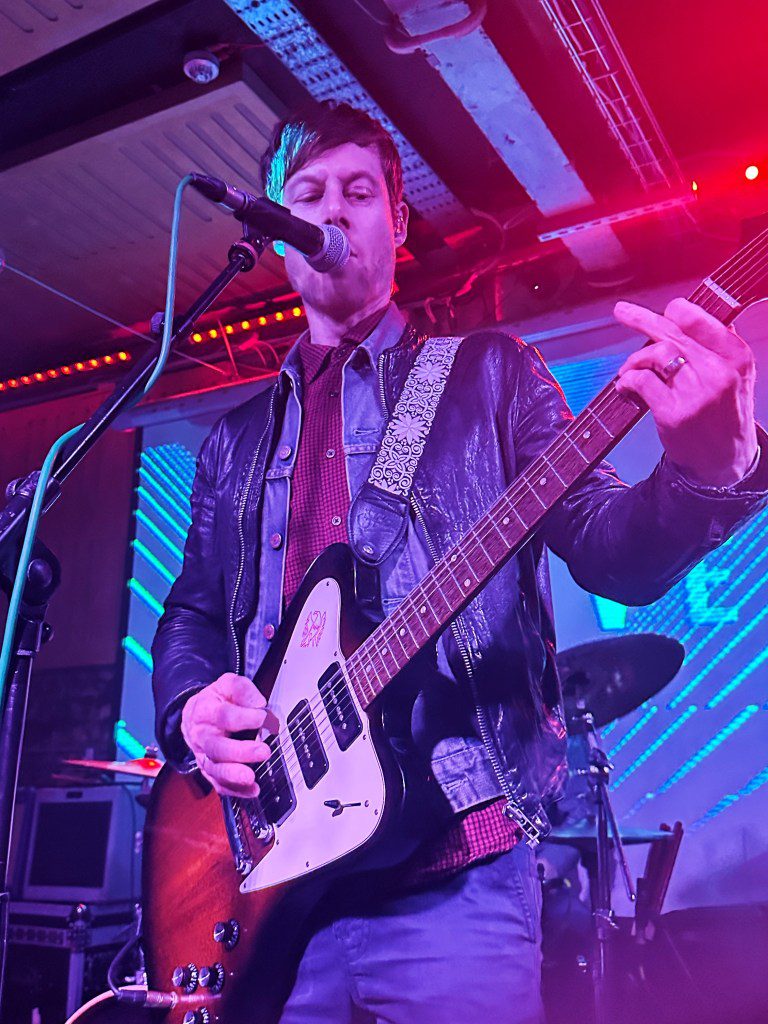 Sea Fever are a five-piece collective fronted by Iwan Gronow from Haven and Johnny Marr's band and Beth Cassidy from Section 25. Formed in 2019, the band also features New Order's Tom Chapman and Phil Cunningham – with Tom on bass, guitars, synths and programming, and Phil on guitars. Powering the band's pulsing beats is Elliot Barlow. Having released their debut album Folding Lines in 2021, the band have been busy evolving their live sound. Six months since their last Manchester gig, we caught them in the intimate surroundings of Soup.
Kicking off proceedings with the guitar jangle and electronic rhythms of 'Crossed Wires', the band stormed through a twelve track setlist that went from strength to strength. Next up was the multi-layered earworm that is 'Under Duress', before the band launched into their first new offering of the evening. Titled 'Shouldn't Have', the funky track featured an irresistible bassline from Tom, alongside captivating guitar work from Iwan. Having been chief bass-man in Johnny Marr's band for the last decade, Iwan is usually in the wings and it's refreshing not just to see him shine a light on his skills as a guitarist, but also to see how his confidence as a frontman has developed since early Sea Fever gigs.
'Folding Lines' was next – with its ominous melody and dark harmonies, the perfectly crafted track showcased the talents of every single member of the band. No-nonsense indie track 'Beleaguered Land' followed, oozing with alluring melodies courtesy of Phil, before the next offering from the band's second album. Though a new track, 'Trigger Us' had a familiarity about it – not because it sounds like another band, but because it sounds like Sea Fever. Despite having big shoes to fill, the band have successfully carved a fresh sound of their own with just one album.
It's rare for a band to have the material available to them to be able to play an entire set of tracks that all have the potential to be a single, especially a band that are still fairly new on the scene, but each and every track went down a storm with the crowd – from the addictive 'Finder' to driving electronic cuts 'Le Coup' and 'De Facto'. Always a live favourite, 'De Facto' is a track that exudes sheer volumes of energy and joy both onstage and off. With its thumping backbeat, pulsating analogue synth and lyrics about being unafraid to speak up, the upbeat track had the band smiling throughout, superbly encapsulating the delight of five musicians who have longed to work together for years – and made it happen.
Offering an even stronger taste of what's to come on the band's highly anticipated second album, they dropped two more new tracks towards the end of the set – 'Giorgio' and 'Dilemma' – before bringing the set to an almighty end with 'Built to Last'. With its pummelling beats and jaunty nature, there's no doubt about it that 'Built to Last' is a born closing track and it truly ensuring that the band finished on a high.
Just when you think Sea Fever can't get any better, they surpass all expectations. With their second album on the way and some festival dates later this month, it's an exciting time to be a fan and we can't wait to see what's on the horizon for the supergroup.