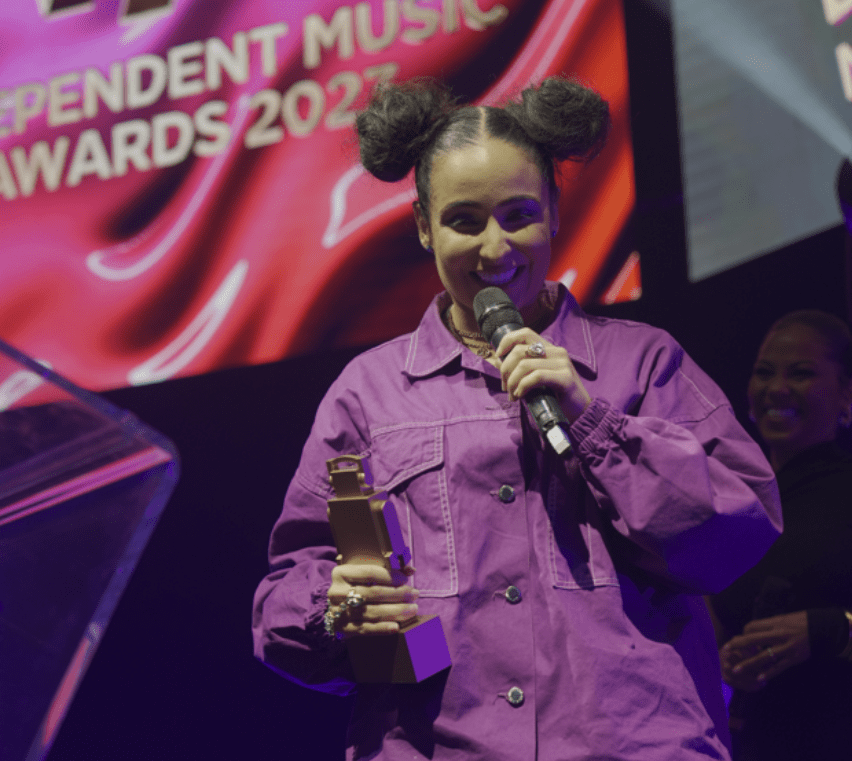 The Association of Independent Music celebrated an electrifying evening at this year's AIM Awards ceremony. Pushing boundaries and levelling the playing field, the triumphant artists included Avelino with 'Best Independent Album', RAYE and 070 Shake for 'Best Independent Track' & Shygirl for 'UK Independent Breakthrough.' Champagne flowed and the red carpet sparkled. The Roundhouse was bathed in warm purple hues, as lights laced the ceiling to create a sonic temple as the nominees dined in style with the best in the business.
Live sets from P Money and Whiney raised the roof with their high energy fusion of grime and drum n bass, propelled by an immense gospel group, bringing warmth and elevation to the night. British-Lebanese rapper/producer Laughta expertly juxtaposed live Middle Eastern percussion with rap whilst emphasising the importance of BBC Introducing in her acceptance speech for the 'One to Watch' prize, whilst indie band Cassia brought tropical jazz- fused energy to the evening.
Avelino took to the mic to celebrate 50 years of Hip Hop, supported by BBC 1Xtra featuring a moving dedication to the genre, highlighting its influence in the UK's independent Hip Hop community and its lasting impact, featuring some effortlessly slick vinyl scratching and a visual storyboard of some of the Hip Hop greats from the USA to the UK.
In her first personal appearance at an awards show since the 2012 Webbys, trailblazing icon Björk collected AIM's publicly-voted award for 'Best Live Performer'.
Collecting her award, Björk said, "I'm incredibly honoured and grateful to have been chosen by the fans as the best live performer. I have been singing at concerts since I was a child and the audience's presence merging with mine has given me many of the most rewarding moments of my life… Shout out to One Little Independent and shout out to independent labels. Come on, we got this!"
RAYE and 070 Shake also shared a victory as viral 'Escapism' (Human Re Sources) was crowned 'Best Independent Track' in association with Meta. Shygirl was awarded 'UK Independent Breakthrough', following widely praised debut 'Nymph' and a stream of sold out shows.
Winner of 'Best Independent Album' in association with Spotify was Avelino, whose British Rap debut album with undertone influences of grime, punk and drill, 'God Save The Streets' has already been lauded as a classic.
He said, "This is far deeper than thousands of sales, it's about thousands of lives at stake on the streets of London and up and down the UK… To all the children in the trenches and to all my brothers and sisters out there trying to get through this madness, I hope you realise that rock bottom is only the stepping stone onto bigger and better things. God bless everyone and God save the streets."
Brighton-based record store Resident Music collected the award for 'Independent Champion' in association with Downtown. Cheers echoed throughout the venue as co-owner Natasha Youngs took to the stage with an emotional speech saying,
"It means a lot. We turn 20 next year. This is such a celebration of how far we've come since then. We love working with you guys we love working with the labels and the musicians and supporting you on every level that we can and that goes through the whole business and I'm really hoping that the residents when I take this back feel the same level of pride and quivering that I feel right now. I just want to say keep doing what you are doing. Keep supporting the indie record shops- We'll keep supporting you- all the way- all of us. This is not just for Resident this is for the whole of the sector. Keep making the special editions, keep throwing events our way- the instores, the outstores, the signings, whatever it is we'll take it all and we'll be there with you. Thank you."
Speedy Wunderground's iconic producer Dan Carey, who has worked with Fontaines DC, Squid, Kae Tempest and Kylie Minogue and so many more picked up the 'Innovator Award' in association with Amazon Music. Speaking of his award he said,
"When I was a kid I always wanted to be an inventor so it's nice to be recognised as an Innovator. Making music, one of my preoccupations is trying to make things sound new, like they haven't been done before. It doesn't always go that well. Sometimes if you make something you think is new, other people think it sounds weird and it doesn't fit in…so it's nice to have something suggesting that it might be good." Dan also told GIITV that he has some exciting upcoming plans to work with Model/Actriz, Kenny Beats and some rappers.
Best Creative Campaign, in association with Able, was won by Partisan Records for Ezra Collective's much-acclaimed Where I'm Meant to Be campaign, with the newly-crowned Mercury Prize-winners collecting the trophy in person.
The 'PPL Award for Most Played New Independent Artist' was awarded to Domino Records' indie superstars Wet Leg. Rapper and songwriter ENNY took home the award for 'Best Independent EP / Mixtape' supported by BBC 1Xtra for the inimitable 'We Go Again' (FAMM).
Nu:Tone's remix of GLXY's – 'Butterfly Effect' (feat. Hugh Hardie & Visionobi) (Hospital Records) took the award for 'Best Independent Remix'. Artist & director Wesley Joseph also emerged victorious in the 'Best Independent Video' in association with Vevo category, for his self-directed 'MONSOON' (EEVILTWINN) video.
Hospital Records were crowned 2023's 'Best Independent Label', celebrating almost three decades leading the charge for drum n bass boasting an impressive roster including London Elektricity, Nu:Tone, Flava D and P Money & Whiney. In their speech they said, "About F**king time," praising the Association of Independent Music for being like a Trade Union.
Fighting off competition for 'Best Boutique Label' were Rough Bones, whose commitment to creative freedom for their carefully selected roster earned them the top spot.
'Music Entrepreneur of the Year' was awarded to Caius Pawson, founder of Young, whose industry prowess supported the careers of The xx, FKA twigs and Sampha.
Erol Alkan took to the stage to accept 'Outstanding Contribution to Music' in association with Merlin on behalf of Soulwax – with brothers David and Stephen Dewaele appearing by video. The duo, whose credits also include 2manydjs, sound system Despacio and label DEEWEE said, "We would like to thank AIM and everyone that we have ever worked with for this amazing award."
AIM CEO Silvia Montello spoke to GIITV saying,
"The independent scene is the lifeblood of the future generations of stars and future talent and AIM is here to represent that and to make sure that the independent sector is thriving and successful as it possibly can be…. We are in regular talks with our friends at Music Venue Trust and at Live Org about how Grassroots venues and Grassroots artists can work together to make sure that we're supporting….The venues need our artists and our artists need the venues because, again it's all part of the ecosystem"
"The AIM Awards are always about more than celebrating the nominees, winners and attendees in the room; they celebrate everyone across our varied and diverse rights-holder community throughout the regions and nations.….AIM celebrates the legends, visionaries, innovators, and all the creative talent who continue to keep our UK's vibrant independent music community the envy of the world."
Nominees & Winners:
Best Independent Album in association with Spotify
Avelino – God Save The Streets (More Music Records/ OddChild Music) WINNER
Kelela – Raven (Warp Records)
Little Simz – No Thank You (Forever Living Originals)
Nova Twins – Supernova (Marshall Records)
Obongjayar – Some Nights I Dream of Doors (September Recordings)
Oliver Sim – Hideous Bastard (Young)
RAYE – My 21st Century Blues (Human Re Sources)
Rina Sawayama – Hold The Girl (Dirty Hit)
Shygirl – Nymph (Because Music)
Wu-Lu – LOGGERHEAD (Warp Records) 
Best Independent Track in association with Meta
Connie Constance – 'Hurt You' (Play It Again Sam)
ENNY – Charge It (FAMM)
Four Tet – 'Three Drums' (Text Records)
Makaya McCraven – 'Dream Another' (XL Recordings)
Overmono – 'Good Lies' (XL Recordings)
RAYE, 070 Shake – 'Escapism' (Human Re Sources) WINNER
Shygirl – 'Shlut' (Because Music) 
Sudan Archives – 'Selfish Soul' (Stones Throw Records)
Yeah Yeah Yeahs – 'Spitting Off The Edge of The World' feat. Perfume Genius (Secretly Canadian)
Yves Tumor – 'Echolalia' (Warp Records)
UK Independent Breakthrough
Ezra Collective (Partisan Records)
I.Jordan (Ninja Tune)
Overmono (XL Recordings)
Shygirl (Because Music) WINNER
Suki Waterhouse (Sub Pop)
Best Live Performer
Björk: (One Little Independent) WINNER
PPL Award for Most Played New Independent Artist
AntsLive (Payday Records, Trademark Records)
John Summit (Off The Grid Records)
Surya Sen (Skint Records)
Vibe Chemistry (DnB Allstars Records)
Wet Leg (Domino Records) WINNER
Best Independent EP/ Mixtape in association with BBC 1Xtra
Bellah – 'Adultsville' (Base 'N' Rebulz X Marathon Music Group)
ENNY – 'We Go Again' (FAMM) WINNER
Jessica Winter – 'Limerance' (Lucky Number)
Saint Joshua – 'EP2' (Ditto Music)
yunè pinku – 'BABYLON IX' (PLATOON)
One To Watch in association with BBC Music Introducing
Jessica Winter (Lucky Number)
Juice Menace (Supernature)
FLOWEROVLOVE (FAE GRP)
Laughta (MDLBEAST) WINNER
Master Peace (PMR)
Best Creative Campaign in association with Able
Because Music (Shygirl – 'Nymph')
Dirty Hit (Rina Sawayama – 'Hold The Girl')
Human Re Sources (RAYE – 'My 21st Century Blues')
Ninja Tune (Young Fathers – 'Heavy Heavy')
Partisan Records (Ezra Collective – 'Where I'm Meant To Be') WINNER
XL Recordings (Yaeji – 'With A Hammer')
Best Independent Remix 
Sega Bodega Remix (One Little Independent) – Björk – 'Ovuke (feat. Shygirl)'
Soulwax Remix (Deewee / Because Music) – Charlotte Adigéry & Bolis Pupul – 'Cliche'
Nu:Tone Remix (Hospital Records) – GLXY – 'Butterfly Effect (feat. Hugh Hardie & Visionobi)' WINNER
Jamie XX remix (Young) – Oliver Sim – 'GMT'
Boys Noize (Secretly Canadian) – Yeah Yeah Yeahs – 'Wolf'
Best Independent Video in association with Vevo
Ezra Collective – 'No Confusion ft. Kojey Radical' (Partisan Records)
Kelela – 'Enough For Love' (Warp Records)
Obongjayar – 'I Wish It Was Me (Live)' (September Recordings)
RAYE, 070 Shake – 'Escapism.' (Human Re Sources)
Wesley Joseph – 'MONSOON' (EEVILTWINN) WINNER
Outstanding Contribution to Music in association with Merlin
Stephen & David Dewaele – Soulwax  / 2manydjs WINNER (Because Music / [PIAS])
Best Independent Label
Defected Records
Forever Living Originals
Hospital Records WINNER
One Little Independent
Transgressive
Best Boutique Label
Chess Club
Glasgow Underground
Houndstooth
Rough Bones WINNER
So Young Records
Music Entrepreneur of the Year
Alex Brees – Un:hurd
Caius Pawson – Young / Space WINNER
Jess Kangalee – Good Energy PR
Keturah Cummings – Forward Slash
Yasin El Ashrafi – HQ Familia
Independent Champion in association with Downtown
Jaguar Bingham 
Resident Music WINNER
Cafe OTO
Innovator Award in association with Amazon Music
Dan Carey WINNER
Diversity Champion
Charisse Beaumont – Black Lives in Music WINNER