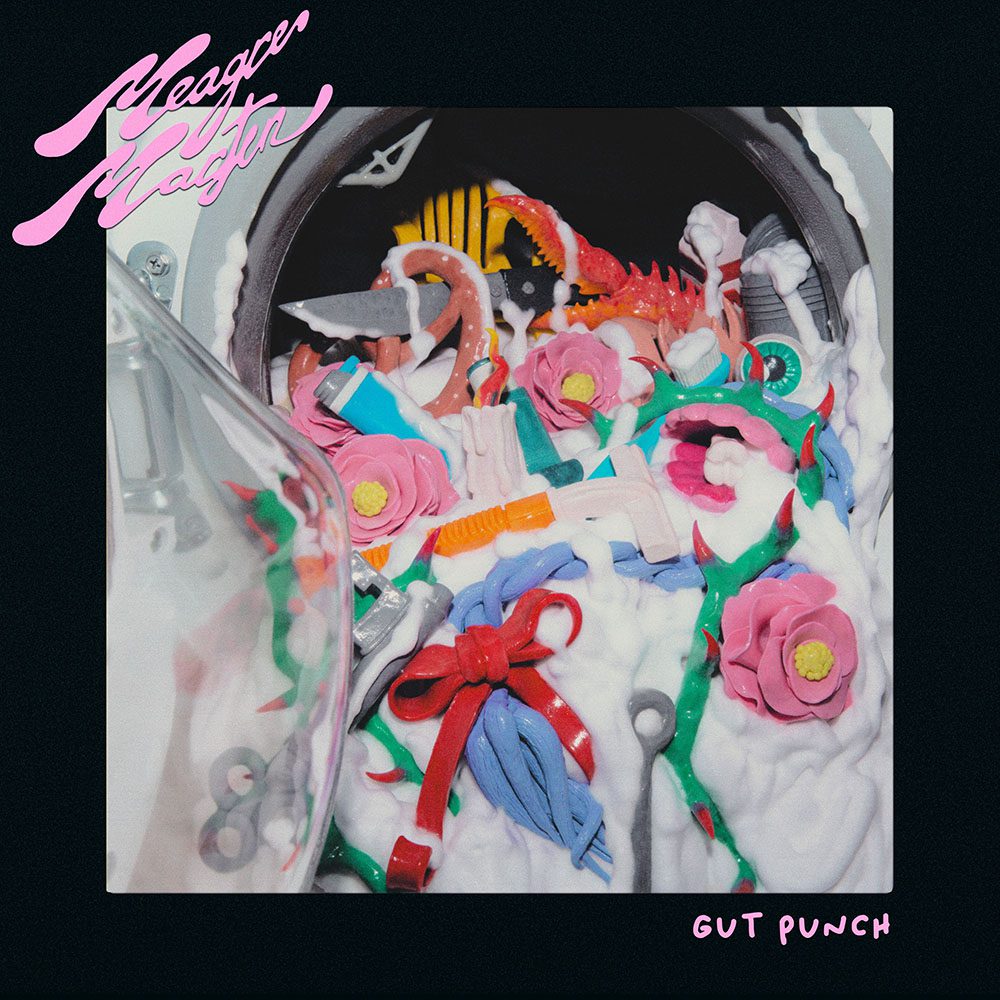 Emerging from Berlin's indie scene are a curious trio of outliers and outsiders, Meagre Martin. Their debut album, Gut Punch marks the end of a journey that began in the uneasy summer of 2021, with African-American musician Sarah Martin (guitar, she/her) crafting a set of heartfelt songs. Joined later by fellow US ex-pat jazz musicians, Federico 'Freddy' Corazzini (drums, he/him) and Max Hirtz-Wolf (bass, he/him), the band's path to Berlin is the all-too-familiar story of trying to find a safe creative space. Martin and her partner had been priced out of New York, Corazzini returned to Berlin after a musical career in Spain, and Hirtz-Wolf returned to the city following university and voluntary work. All three found themselves sharing rehearsal rooms, intrigued by each others' talents and ideas and the rest, as they say…
Consequently, Meagre Martin combine a real mix of styles that wriggle free from easy classification, melding elements of shoegaze, 90's indie, and the band's own take on what they call 'faux country'. The album's moods shift, from the gentle sandy desert winds of California, to the pulsating underground of Berlin's club scene, and the hushed conversations of twilight surburbia. Perhaps most notably, Gut Punch is a lyrical explosion of thoughts and feelings about Martin's complex relationship with her US homeland, seen as an outsider living beyond its borders.
Covering themes of personal trauma, healing, the looming climate crisis, and the spectre of mass extinction, it's surprising how gorgeously smooth and embracing this album feels as a listener. Take 'The Big Death (TBD)' – while its three-part harmonies send their life-affirming vibrations into the world, Martin poignantly declares "I don't wanna die, it's all right; the trees are burning, and we're not learning." It's an urgent plea, but wrapped up in these kinds of sounds, it has the disarming capacity to reach deep into your conscience. Similarly, on 'Amerika,' the band offers a fresh perspective on their homeland with lyrics like "Praise the Lord in America, protect your own in America, work to the bone in America, then we soldier on in America," reflecting the current rise of religious authoritarianism as the nation approaches the next, delicately-balanced presidential election.
While Martin's candid songwriting is the beating heart of Gut Punch, taking it along a particular path, musically it goes off in several directions. Their respective musical influences shine and are, as you would imagine, quite diverse. They include Big Thief, Snail Mail, Cate Le Bon, but without doubt the strongest among them is Fleetwood Mac. 'Mountain' opens with a hazy, sun-soaked phrase that reimagines 'Dreams' (you could be cruising on a skateboard, with cranberry juice box in your hand). Elsewhere, other tracks single out Meagre Martin's Mac-like, subtle but powerful songcraft. The rawness of 'Wonderwall' (no, not that one) offers a contemplative moment, set against a simple synth drumbeat and guitar, while Martin navigates the psychodramas and complexities of unrequited relationships, admitting, "I'm always making a mess of it." Then there's the throw-your-head back-and-shout-it-loud joy of 'Please Clap', with its swaying, captivating chorus examining the desire for love and acknowledgment: "I just want to be wanted, please clap now".
Having the songs is one thing, but translating them to record is where many artists lose their authentic voice. Fortunately, Corazzini is the studio engineer at Berlin's renowned Butterama studios, the perfect place to recreate the sort of familiar, warm ambience you would want to curl up into. Meagre Martin recorded nearly everything live, using analog equipment and old school techniques. The result adds a beautiful softness to the quieter tracks and a crunchiness to its louder moments. Tracks like 'Undercover' and 'Manic Pixie Dream Girl' have the ease and intimacy of a favourite blanket, yet come to life with bright sparks when a singalong chorus is called for. Listen to the opening bass and synth on 'All My Thoughts' for that classic, organic production quality which just brings out every glowing detail. Brilliant.
With Gut Punch, Meagre Martin have made a record that feels as comforting as seeing an old friend after years, and as invigorating as the ensuing night out. Its lush production is the perfect platform for Sarah Martin's stories and musings on contemporary issues, making their point while avoiding cliched indie sentiments. As impressive a debut as you will hear anywhere this year.
'Gut Punch' is released on Mansions and Millions, 10th November.