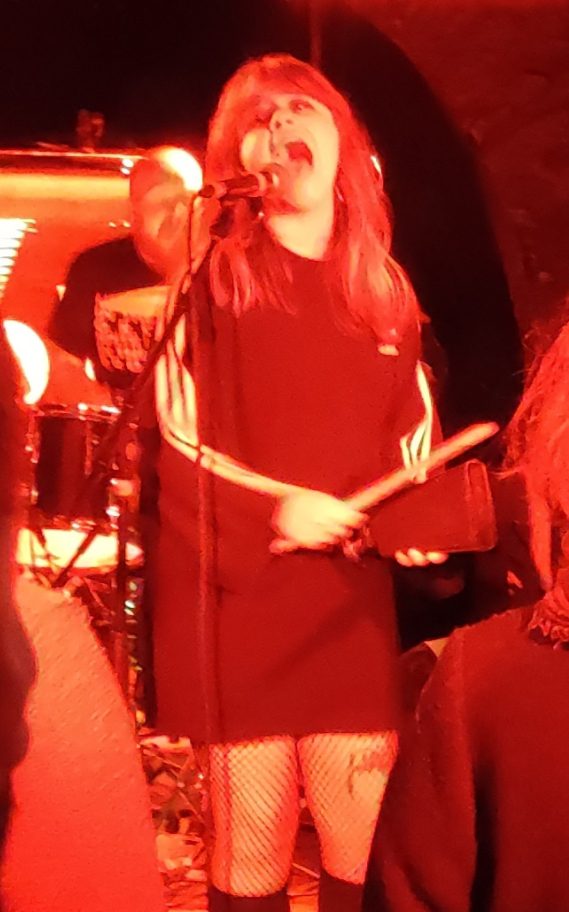 If there is one debut album that feels like it has come out of nowhere to garner major critical acclaim in 2023, it would have to be the self-titled effort by Bristol's PEACH.
Not that the band is brand new, far from it. In fact, the origins of PEACH go right back to 2019, when drummer Andy Sutor and guitarist Jean-Paul Jacyshyn first started writing together, inspired by a shared love of desert rock and grunge.
It was with the arrival of Tim Cooke (baritone guitar) and No Violet vocalist Ellie Godwin in 2021, though, that the band really began to take shape, with Godwin's influence in particular inspiring a lot of new material and reworkings of previous tracks. Fast-forward two years, and the end results have been quite spectacular.
Recorded live to tape for that raw, earthy sound, PEACH has received rave reviews across the board. Following a sellout crowd for their record release show at Rough Trade in Bristol two weeks ago, a healthy contingent have shown up early tonight for the band's slot supporting The St Pierre Snake Invasion to see what all the fuss is about.
The band waste no time showing them. Sutor opens up with the powerhouse drums of set opener 'Dread', and this show is a fully immersive experience from the first note. The rumbling guitar sound is captured perfectly by the Moles soundsystem, and combined with the burnt-orange lighting used in the early stages of the set, it does almost feel like this could be an unsanctioned twilight set in the California desert, as made famous by Kyuss and others at the genre's inception.
Loosely following the order of the album, we then go into 'Care', and then the quite brilliant 'Already There', a track that really showcases the extent of this band's songwriting abilities. Featuring a great melody in the verses and an utterly infectious hook in the chorus, this may be one of the best tracks released by anybody in 2023, and it is even better here.
The magic formula of this band essentially has two parts, and we see both in abundance tonight. On the one hand, there is the brutal guitar sound. Nothing too fancy – no long, complex solos here – but really raw, pure riffage, reminiscent of Goggs or the aforementioned Kyuss. Is the use of the baritone guitar rather than a bass a factor in this? No idea mate – never heard of a baritone guitar until tonight, to be honest – but whatever it is, it really works.
Then, on the other side, there are the astonishing vocals of Godwin. Mostly ranging between angry, anguished, and belligerent, with occasional tender, vulnerable moments, her performance on the record is utterly captivating. In the live arena, though, it is next level. One moment, she has her eyes closed and her arms aloft, screaming into the ceiling; the next, she is jabbing at her oesophagus with her index finger to achieve those jerky, staccato vocal effects. The intensity here is staggering. It is the kind of performance you might associate with an Amy Winehouse, not with a small desert rock band from Bristol.
I find myself wondering what on earth I am witnessing here. Desert rock is a bit of a niche genre, but looking at the transfixed faces of the audience members around me, it's difficult not to feel like we are witnessing the start of something quite special here. Like all the great rock bands, PEACH combine the brutal and the beautiful, and do so in such a way that you feel like they will appeal to an awful lot of people across the musical spectrum. The two new songs that they showcase tonight, which push their creative envelope even further, point even more in that direction.
Godwin saves the best for last, though, with set closer 'I'm Scared'. Here, she showcases the full range of her vocal talents, from anguish and tender whispers in the early stages, to full operatic stylings in the breakdown. What a way to close.
Whatever the future holds for this band – and Damien Sayell, from tonight's headliner, a man who knows a thing or two about niche brilliance, alludes to a very big future for them – there's no doubt that they are a hugely impressive outfit with an intoxicating live show.