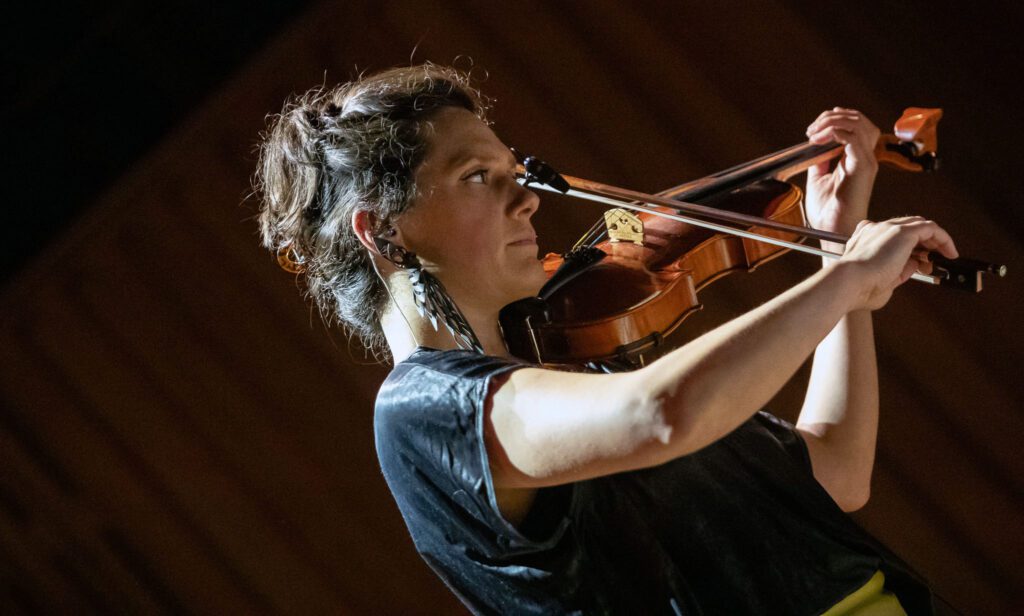 Manchester Collective and Howard Assembly Room have now enjoyed a fruitful working relationship for a number of years. The innovative arts organisation and Leeds' historic concert hall first joined forces for the West Yorkshire city's annual Light Night in 2019 and have since put on a number of remarkable joint ventures including Neon and Rosewood.
And the two Northern cultural heavyweights have once more collaborated, this time bringing us a dramatic new performance of LAD. Written by the American composer and professor of music at New York University, Julia Wolfe it was originally intended for nine bagpipes. LAD formed one quarter of Wolfe's 2009 album Dark Full Ride which consists of four compositions, each one written for multiples of individual instruments.
LAD has now been reinvented here for one solo violin. The violinist in question is Rakhi Singh who co-founded Manchester Collective back in 2016. She is joined on the HAR stage by the multi-instrumentalist and producer Alan Keary – who also performs under the alias of Shunya – on electric bass, bass guitar, violin, electronics, and vocals.
Rakhi Singh's radical arrangement of LAD provides the volcanic climax to this utterly mesmerising performance. In reaching that point and with Babet's high winds and persistent rains causing  chaos around the country, the two musicians proceed to whip up a most veritable sonic storm all of their own.
The concert commences serenely enough, though, with 'O virtus Sapientie' as Rakhi Singh and Alan Keary breathe fresh new life into this ancient hymn by the 12th century saint, composer, and poet, Hildegard von Bingen whilst still retaining much of the mysticism and spirituality of the original composition. The tempo then increases by way of a couple of lively traditional Bulgarian folk dance tunes – the second of which 'Buchimish' has Singh and Keary trading warm and expressive phrases on their violins – before Keary in his guise as Shunya decelerates the pace with his gentle ballad about getting lost in the Amazon forest.  As an opening sequence it is quite wonderfully balanced as the duo achieve that perfect pitch between gathering momentum and emotional restraint.
There then follows the first two major pillars of the performance. The first has Rakhi Singh building variation upon variation within J.S. Bach's Violin Partita No. 2 'Chaconne' as she changes the chord progressions with apparent sleight of hand but without once losing any of the work's innate sense of harmony. It is as intense as it is hypnotic.
For the second, Alan Keary straps on his electric guitar and remains largely faithful to the minimalist composer Steve Reich's 'Electric Counterpoint: III Fast' . He does retain all of the fluidity of the original's repeated patterns, it's inherent pulse, and exquisite phasing but to this he also adds just a hint of colour and possibility. As with Rakhi Singh's solo spot before him, it is magnetic.
The old Lutheran chorale 'Despair Not, O Heart' follows the earlier examples of Singh and Keary taking a historical approach to their music as this traditional Nordic folk tune and the ensuing Shunya composition 'Goodbye Spring' provide a gentle bridge over to LAD, the third and final pillar of the evening. Rakhi Singh had spoken earlier in the evening about some of this music "moving further away from the classical world" and this epic finale certainly takes it into another dimension altogether. Here the violin emerges as an instrument of drone metal as it builds up into an unending crescendo. As volume and pitch rise in unison, Alan Keary rejoins the party, and the sheer visceral power of the piece is mind-blowing. It is an astonishing end to what has been a totally absorbing evening.
Photos: Simon Godley
More photos from Manchester Collective: LAD at Howard Assembly Room, Leeds