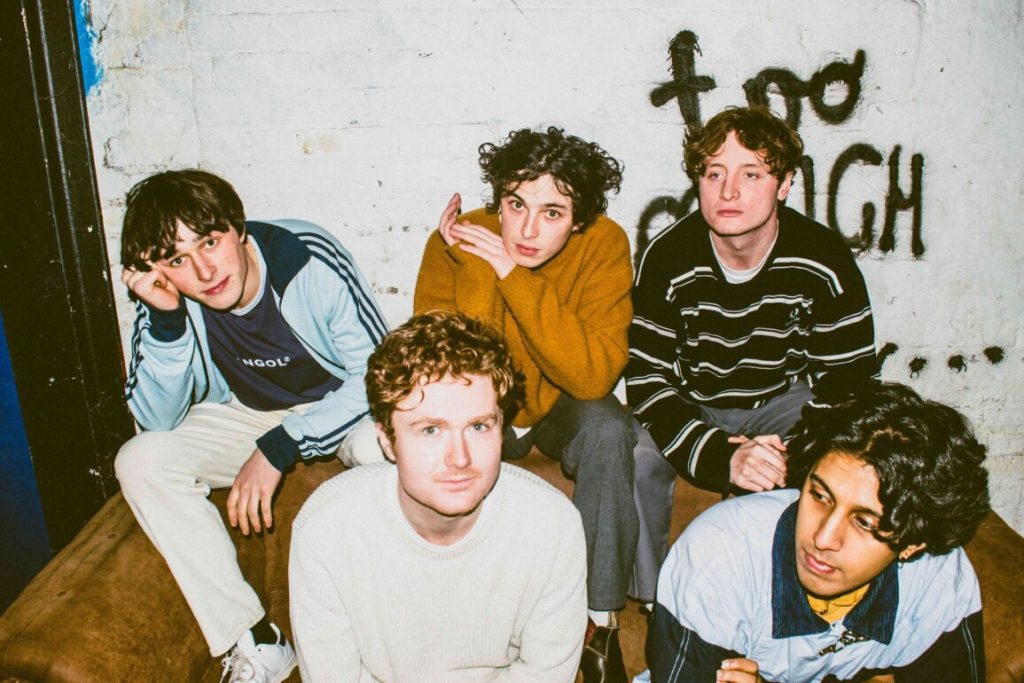 The Goa Express release their long-awaited self-titled debut album on the 1st of December. It's preceded by their anthemic new single 'It's Never Been Better' on the 27th of November.
Ahead of dates in December, The Goa Express are excited to finally announce their long-awaited and unmissable self-titled debut album this December. Preceded by the addictive hook laden new single 'It's Never Been Better' on the 27th of November, the oldest song on the album, this bold, swaggering singalong is hoisted aloft on a tidal wave of chiming guitars, widescreen drums and bass, that shudder into your solar plexus. This song is a gloriously catchy lament to summer's spent together.  "'It's Never Been Better' existed for many years as a home demo on GarageBand", say the band. "Reinvigorated in the studio, the song is a match made in heaven for the summer months and reminds us of the moments we used to spend together with those who ended up going different ways."
The Goa Express' self titled debut album is a document that encapsulates growing up, their spirit of friendship and dreams of escape. Together, brothers James Douglas Clarke (Guitar + Vocals) and Joe Clarke (Keys), along with Joey Stein (Lead Guitar), Naham Muzaffar (Bass) and Sam Launder (Drums) create a wall of sound, riven with infectious harmonies, waves of psych laden guitars and playful rhythms, it's constantly refreshing at every turn. With echoes of the youthful supercharged melodies of early Supergrass, the unstoppable rhythms of early Psychedelic Furs or the loose dreamy melodic qualities of the La's, yet theirs is a unique combination only captured by these five friends in a room and very much a sound of today.
This exciting five piece's bond was forged long before they picked up instruments: growing up in Burnley in the rural shadow of the North of England's industrial centre. Their shared adolescent experiences (late gigs at The Golden Lion in Todmorden, camping underneath the cliffs at Hebden Bridge) shaped their collective friendships, and the sound and spirit of their band 
Ocean Colour Scene's Damon Minchella pairs with Tom Manning on production duties, the band decamping to the Welsh village of Raglan to record the songs that make up their debut album.  Opener 'Honey' sets the tone: bursting into life, with hooky guitar riffs and crashing percussion careering on the rails. "It's all about the birds and the bees/let's make honey"  James Douglas Clarke drawls impassionately. Recorded during a post Glastonbury comedown, it's the besotted sound of the setting of the sun and the joy of finding someone. This band of brothers know the power of pop music, they say: "it's melodic but instant. It stops you in your tracks. You can hear it coming from a mile away, but it's still extremely hard to get out of its way in time."
 'Good Luck Charm' spirals with kaleidoscopic time signatures and a hammering double tracked guitars of Joey Stein and Douglas Clarke, harking to the era of the Stone Roses yet with its own kick, Riven with a yearning for escape from your surroundings, breaking out of being stuck in a rut with urgent melodies "demands change and asks for more, warm weather and a change of scenery. We can all get stuck in our tracks and it's important to just get up and go." Upon its release earlier this year it caught the ears of DIY magazine, and Matt Wilkinson who played it on his Beats show, John Kennedy at Radio X, plus Radio One where it picked up plays from Clara Amfo.
The punky 'You're the Girl' is the shortest song on the album, taking inspiration from Douglas Clake's summers of love. The scampering bass lines, pianos, fuzzy guitars, are impactful and immediate.'Small Talk' ramps up on a wave of shiny jangly guitars and a sneering vocal that captures the moment of festival burnout and wanting to block it all out.
 While the previous single 'Talking About Stuff' released in May, is another melodic gem, the band describe it as the 'prettiest' song on the album, it's delightful melodic scamper sums up the ups and downs of friendship capturing a "moment spent on the beach during the Summer." They say "we all have our bad days and we can all fall out with loved ones but don't let it stick, be a better person next time." Upon release it was added to Spotify's New Music Friday (UK) and Hot New Bands playlists.
Recorded in the immediate wake of their Glastonbury debut last year 'Portrait' was the first of a string of addictive singles from the album released throughout 2023, that has only built their momentum as one of the best emerging bands in the country. With fuzzy guitars, hyper active pianos and a whirlwind of percussion, its earworm qualities capture feeling good with someone and "the best thing I never had." Gaining airplay on BBC 6 Music who playlisted it and the attention of Steve Lamacq who premiered it on his show plus praise from Jack Saunders on Radio One, The Times, Independent and So Young Magazine.
Heartbreaking closer 'Prove it' turns the volume down for a wistful acoustic strum in the verses, before storming into a crescendo as the sun sets, providing the perfect ending to this thrill ride of tunes. "It can often be hard to let go of the things we love and it can be harder to accept when things are over." The band say "all good things have to come to an end at some point."
Post-lockdown, The Goa Express played over a hundred UK/EU gigs in 2022, including stops at Glastonbury, Latitude and The Great Escape. With their status as burgeoning hometown heroes, The Goa Express can be seen performing to thousands at Burnley's Turf Moor stadium in Bank of Dave, Netflix UK's most watched film upon release week.  With a cavalcade of refreshing tunes, and "us vs the world" togetherness, The Goa-Express's debut album proves they are one of the most exciting emerging band this country has to offer.
Pre-order the self titled debut album by The Goa Express.
Catch The Goa Express live:
DECEMBER
 1st – Hebden Bridge – Trades Club
3rd- Birmingham – Muther's Studio
29th – London – The Lexington