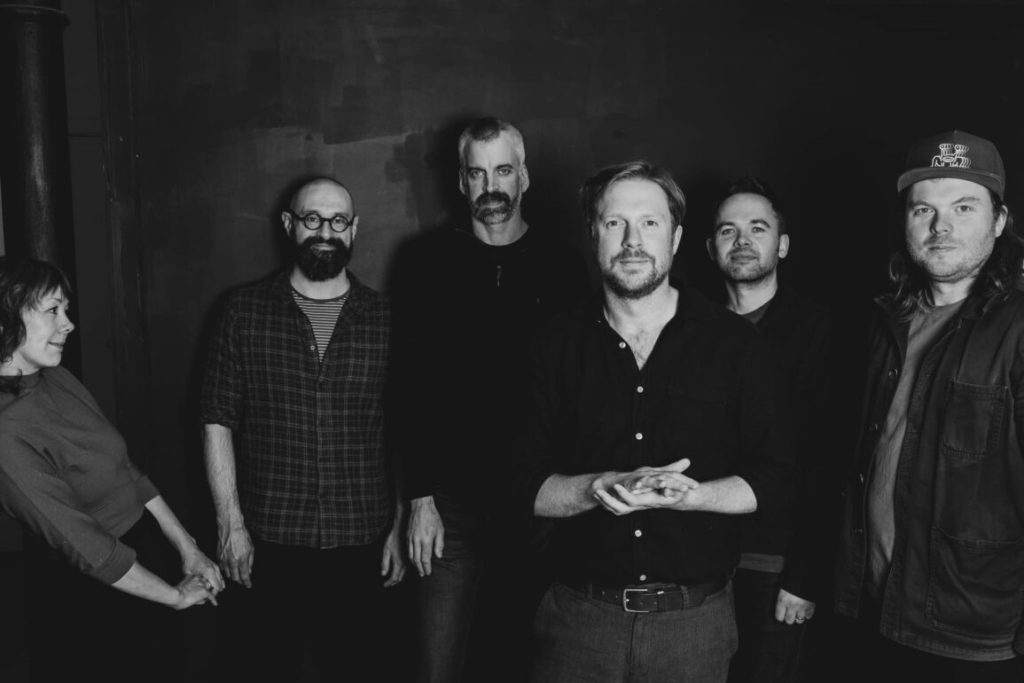 It may be over (fingers crossed for good), but the effects of lockdown cast its dark shadow over tonight's gig. It's Broken Records' first hometown show in five years, coinciding as it does with the release of their first album in that time, The Dreamless Sleep Of The 1990s. It was not meant to be a lockdown album, they tell us, but it worked out that way.
It also impacted on the support act, Raveloe. She introduces 'Old Lessons' as being about her Gran, who passed away during lockdown. There's something utterly evocative about that whole period when she sings the opening line 'It's a digital funeral.' Ahead of her debut album Exit Light, released next month, Glaswegian Kim Grant gives us a solo set of beautiful dreamy folk with her voice of beguiling purity. There's never been a shortage of singer-songwriters, presumably since the dawn of time, but she really is unique. She explains how she's 'really into ghosts right now' as an introduction to the curious story about a levitating wardrobe in her doll's house as a child, which inspired 'The Chair Is Nowhere.' She finishes her well-received set with her earlier single 'Catkins.' (The forthcoming album is out next month; to those into end of year lists, please wait until you've heard it before compiling yours).
Broken Records have never disappointed me, but tonight, right from the word go, they are simply on fire. They open with 'They Won't Ever Leave Us Alone' which has the punch of Springsteen, and the levels simply just don't drop the entire set. There's a smattering of tracks across from across their five albums, but this well-planned set shows that while their sound may have progressed over time, the quality has always been high and the new material is received just as well as the older stuff by the crowd.
Across Scotland, Storm Babet may be causing havoc, but it's warm in here. 'Thanks for braving the storm to get to us,' says frontman Jamie Sutherland, as the band launch into 'Night Time.' As the nights draw in, this is a perfect album to soundtrack life as you hunker down. Particularly the autumnal charms of 'An Answer' with its lyrics alluding to the summer's fading light.
Not only have the band produced an assured album as any in their catalogue, but as a live unit they are brilliant, and I'm left scratching my head as to why they aren't playing bigger venues (though it's always great when you can see the whites of an act's eyes). No reflection on the band. The most recent addition to the band is bassist Clarissa Cheong, who has fitted in well (and this very week, her other act, eagleowl, have announced their live return). There's a warmth between the members, and banter between Sutherland and his brother Rory, who plays keys, violin and guitar tonight.
Ah yes, Rory Sutherland's violin. The band close with 'Nearly Home,' the epic opening track of their debut album, and it's just as moving as it's always been, driven by Rory's sweeping violin that sees the boundaries melt between folk, rock and something else. An excellent close to a fantastic show, from local heroes who should be given the freedom of the city, and a rising star who deserves your attention. My wife hadn't been sure about coming out in the weather but she was glad she had.