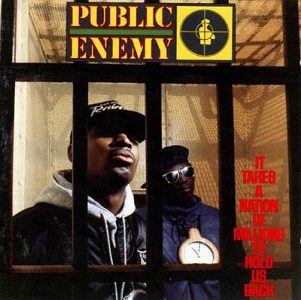 With news of a new reissue we revisit Abbas Ali's piece on Public Enemy's It Takes a Nation of Millions To Hold us Back.
While the hip hop scene today has been subsumed into r & b to make commercial "urban" music, full of rhymes about crystal sipping, Bentleys, and bitches, the 80s was a naive time for the burgeoning form, which was considered a subversive, anti-establishment force by mainstream US society, not dissimilar to the role punk played in the Great Britain during the 70s.
At the heart of rap as a political force were Public Enemy. Formed in Long Island, New York in 1982, the band's sound was characterised by lead rapper Chuck D's authoritative baritone, and the accompaniment of crazed hype man Flavour Flav, as well as the production of maverick duo Eric Sadler and Hank Shocklee, aka The Bomb Squad, who gave the crew their distinctive mixture of off-kilter jazz samples, white noise and raw funk beats.
Whereas todays' rappers consider themselves a brand to be marketed, Public Enemy were more than the sum of their parts, and ITANMTHUB communicated their message of black empowerment against a brutal white system in a racially divided country with anger and urgency. With standout cuts including 'Rebel Without A Pause', 'Don't Believe The Hype', and 'Black Steel In The Hour Of Chaos', the record is PE's finest work, and one of the most important albums of the decade.
[embedded content]