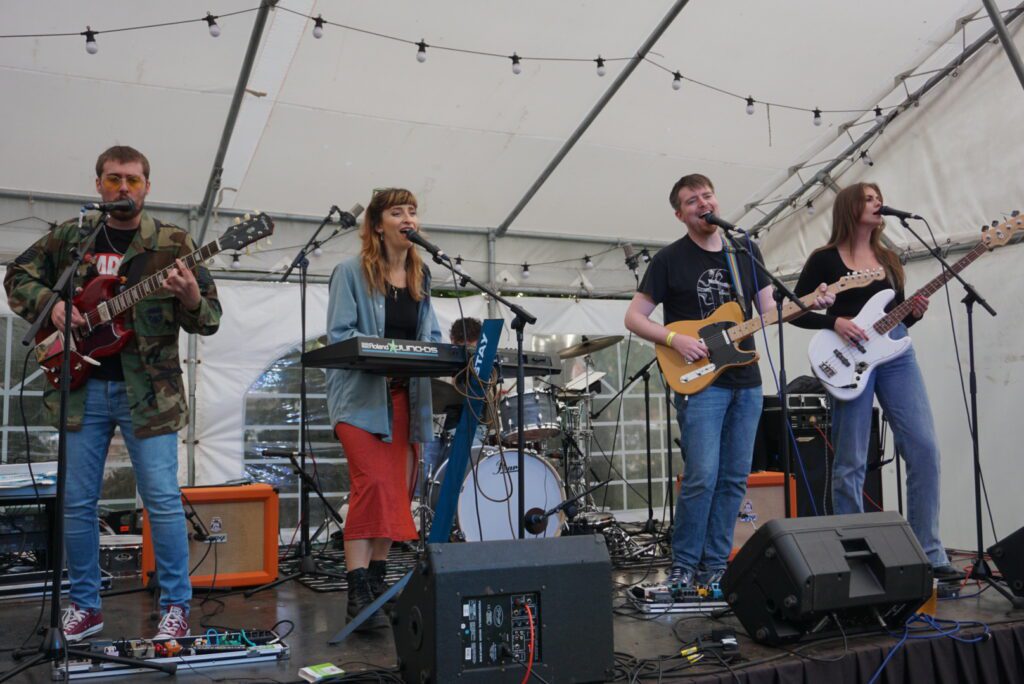 What a bold move on WIMIN's part to host an inaugural event on the same day as the Ukranian and Liverpool celebration of Pride a mere four miles away in the city centre. But the Bootle festival – female-founded and female-led, with hopes of redressing the imbalance of women in the music industry – pulled in a healthy-sized audience anyway. A hefty chunk of attendees were immediate locals, offered the opportunity to enjoy new and emerging artists on their very doorstep. That's not to say the demographic was narrow; on the contrary, 6 Music enthusiasts were resolutely present, Last Dinner Party t-shirts washed and meticulously pressed in preparation for the day. And WIMIN was blessed by the weather gods – with relentless, pissing rain the hours before and after the festival, the day itself was as dry as good humour.
WIMIN favoured pop in its most melodic flavours and form. Soft Lad with beats, vocal and guitar subtly made a firm mark, quality songwriting performed simply with no frills. It didn't need any. Niki Kand delivered her laid back, trademark cool soul with sophistication and flair; Abbie Ozard had a quirky bounce with clever, sly lyrics. It was encouraging to see the local holding its own alongside the national, Liverpool's Hushtones' feelgood indie rooted in 70s romanticism a natural entrée – they played brand new songs alongside the familiar – to headliner Katy J Pearson who, en route to Kendal Calling, shared gems she doesn't play too much. An absolute treat.
WIMIN showcased a myriad of culture and social engagement in the course of the day, the Wider Arts programme curated by Northern Sounds incorporating panels and spoken word performances exploring deeper dimensions of female expression. The forceful poems of Claire Beerjeraz concerned with race and class packed a punch; Sally Porter shared the touching yet sharp 'Message' concerned with the after effects of childhood bullying lingering years afterwards but having an unexpectedly empowering positivity long term. In 'Martha' she focused in on baby loss coddled safe and precious in a warm loving memory; the sweet romantic 'The Cat Who Found Its Way Home' carried Sliding Doors sentiments. Laura Ferries delivered the ferocious 'Ode To Bootle', a passionate no holds barred attack on classism, and 'Free Britney', a feminist railing against the handcuffing of yes, a pop star on the other side of the Atlantic but it served to highlight the universal female lived experience. Plazzy Bag performed affectionate words around her children; her daughter's individuality via the medium of spaghetti consumption and the poet's worries over her son making his way in a world of sex-based behavioural codes and rules.  
What a pleasure it was to see representatives from Penny Lane FC talk so passionately and proudly about women's football in Liverpool, and to observe a clothes swap doing risk trade. All combined, the music, art and social programme provided a supportive atmosphere for women sharing creativity, facilitated by an all-female crew. Bootle doesn't host such festivals often, potentially putting WIMIN to an advantage going forward should they choose to return next summer, and one can't help but suspect Red Rum Club playing nearby a couple of weeks ago and the promise of a planned Mysterines show, whetted appetites. All told, it felt simply great for women to be front and centre of everything for once. Even for a few hours in a field, away from the relative glamour of town.
Photo credit: Michelle Marshall