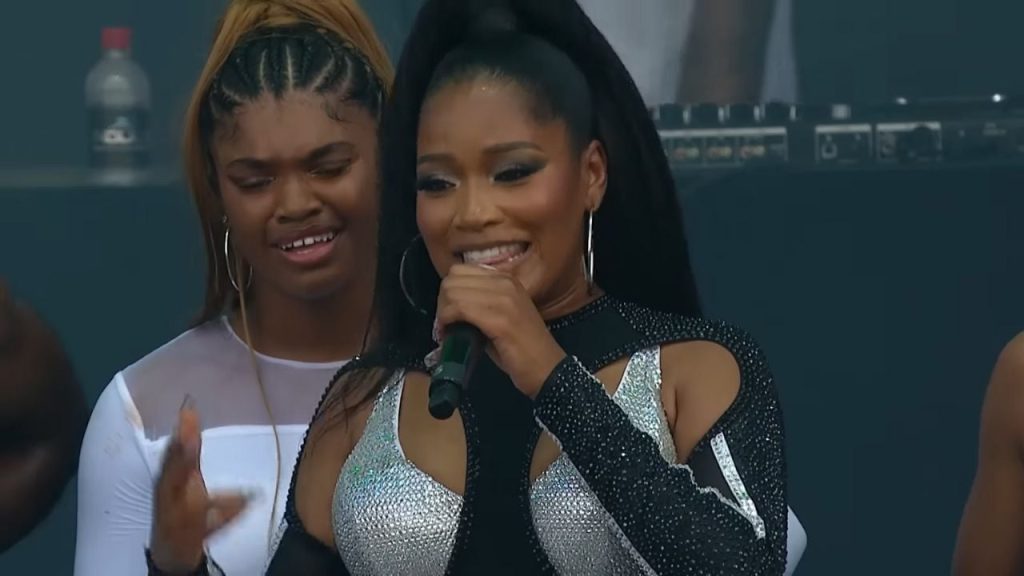 Keke Palmer has announced her highly anticipated Big Boss Tour, set to begin on September 10 in Oakland, CA. Following the Hollywood SAG-AFTA strikes, the actor/singer has completely pivoted from the entertainment industry and fully invested in her music career. Presale tickets are already available, with the public sale starting on August 4.
"Big Boss Energy"
The rising R&B and pop artist will hit the road with "big boss energy" to perform eight thrilling shows in California, Texas, Georgia, Pennsylvania, and New York, culminating in her hometown of Chicago. Fans can expect a taste of everything as Palmer promises an unforgettable experience.
The Brotherly Love movie star's announcement comes amid ongoing labor strikes in Hollywood, where her current and future film and TV projects hang in balance. However, she is determined to make her mark in the music industry. 
Recently, she surprised the audience at the Broccoli City Festival in Washington, D.C., with an electrifying and captivating performance of her single "Big Boss." This unexpected show highlighted her pivot into her music career, showcasing her incredible talent and versatility.
Thriving Through The Hollywood Strike
The Hustlers star posted a heart-pumping clip to her Instagram page telling fans, "Broccoli city was just the beginning" of her musical endeavors, ensuring fans that the upcoming tour will " have a little bit of everything."
Keke Palmer is not the only entertainer who has taken advantage of the Hollywood strikes to explore different avenues. Ludacris, Issa Rae, and 50 Cent are the other artists who have embraced their musical talents during this downtime. Ludacris, for example, joined Janet Jackson on her Together Again Tour. 
At the same time, Issa Rae's multimedia platform, Raedio, struck a multi-year deal with Def Jam Recordings, marking a significant leap in the music industry's creativity and innovation.
Victoria Monét Sells Out "Jaguar Tour"
In a related story, pop star Victoria Monét has also been making waves in the music industry. She recently sold out her Jaguar Tour within minutes, showcasing her dominant presence in hip-hop. Fans eagerly anticipate her upcoming album, Jaguar II, which is set to release on August 25th.