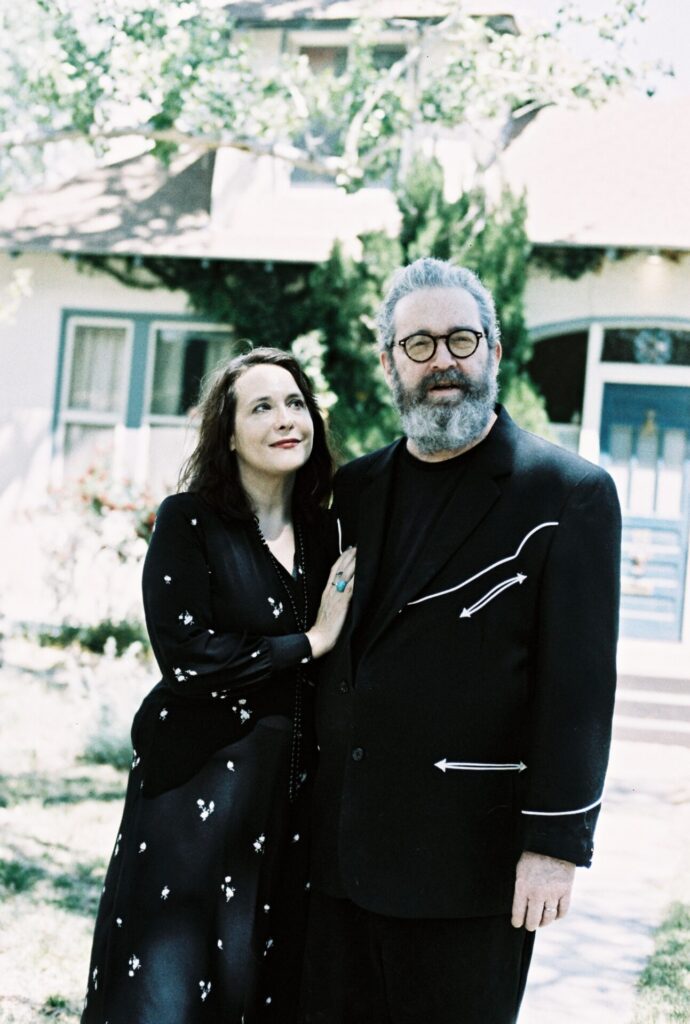 "The grandeur of the 'The King of Everything' required colors brighter than real life so I turned to art. I hope my scribblings convey the weightless glory of being, even for a moment, the center of the universe."
These are the words of Rennie Sparks – who, alongside her songwriting and marriage partner Brett Sparks, is one half of The Handsome Family – as she talks about 'The King of Everything', a song which foretells the arrival of the group's eleventh studio album, Hollow, due for release on the 8th of September 2023.
And God Is In The TV is delighted to bring you the video premiere of 'The King of Everything'. The video by Rennie Sparks brings the song to vivid life, its striking technicolour imagery reflecting the universality of the words and music.
The Handsome Family have been defining the dark end of Americana for over 30 years. Brett writes the music and Rennie writes the words. Their work has been covered by many artists including Jeff Tweedy, Andrew Bird, and most-recently Phoebe Bridgers. Their song 'Far From Any Road' was the opening theme for HBO's True Detective season one and still receives thousands of Shazams every week from all over the world.
Handsome Family songs take place under overpasses and inside airports. Historical figures like George A. Custer and Nikola Tesla appear alongside a flying milkman and the whisper of an air conditioner against a plastic tree.
The forthcoming album, Hollow delves into the natural world at the edges of the man-made. It is a record lush with leaves and shadows and echoing with occult mystery. 
Asked to describe their music, Brett says, 'Western gothic.' It is music inspired by the abandoned strip malls of desert America where cracked pavement shimmers with heat and thorny weeds slowly reclaim the land.
Handsome Family songs may be dark, but there's always laughter on stage. Rennie sings as well as plays banjo and bass. She often introduces songs with seemingly unrelated stories. Brett, with his deep baritone and stentorian presence, is the undeniable centre of stage. The two are often joined by multi-instrumentalists Alex McMahon and Jason Toth as well as fans, new and old, some returning again and again to see them live over the decades.
"We're astonished to be breathing," Rennie says about the band's longevity, "Let alone still be inspired to write songs and sing together. There's been a lot of smashed coffee cups in our house over the years, but we're still unable to resist the urge to make music."