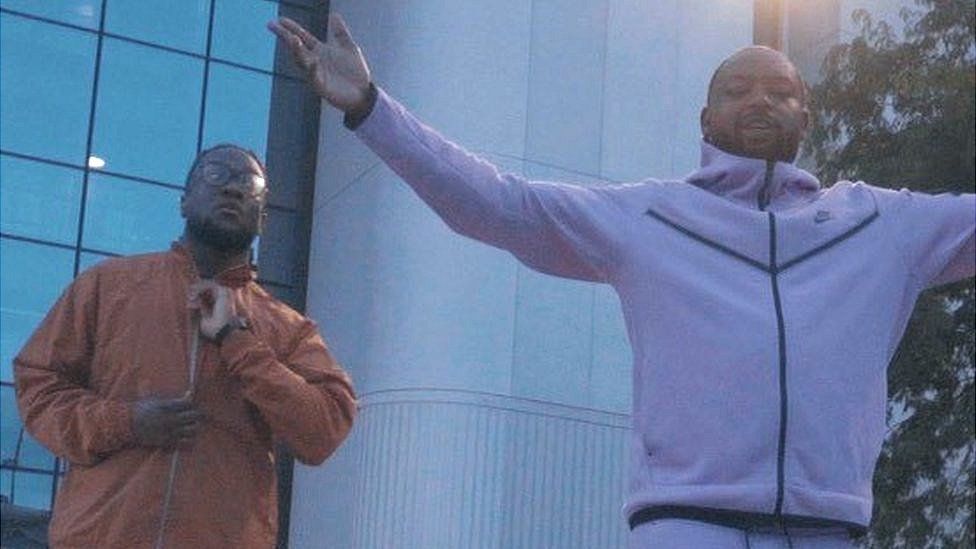 'Welcome To Wales' is a storming new collaboration between South Wales MC Mace The Great and North Walian bilingual rapper Sage Todz. Inspired by the injustice of recent events, it's a visceral yet playful take down of racism in Wales. Each artist takes turns to verbally spar above a looping beat as the pair vocalise the marginalisation of minority voices and the prejudice both men have experienced. The video is a collaboration of North and South and a bold representation of the burgeoning hip hop talent in Wales right now. Here, the pair confidently perform the song outside the BBC Wales Broadcasting Centre in Cardiff.
This awesome collaboration was born out of the frustrations the pair felt after S4C was forced to apologise for what the broadcaster described as a 'serious mistake' when instead of a picture of Sage Todz, a photo of Mace was used on the Prynhawn Da programme. Sage Todz tweeted after the incident: "We have to do better than this" , exposing the bitter irony of the error. He pointed out that he himself was in the studio the previous week for the early evening show Heno.
'Welcome To Wales' references the debate opened up when Sage Todz announced his intention to pull out of National Eisteddfod due to the event's strict Welsh language policy – and the racist comments he was subjected to on social media following that decision.
The National Eisteddfod said the rule about the Welsh language was "fundamental" to the festival. A spokesman said: "Our language rule was discussed at length with Sage Todz, and we respect the fact that he's a bilingual artist.
"It was his decision to keep to his principles and continue to create music bilingually and in English."   This year's festival takes place in Boduan, Gwynedd, the home county of Sage Todz, who is from Penygroes.
We understand why the Eisteddfod takes this stance to promote the Welsh language. But the flip-side of the debate is how Sage's bilingual songs, crammed with powerful bars on jewels like 'Round a Round' have inspired others to learn Welsh and take an interest in the culture. The artist wrote on Twitter his "songs are finished products, not subject to change". When someone responded the performer should "abide by the rules", he said: "I'm not protesting, simply letting people know why I won't be there."
The duo also turn their fire towards music promoters and organisations in Wales and the hypocrisy of how two artists who have played on some of the biggest stages are the victims of double standards.