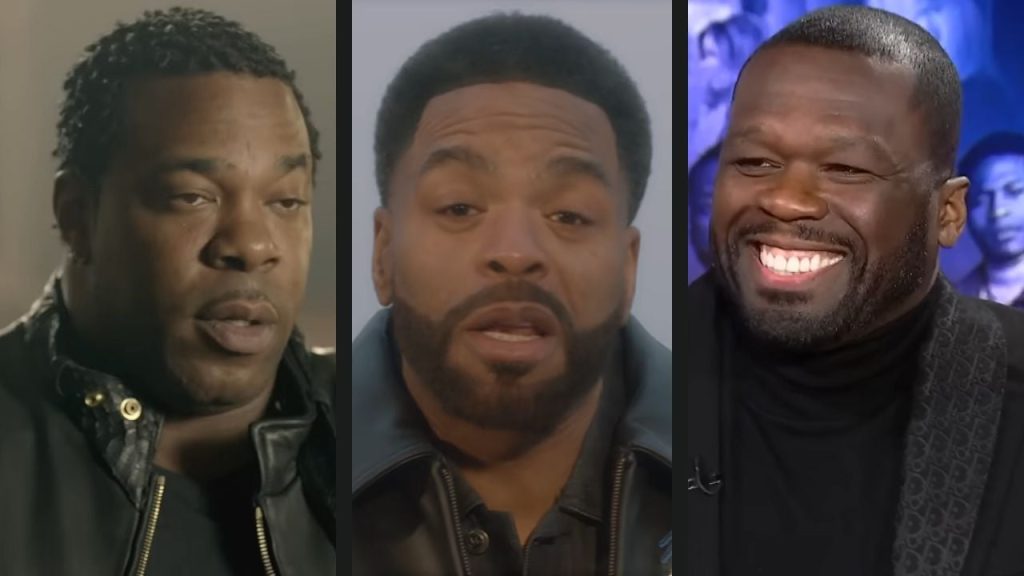 Hip-Hop legends Busta Rhymes, Method Man, 50 Cent, Ludacris, Common, and Wiz Khalifa are gracing the cover of Men's Health Magazine. In celebration of hip-hop's 50th anniversary, this special edition highlights the inspirational stories of these six legends, shedding light on their musical and fitness journeys. From rigorous workouts to self-preservation and healthy diets, these artists are redefining what it means to pursue a balanced lifestyle.
Busta Rhymes, Method Man & 50 Cent: The Fitness Regimens of Hip-Hop Elite
Busta Rhymes fondly labeled the "Lyric Magician," opens up about his fitness journey, emphasizing the importance of self-preservation. He engages in intense two-a-day workouts, incorporating weights, circuits, sauna sessions, and cryotherapy. 
In January 2023, the East Flatbush native also revealed his own feature in the Men's Health Magazine. By maintaining a healthy diet, staying hydrated, and prioritizing quality sleep, he believes in the significance of keeping the body in optimal condition. 
In the most recent issue, Busta went on to say:
"Me, 50 Cent, Dr. Dre, a lot of artists now, understand the seriousness and significance of self-preservation: a healthy diet regimen, significant water intake, getting your sleep so your body can repair itself when you beat it up and you tear that muscle from the workouts. The most important thing in life is self-preservation."
Method Man reveals that his fitness journey originated from a struggle with insomnia. Determined to break the cycle, he found solace in the gym. No longer controlled by sleepless nights, he gained a newfound energy that propelled him to pursue fitness. 
Following routines from his trainer; the rapper-turned-actor found a fresh start and a renewed perspective on his physical and mental well-being. In 2020, the Wu-Tang Clan member also gave fans a behind-the-scenes glimpse of his Men's Health feature. 
Common: Liberated By KRS-One's "My Philosophy"
Common, known as "The Truth Teller," attributes his transformed view on eating to fellow rapper KRS-One and his iconic song "My Philosophy." The lyrics, advocating for a plant-based diet, resonated deeply with Common. 
Hearing his hero assert that consuming meat harms one's health inspired the conscious artist/actor to reassess his eating habits and prioritize his overall well-being.
Ludacris & Wiz Khalifa: Longevity & A Laid Back Warrior's Journey To Health
Ludacris, also known as the "Party Starter," acknowledges the alarming rate at which artists and influential figures within the industry are facing health issues or succumbing to them. With the constant reminder through social media, he believes people are becoming more conscious about their health and actively taking responsibility. 
Ludacris's aspiration to live a long life stems from personal motives and a desire to perform at the highest level for his dedicated fans.
Wiz Khalifa, aptly known as "The Laid Back Warrior," delves into his health journey, which began six years ago. Despite having a natural inclination towards sports and athleticism, he only embraced regular gym workouts later in life. 
By incorporating exercise into his routine, Wiz Khalifa aims to maintain his physical well-being and set an example for his family.
Missy Elliott Graces Cover Of ESSENCE Magazine
Similarly, Missy Elliott recently graced the cover of ESSENCE Magazine, shedding light on her journey ahead of the upcoming 2023 ESSENCE Festival. As individuals within the hip-hop industry continue to prioritize their health and well-being, these artists inspire others to embark on their fitness journeys.