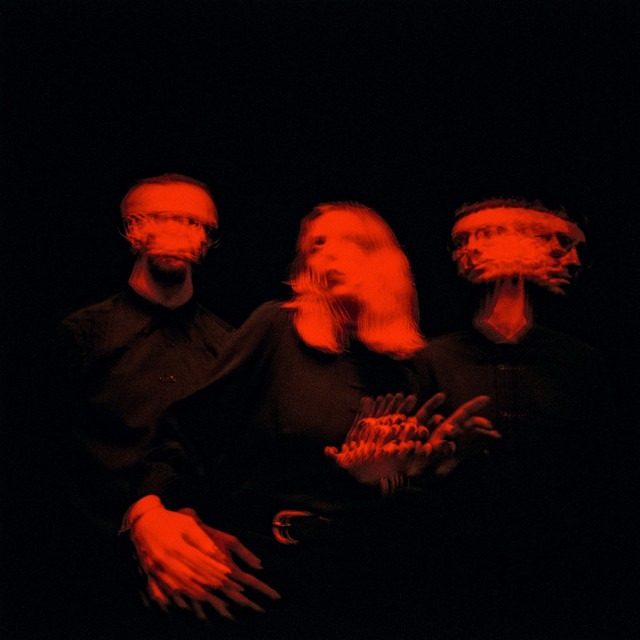 "Red. I know you love red. So do I." Red is a dominant colour in the world of Belarusian dark synthwave group Dlina Volny (Masha Zinevitch, Vad Mikutski and Ales Shishlo), as seen in their cinematic music videos and the album cover for their second release Dazed. In this case red is representing revenge, romance and rebellion. Part illusory and part aiming to resemble the disenchanted, determined and dazed youth of Minsk, Dlina Volny's microcosm is alluring, addictive but also informative. By creating a follow up record that unlike their bilingual debut (Mechty) is completely in English, could show their desire for outsiders to peek into their intriguing yet troubled environment. The Belarus trio also have Dean Hurley (Inland Empire, the revamped Twin Peaks), a regular collaborator with David Lynch, on board to help create what the band have dubbed themselves "a love thriller".
Rebellion comes in the form of 'Whatever Happens Next', a song originally conceived in 2017 as a reaction to protests against the seemingly rigged Belarusian presidential elections – Belarus' Alexander Lukashenko is the longest serving European leader and has been in the position since 1994. "Thanks for waking up. It's your time to rule. Time to stay alive. Whatever is coming our way. We can fight it back /Your power is your worst nightmare. Look at what you've done to get more. My brothers are much more than this. Are you listening? Are you hearing me?"  The song is a good introduction to the sound of the Dlina Volny. Their gloomy synth pop could be compared to Crystal Castles and Italians Do It Better label mate Chromatics but Masha Zinevitch's unique mysterious contralto voice really makes it stand apart. The rhythm of their songs also draw from post punk, most notably in tracks such as 'Tomorrow'. A song that has a commentary on freedom and a music video that nods Lynch film Mulholland Drive.
Other tracks that point towards rebellion against the static quo are on 'Freedom', which has an effective filmic Western tone among squelching electronica, the more Chvrches-esque 'I'm Not Allowed' with the protesting line: "I'm saying it, even though I'm not allowed." and the Kate Boy-sounding motivational anthem 'Do It', inspiring people to live in the moment. It also seems to have a science-fiction storyline: "Been trying. To crash the wrong party. On my last day. On earth
Been wanting. To catch you on an outing. But you're running away. From my call." Like a dream, Dlina Volny's world is a mix of truths and imaginative imagery.
Surprising entry 'Hollywood', a track originally performed by Madonna, further demonstrates their distinctive sound, as it transforms one of Madonna's lesser-known singles into something different and inherently theirs. Dare I say eclipsing the American Life original, as the predecessor sounds rather flat once hearing Dlina Volny's dark disco take.  The line "I've had a million visions bad and good" when sung by Masha Zinevitch now sounds more sinister.
Revenge comes in the form of Dazed highlight 'Redrum'. A cleverly composed song that's suspenseful lyrics will keep you hooked right to the end. Clocking in at just over six minutes long, it's enough time for Masha Zinevitch – with her magnetic whispery tone – to pull you in like a femme fatale vampire and give you a false sense of comfort, before revealing her true revengeful intentions. The song plays out like a Tarantino film or a scene from the psychological TV series You.
Act 1: Beginning with sexual compliments: "Yesterday I thought you were the best thing that'd happened to me in a long, long time. I'd been looking forward to your smile, your smell, your taste. You smell so good. Your head is beautiful. Your lips are so red." Act 2: A misleadingly downplayed display of grudge in the form of lines: "Sometimes we do things that we later regret I hope you regret fooling me. Because no onе's ever fooled mе like this before. I know you planned this from the beginning." Act 3 details the unforgivable act. While Act 4 initially suggest that she forgiven him but in the end it's a ploy to complete the vengeance: "Have a seat. I'll be right back. Just gonna get some wine. Red. I know you love red. So do I.  Want red wine to be the symbol of our last evening together. I hope you miss me. Because I sure will not miss you."
With Dazed, Dlina Volny smartly combine their own branded red-hued fantasia (Dlina Volny Red in the pantone chart) with harsh realities of post Soviet life. The group's name is Russian for the term wavelength and this album undoubtedly helps outlanders understand the wavelength of Belarus' youth.