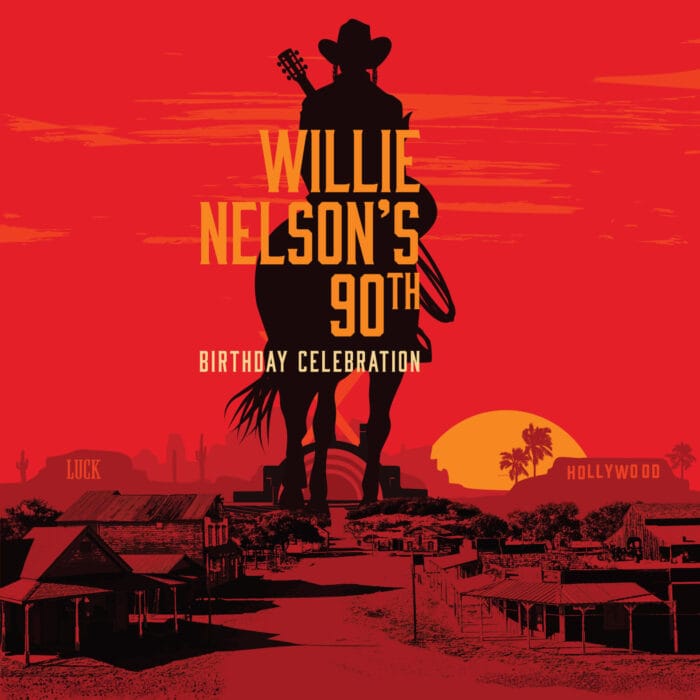 Photo Credit: Pamela Springsteen
Willie Nelson's 90th Birthday Celebration, a concert special paying homage to the storied career of outlaw country's finest and musical industry icon, will air on December 17 from 8:30 p.m. to 10:30 p.m. ET/PT on CBS and streaming on Paramount+. The news was revealed during Nelson's appearance on The Late Show with Stephen Colbert on Thursday, Nov. 2. 
The star-studded spectacle occurred earlier this year and was recorded live across two nights of sold-out concerts at Los Angeles' Hollywood Bowl. The shows served as honorary events for the legendary musician's nine-decade milestone, featuring one-in-a-lifetime collaborations and a roster of pop culture favorites. 
Included were musicians such as Beck, Gary Clark Jr., Sheryl Crow, Snoop Dogg, Norah Jones, Miranda Lambert, Dave Matthews, Nelson's sons Lukas Nelson and Micah Nelson, Keith Richards, George Strait, Chris Stapleton and others. Moreover, the special is hosted by stars Jennifer Garner, Chelsea Handler, Woody Harrelson, Ethan Hawke, Helen Mirren and Owen Wilson.  
"It is the sincere privilege of our lives to have produced these shows celebrating our beloved Willie and to partner with CBS to bring this special to fans around the world," said Mark Rothbaum and Keith Wortman, creators and executive producers of Willie Nelson's 90th Birthday Celebration. "Viewers will now have the chance to sing, and laugh, and cry and experience the joy of this celebration like never before." 
Note, Paramount+ with SHOWTIME subscribers will have access to stream live via the live feed of their local CBS affiliate on the service, as well as on demand. Paramount+ Essential subscribers will not have the option to stream live but will have access to on-demand the day after the special airs. 
Watch the announcement via The Late Show with Stephen Colbert below. 
.@WillieNelson celebrated his 90th birthday and now you can too!

Join the party on December 17th as @cbs presents "Willie Nelson's 90th Birthday Celebration" with special appearances by @ChrisStapleton, @SherylCrow, @OfficialKeef, @TheChicks, @SnoopDogg and many more.#Colbert pic.twitter.com/orZ4FeXxTU

— The Late Show (@colbertlateshow) November 3, 2023