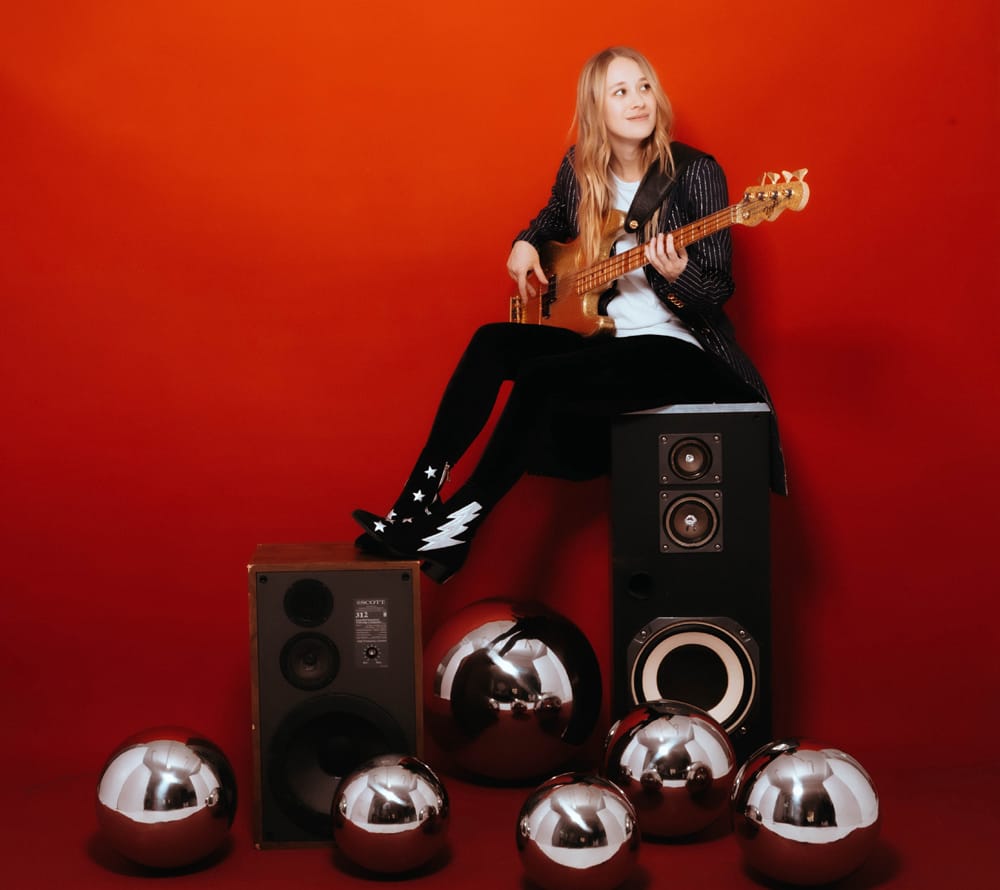 photo: Brantley Gutierrez
***
It's the summer of 2021 and, somewhere on New York City's Upper West Side, Trey Anastasio is making rising star Karina Rykman an offer she can't refuse—he wants to produce her first solo album.
One week before this fateful lunch, Anastasio had approached Rykman backstage at Scranton, Pa.'s Peach Music Festival, surprising the bassist by naming her songs, one by one. He was a fan, he said. And, as she recalls, the "glimmer in his eye" hinted at big things to come.
Anastasio first met the now 29-year-old bassist through his daughters when she was still in middle school and had kept a keen eye on her development, even jamming with her during a Phish soundcheck at New York's Madison Square Garden in 2018. Back in Manhattan, shortly after Peach, Anastasio offered Rykman not only his mentorship and production skills, but also his guitar prowess, the services of Pavement collaborator Bryce Goggin—his longtime mixer—and Phish's Vermont studio space The Barn to help create Rykman's solo debut, Joyride.
"I was just completely overwhelmed with shock and gratitude," Rykman recounts two years later, just a week before Joyride's Aug. 18 release.
However, long before Rykman found herself recording on jam-scene sacred ground, she was making a name for herself on the live-music circuit. The daughter of two Columbia professors, Rykman has been a mainstay in the New York music scene, both as a player and a fan, for more than half her life already. An indie-rock and metal enthusiast from an early age, she learned the "Seven Nation Army" riff as a child, ditched high-school to mosh front-row at The Big Four—Slayer, Metallica, Anthrax and Megadeth—at Yankee Stadium and almost broke her ribs at a Primus show the night before her SATs.
Rykman's interests in the music industry were far-reaching from an early age. She enjoyed photography, explored booking shows—an interest she continued to pursue for years with promoter Rocks Off—and even interned for Relix. She also played guitar and bass in a variety of high school and college bands, impressing Ween bassist Dave Dreiwitz while studying at Tomato's House of Rock—an after-school music program where she bonded with several of her future collaborators. By the time Rykman was a senior at NYU, Dreiwitz's schedule became too demanding, and he asked if she could cover three gigs for him in Marco Benevento's indie-jam power trio. It was a short-term gig that quickly became permanent.
From 2016 onward, Rykman has been shredding alongside Benevento, touring constantly, contributing creatively and collecting fans of her own, thanks to her boundless energy and electric, experimental, Robert-Trujillo-meets-Les-Claypool rhythms.
Onstage, she explodes with personality— jumping, skipping, running in circles, and thumping her custom-made, white-and[1]gold bass with all the fuzz and distortion in the world. (That bass, which was crafted by Zeke Guitars, is made from super-light korina wood, allowing for maximum mobility.) If you haven't caught her playing sets at Bonnaroo, Peach or Hulaween, then you may have even seen Rykman trading banter with comedy royalty, performing in the 8G Band on NBC's Late Night with Seth Meyers.
"How much you selling that guitar for?" SNL alum Tracy Morgan quipped one night, gesturing to Rykman's Gibson Explorer.
"Getting lost in the musical experience, that's how I shut off the world," Rykman says after chronicling her extensive résumé. Interestingly, other than the odd sip of espresso or tequila and a slight obsession with seafood towers, she's never had an interest in partying—a fact that sets her apart from many who pursue her line of work. Music, she says, is the only intoxicant worth chasing.
"I have these sort of transcendent outer body experiences—the pure sensation of dissolving an audience member and the people onstage. We're creating something larger than the sum of our parts with that. I've had incredible, beyond moving experiences in those realms, and the idea is that, now, I'm creating or trying to create experiences like that for other people. Those are the drugs. It's larger than all of us. To have a small role in creating that, that's absolutely the greatest gift that I could ever receive or give."
***
The bassist's namesake trio, featuring two buddies from her NYU days—guitarist/looper Adam November and drummer Chris Corsico—initially started landing gigs in the summer of 2019. At first, the group would perform entirely improvised sets. "No songs, no covers, no A section, no B section, no starting off points," Rykman says.
"The three of us would just meet up and jam for hours with absolutely no expectations, limits or guidelines," adds November, recalling the band's early days. "We'd play for a few hours, break for báhn mi, Vietnamese iced coffees, and shit-talking, and then go back to playing. The music we played was super far out. And, for me, it was also a time when I was diving super deep into experimenting with electronics and building my own gear, and these jams were perfect for that."
It was a thrilling musical experiment, but after some time, Rykman knew she had to take the next step.
"We had gotten all these gigs and people were coming to see us in alarming numbers for three kids improvising," Rykman says with a laugh. "So I sort of had a bit of an epiphany where I said, 'Guys, we need to start writing some songs.'"
But, to elevate her band, Rykman had to do some serious introspection. "I was afraid of writing," she confides.
"I was afraid of attaching my name to stuff that I wasn't super proud of. And that fear of failure, judgment and people not understanding definitely held me back for a long time. I was a sideman in many people's bands, and played in tons of bands growing up, but I was never the principal songwriter. I was always adding to what was already there. So there was a turning point somewhere along the line where I was just like, 'We just have to fuck around and find out.'"
And what better place to find out than The Capitol Theatre? Upon booking a jaw-dropping opening slot for another experimental power-trio, Khruangbin, at the legendary Port Chester, N.Y. rock palace, Rykman kicked her songwriting into overdrive—prepared to put her name on an official recorded release.
"I was so overjoyed and overwhelmed," Rykman says of The Capitol Theatre gig. "I made sure that 'Plants,' my first tune, was written and recorded and came out about four days before that show."
"Plants," a murky, five-plus-minute instrumental odyssey, is still Rykman's best-performing track on Spotify, racking up 1.2 million streams and counting.
"I never thought I would be an artist that streamed well," Rykman admits, "'Plants' was the first piece of music that I put my name on. And so it was so important to me that it came along with my first record."
Indeed, "Plants" and "Elevator" are the two oldest Rykman tracks that received a "facelift" for Joyride. The album's seven other selections were co-written by Rykman and her longtime collaborator Gabe Monro.
As Rykman explains, "You only get your first record once." Thus, Joyride is a genre[1]fluid, indie-psychedelic-pop-rock record. It encapsulates a wide range of mind-bending melodies, with her bass always front and center. In addition to Anastasio on five of the tracks, Joyride also features friends like Mike Gordon drummer John Morgan Kimock and Disco Biscuits keyboardist Aron Magner, as well as vocalist Veronica Stewart-Frommer and guitarist Marlo Shankweiler from Melt. Detailing her songwriting process with Monro, Rykman explains: "I like to call it 'seedling cultivation,' where it's just all about vibe. We put together an A section and a B section or a verse and a chorus and see what happens."
In line with Rykman's origin story, her songs always seem to start as instrumentals. "If I hear a seedling that I just can't get outta my head, then I know that it's worth developing and worth nurturing and cultivating into something bigger," she explains.
Even post-Joyride, Rykman still has music floating around her head, with "hundreds of seedlings" ready to be incubated into something larger.
After months of tinkering, by April 2022 Monro and Rykman had culled the nine best tunes for Joyride and sent a "big illustrious Dropbox" to Anastasio and Goggin, excited to hear their thoughts. The quartet then assembled for a "meeting of the minds" at Trout Recording in Brooklyn, N.Y., Goggin's recording space.
During the recording sessions, Anastasio had a simple directive: "more bass, more of her voice, more Karina."
"It was one of the most magical days of my entire life," Rykman recalls. Anastasio arrived with an iPad full of demos: He restructured "Joyride," tacking on an extra chorus and a dreamy guitar solo, and added an extended outro to the yearning-yet[1]danceable "All That You Wanted," which Rykman deems "a total Anastasio stamp."
All of Anastasio's parts were tracked at Trout Recording that day, and, just a couple weeks later Rykman—a self-proclaimed "city kid"—temporarily swapped the hustle and bustle of New York for the green pastures of Vermont to complete Joyride at The Barn.
"The finished product came out of The Barn at the end of a good seven days there, just mixing," Rykman says. "It's so incredible. Bryce Goggin basically built that room. Nobody knows how that room sounds better than him. I'm picturing him making Farmhouse on those same speakers, taking all of these sounds and running them through all this beautiful gear that Trey has up there. And I'm just so thrilled. We left there with a record."
***
Joyride brings forth a new era for Rykman, and she couldn't be more stoked. It will also kickstart the most extensive headlining tour of the bassist's career, taking her, November and Corsico across the U.S. According to November, tour is where the band thrives.
"Karina gives Chris and I, more or less, total freedom to play whatever we want and take the music in any direction when we play live," he explains. "On our first tours, I was especially amazed and inspired by her ability to always look forward and rarely waste time ruminating on the past. Chris and I would always beat ourselves up after gigs about mistakes we made or things that didn't go as well as we wanted, and Karina would always just be like, 'Yo, guys, that was so sick!' She was already thinking about the next gig."
As of the album's release, all nine of Joyride's tracks have been performed live, and they continue to evolve. Rykman is also particularly moved by the fans who come out to see the trio, singing her lyrics back at her.
"Throughout my different musical interests and genre proclivities, I feel like my me-ness truly comes through," Rykman says of her debut. "And that, to me, is of utmost importance. I just hope that, whether you're listening to one of my psychedelic indie-pop songs or one of my instrumental odysseys, you can still hear the 'Karina' come through. I have no lofty goals or aspirations of tickets sold, records sold, monetary gains. None of that matters to me. All that matters to me is that I can keep doing it–keep playing, keep making records. I'm like the gambling addict that doesn't wanna leave the blackjack table. That's how I feel about making music."