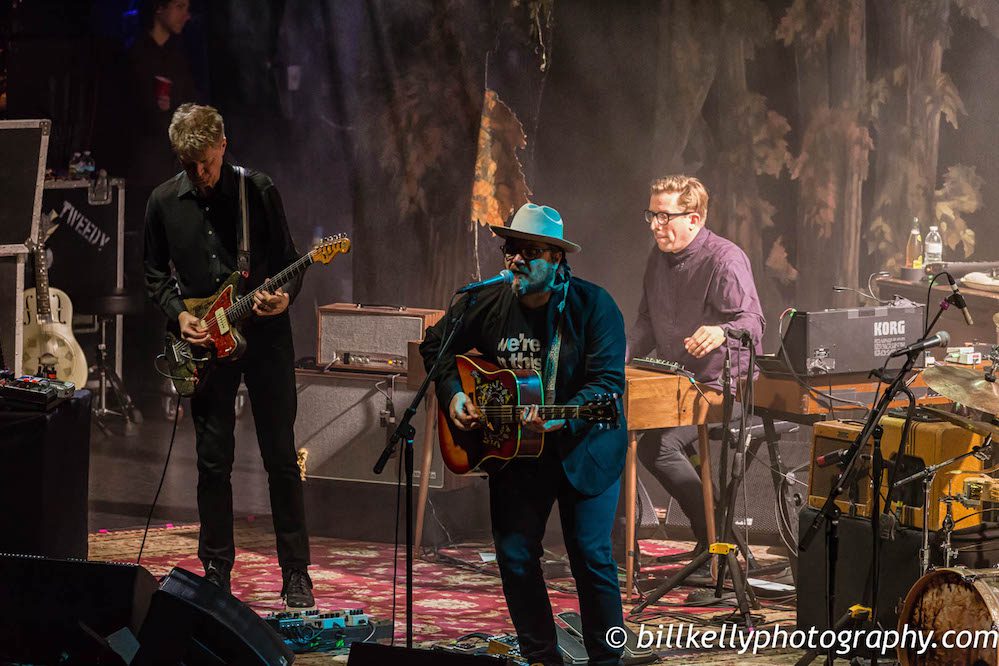 Hot off the heels of debuting their new song "Cousin" live at Cain's Ballroom in Tulsa, Okla., Wilco have announced their annual Solid Sound Festival plans. The beloved event will take place on June 28-30, once again at The Massachusetts Museum of Contemporary Art in North Adams, Mass.
"HEY!! Here's some good news for your Wednesday," the band shared on social media yesterday. "We'll see you in 275 short days."
While the band didn't give any further information on who will be joining them, offering up the message "save the date," Solid Sound is renowned for its diverse and emblematic lineups highlighting the deep artistry of each artist. 2023's iteration saw performances by Wilco, Sylvan Esso, Japanese Breakfast, Bonnie 'Prince' Billy, Terry Allen and the Panhandle Mystery Band, Jeff Tweedy & Friends, Sun Ra Arkestra, Iceage, Hand Habits, Cut Worms, Nnamdï, Angel Bat Dawid and many more. The comedic performers have also yet to be locked in, but their presence has become a beloved aspect of the festival in recent years.
In the meantime, Wilco have a schedule flushed with performances. Tonight, Sept. 28, they'll rock the walls of South Side Ballroom in Dallas, Texas. Throughout the fall, the beloved rock band has dates scheduled for Los Angeles, Seattle, Denver, St. Louis, Omaha, Neb., and more.
See full tour dates and the band's announcement of Solid Sound Festival below.
Wilco Tour Dates
Sept. 28 – Dallas, TX – South Side Ballroom *
Sept. 29 – Austin, TX – Moody Amphitheater – Waterloo Park *
Oct. 01 – Albuquerque, NM – Kiva Auditorium *
Oct. 03 – Scottsdale, AZ – Scottsdale Civic Center East Bowl Stage *
Oct. 04 – Los Angeles, CA – The Theatre at Ace Hotel *
Oct. 05 – Los Angeles, CA – The Theatre at Ace Hotel *
Oct. 06 – Los Angeles, CA – The Theatre at Ace Hotel *
Oct. 08 – Monterey, CA – Rebels & Renegades Festival
Oct. 11 – Los Angeles, CA – The Bellwether *
Oct. 13 – Santa Barbara, CA – Arlington Theatre *
Oct. 14 – Berkeley, CA – Greek Theatre ^
Oct. 16 – Portland, OR – Keller Auditorium *
Oct. 17 – Seattle, WA – Paramount Theatre ^
Oct. 18 – Seattle, WA – Paramount Theatre ^
Oct. 20 – Salt Lake City, UT – Eccles Theater ^
Oct. 22 – Denver, CO – Mission Ballroom ^
Oct. 23 – Omaha, NE – The Astro Theater ^
Oct. 25 – Kansas City, MO – Midland Theatre ^
Oct. 26 – St. Louis, MO – Stifel Theatre ^
Oct. 27 – Bentonville, AR – The Momentary ^
Nov. 02-Nov. 06 – Riviera Maya, MX – Sky Blue Sky (Hard Rock Hotel)
$ = w/ Tré Burt
# = w/ Courtney Marie Andrews
+ = w/ Anna Miekie
* = w/ My Brightest Diamond
^ = w/ Nina Nastasia