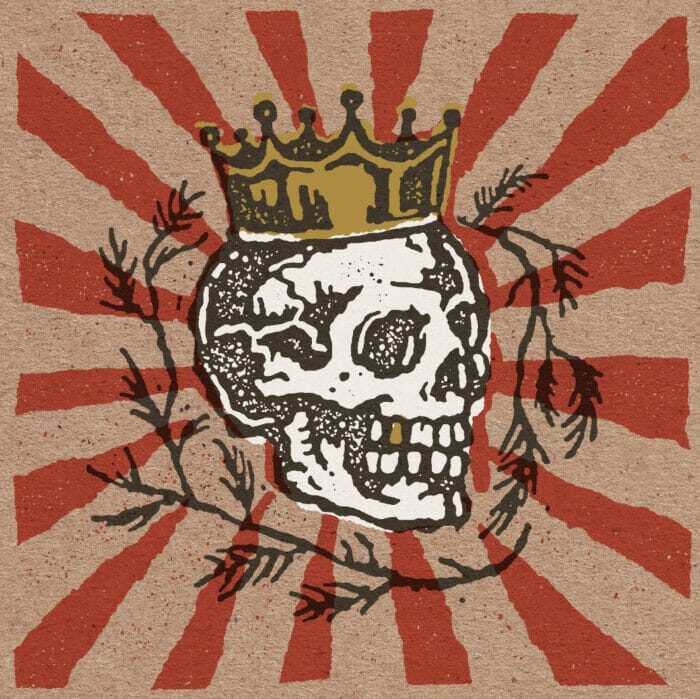 Photo by Michael Schoenfeld
Today, we premiere singer-songwriter Jerry Joseph's anticipated album, Baby, You're The Man Who Would Be King. The LP, produced by Eric "Roscoe" Ambel and released under the Cosmo Sex School Records label, boasts a lineup of exceptional New York musicians and delves into themes of simplicity and vulnerability, echoing the tumultuous backdrop of the pandemic.
Joseph's offering was composed during the height of the pandemic and features nine tracks that offer an introspective and enigmatic perspective. He candidly acknowledges, "These, for me, were a different collection of songs. If there was a theme, it was to focus on simplicity – often ending with a head scratch and 'What the hell is this song about?' upon listening to the final versions. In the end, there's a lot more truth and vulnerability here than I'm willing to publicly concede."
Joseph's musical journey in 2020 began with great promise, as his album The Beautiful Madness, produced by Patterson Hood and featuring Drive-by Truckers as his backing band, was set to be released. However, the pandemic disrupted tour plans, leading the artist to adapt and release the album in August 2020. It received international acclaim, aligning seamlessly with the world's turmoil. Still, the absence of live performances due to cancellations compelled Joseph to channel his creative energy into crafting the songs for Baby, You're The Man Who Would Be King.
Reflecting on this period, Joseph notes, "Loads of different issues came up during early Covid, a lot of intimate family time, spiritual soul searching, dodgy sobriety, and the disappointment of releasing the album of my career right as the world closed. All those things were on my mind as I started to work on this album."
The creative process flowed with natural ease; all songs were demoed by January 2021 at Steve Drizos' studio, The Panther, a facility owned by Joseph's Jackmormons bandmate. In June 2021, Joseph ventured to New York City to record with Eric Ambel at Cowboy Technical Services, his Brooklyn studio. Ambel, renowned for his production expertise, assembled an accomplished ensemble of musicians, including Jeremy Chatzky on bass, Phil Cimino on drums, Charlie Giordano on Hammond organ, Wurlitzer Electric Piano and accordion, along with Ambel himself on electric guitars, acoustic guitars, keyboards, percussion, harmony vocals and more.
"To say that I lack confidence in my ability to ascertain whether or not my songs are worthwhile would be an understatement. Besides holding very little hope of owning a Maserati, one downside of not achieving societal metrics of success is the luxury (or curse, I suppose, if one actually sucks ) of having a myriad of writers do the judging for me. Put out the music and wait for the, one hopes, accolades from others. Very rarely in my life, has there been this much of a time gap between writing and recording and now being presented with the finished product, I must say, I was drowning in trepidation of having to face this music and find myself disappointed," Joseph shared with Relix.
"Luckily, the stewardship of my friend and producer, Eric Ambel, seems to have delivered a record of music I like. It's been a long process, and I'm truly grateful for Eric's talent and patience! It was, well, weird, that NYC had been so central to my life for so long, and I had never recorded a NYC album." He expanded on his feelings, sharing, "I have been fortunate in my life to have made a lot of records, but I'm exceedingly fortunate to have found a producer in Eric who insisted it was time to make my New York record. When it comes to making records, my tendency is to trust the producer (or as in the case of Patterson Hood, embrace the Faulkner cattle prods and sweet tea), and Eric really had a vision and determination.  I just heard the music again and there's a joy to it that's palpable. I hope you hear it too!" 
With the release of the album, Joseph is ready to celebrate the return of live performances with a tour through December. He'll perform tomorrow, Sept. 29, at Music Millennium in Portland, Ore., before having a record release show on Oct. 7 at The Old Church also in Portland. From there, he'll perform around the Pacific Northwest before another record release show, this time at Water Rats in London on Dec. 5. See the full list of tour dates below.
Enjoy Baby, You're The Man Who Would Be King below.
Tour dates:
September 29 Music Millennium – Portland, OR *Performance and Signing
October 7 The Old Church – Portland, OR *Record Release Show
October 19 Talent Club – Talent, OR *w/ Casey Neill and the Norway Rats
October 20 Arcata Playhouse – Arcata, CA *w/ Casey Neill and the Norway Rats
October 21 Ivy Room – Albany, CA *w/ Casey Neill and the Norway Rats
October 22 Old Princeton Landing – Half Moon Bay, CA *w/ Casey Neill and the Norway Rats
October 25 Sweetwater Music Hall – Mill Valley, CA *w/ Casey Neill and the Norway Rats
November 2 Earth Brewing Co – Roswell, GA *w/the Jackmormons
November 3 40 Watt – Athens, GA *w/the Jackmormons
November 4 40 Watt – Athens, GA *w/the Jackmormons
December 5 Water Rats – London, England *Record Release Show