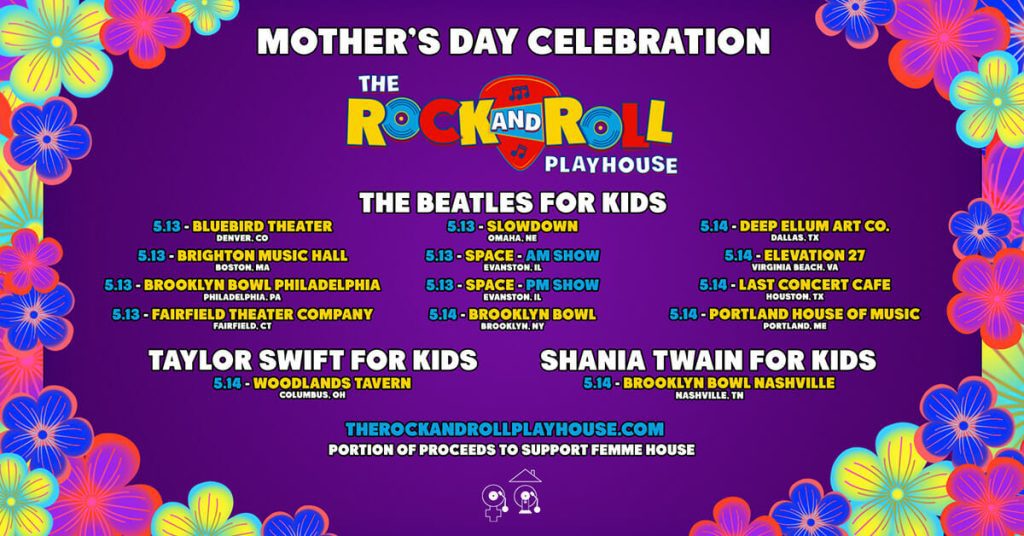 The Rock and Roll Playhouse, the family concert series where kids and parents rock out to the classics, has announced a special run of shows that will roll out over Mother's Day Weekend. The performances will benefit Femme House, and take place on Saturday, May 13 and Sunday, May 14. 
The impending batch of concerts will feature the music of The Beatles, Taylor Swift and Shania Twain. It will bring family fun concerts to 14 venues nationwide, including Denver's Bluebird Theatre, Boston's Brighton Music Hall, Philadelphia's Brooklyn Bowl and many more. 
Senior Director of The Rock and Roll Playhouse, Stephen Grybowski, offered a statement via press release. He said, "Live music is the heartbeat of the human soul. It's truly one of the few things on earth that can unite any two people from any two walks of life, anywhere in the world. To be able to help parents share the music that they love with their children and the next generation is the best part of what I do." 
When asked who has more fun, the kids or the parents? "It's really hard to compare! Children are experiencing this music often for the first time in their lives, so the beauty of that is pretty unrivaled. At the same time, it means so much to a parent to share the music that they grew up with and love so deeply with their children," Grybowski concluded. 
From The Beatles, Fleetwood Mac, Phish, Dolly Parton, David Bowie, Prince, Aretha Franklin, Harry Styles, Beyoncé, Dave Matthews Band and more, The Rock and Roll Playhouse provides a musical introduction to the next generation through access to timeless music. 
The Playhouse was founded in 2013 at its flagship venue Brooklyn Bowl by Peter Shapiro, entrepreneur and co-owner of the Bowl and owner of The Capitol Theatre, and Amy Striem, a certified Early Childhood and Elementary teacher.
For those interested in attending the upcoming Mother's Day Weekend events presented by The Rock and Roll Playhouse, tickets can be purchased here.
Scroll down for a complete list of upcoming shows. 
Saturday, May 13:
Bluebird Theatre – Denver – The Beatles for Kids
Brighton Music Hall – Boston – The Beatles for Kids
Brooklyn Bowl Philadelphia – Philadelphia – The Beatles for Kids
Fairfield Theater Company – Fairfield, Conn. – The Beatles for Kids
Slowdown – Omaha, Neb. – The Beatles for Kids
Space (Morning Show) – Evanston, Ill. – The Beatles for Kids
Space (Evening Show) – Evanston, Ill. – The Beatles for Kids
Sunday, May 14:
Brooklyn Bowl – Brooklyn, N.Y. – The Beatles for Kids
Deep Ellum Art Co. – Dallas – The Beatles for Kids
Elevation 27 – Virginia Beach, Va. – The Beatles for Kids
Last Concert Cafe – Houston – The Beatles for Kids
Portland House of Music – Portland, Maine – The Beatles for Kids
Woodlands Tavern – Columbus, Ohio – Taylor Swift for Kids
Brooklyn Bowl Nashville – Nashville, Tenn. – Shania Twain for Kids