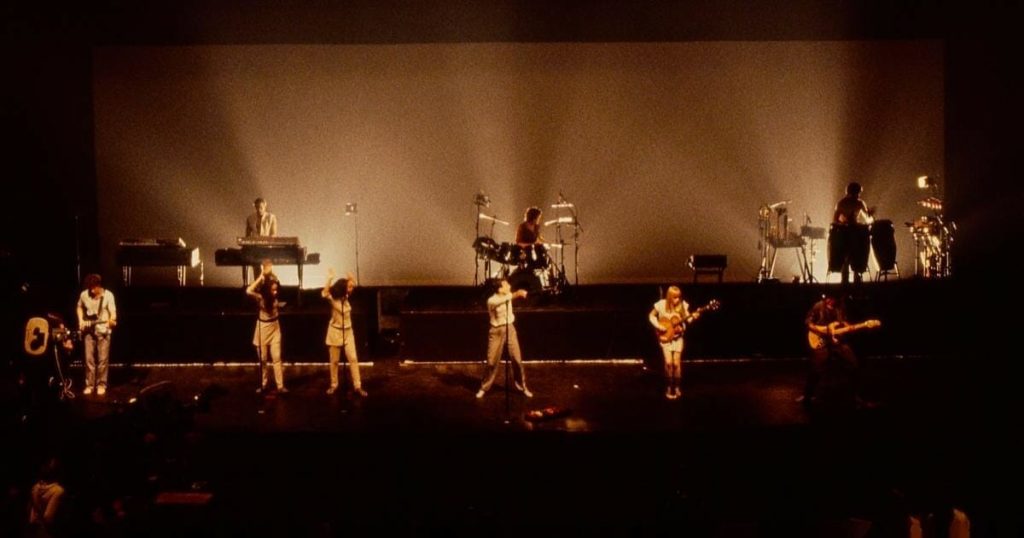 On Monday, Sept. 11, Talking Heads came together at Scotiabank IMAX Theatre in Toronto for a live Q&A to mark the 40th anniversary of their celebrated concert film, Stop Making Sense, which was screened at the city's International Film Festival. The event, which featured David Byrne, Tina Weymouth, Chris Frantz and Jerry Harrison, represented the first public appearance by the group in over 20 years. 
Yesterday's event was a coming together in honor of the groundbreaking concert film and its historic anniversary, which was celebrated through the release of a newly restored 4K version of the movie, an accompanying theatrical run via A24, and the gathering of celebrated musicians. The aforementioned panel was hosted by Spike Lee, who welcomed the former bandmates to the stage following the screening for a discussion. 
During the watch session, folks in the audience rose from their seats, engaging with the music as they felt the four-decade-strong beat pulse through the speakers. Commenting on the audience's reaction to the movie, Frantz said: "It's a little steep for dancing, but some people managed to." Harrison responded, "I couldn't sit at the side seat. I had to walk up to the back and watch it up there so I could dance around a little bit and just sort of experience. I didn't want to be off at the side. I wanted to experience the wide screen."
 "When I was watching this just now, I was thinking, 'This is why we come to the movie theaters. This is different than watching it on my laptop,'" laughed the group's former frontman. "This is really different," he concluded. In total, the conversation lasted 25 minutes, during which time the host never poked at the possibility of a reunion or potential for new music, sticking to the script and the topic at hand. 
"This is more or less what we were doing on tour," Byrne revealed to Lee. "There were a couple, a few songs, that were cut out. The intermission the encore gap was cut out. But other than that, this is kind of the show we were doing. It seemed like it had a kind of progression to it, a story. And I think it occurred to us, 'This could maybe work as a film. It's got a beginning and a middle and an end.' And we started thinking about who would, who could direct this? How can we do this and how do we pay for it?"
Later, when Lee referred to Stop Making Sense as "the greatest concert film ever," Franz responded: "Well, you know, Talking Heads was such a good band, and when we had that expanded lineup — I mean, excuse me for blowing my own horn, our own horn. It's so good to be here with my bandmates tonight. Been a long time — with the expanded lineup, with Steve Scales and Bernie Worrell and [Lynn Mabry and Ednah Holt, and Alex Weir, they just took us into a whole other dimension, you know? I'm very grateful to be here tonight and to be able to watch this and to enjoy it so much."
Before concluding their stage time, the group also mentioned the film's director, Jonathon Demme, who passed away in 2017. "He certainly dug the band and understood what we were about and helped us to celebrate the music — because when you get right down to it the music is greater than the band. Like we might be dead, but the music continues," said Frantz. 
He added, "Jonathan gave us a lot of confidence and made us feel that it was something worthwhile and was something worthy of making a motion picture, and also something worthy of being remembered into the future. He was a very pure kind of guy a very sweet person and it was a great pleasure to have known him."