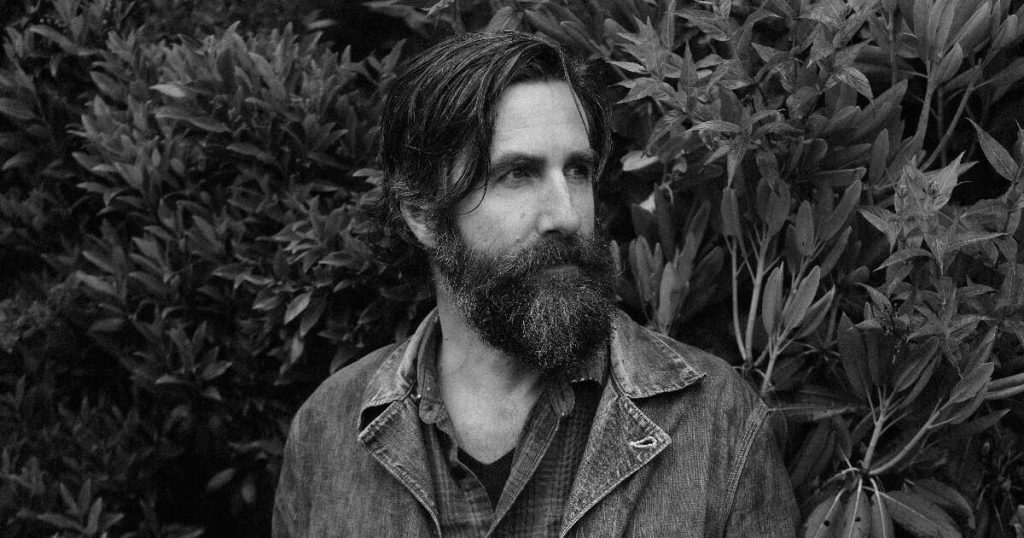 Celebrated singer-songwriter Tyler Ramsey's music, much like life, holds a constantly evolving nature and his new LP New Lost Ages–set to release Feb. 9 via Soundly Music–has developed to the point that it's able to ask the bigger questions like, "Where to from here?"
Through his music, with a mindful and knowing vision, Ramsey hopes to inspire listeners to recognize the endless mind-fuzz created by contemporary society, let go of the retroactive pain, ego and trauma and instead accept love. Today, Ramsey released a new song titled "Flare (For Neal Casal)," a stunning tune inspired by the life and loss of Neal Casal, which we have the honor of premiering.
"I was hiding out in some cheap beach condo in Gulf Shores, Alabama and trying to write songs when I heard the news about Neal Casal's passing," Ramsey shared with Relix. "I was way up on a high floor of one of those giant beachfront condos and the sun had just set and I thought I saw a flare go off way out in the dark ocean. After I called to report what I thought I'd seen to the local cops, I sat and watched the dark horizon for a long time."
"Flare (For Neal Casal)" has a deeply reflective tone as Ramsey recounts his time looking out to the sea. Crooning warmly he pleads for assistance, "Somebody swim to me," but he remains distinctively alone, with his vocals accompanied only by distant percussion and hums. Despite the song's abrupt end, it captures an echo of the isolating and difficult feelings many struggle with and extends a hand, saying, you are not alone, "We are all sons and daughters."
Like the rest of the LP, the tribute to Casal was recorded at the Avast! Recording Co. in Seattle and produced by Phil Ek, known for his work with Father John Misty, Fleet Foxes, The Shins and Built to Spill. Each of the 10 tracks sees Ramsey, along with bassist Morgan Henderson (Fleet Foxes) and drummer Sean Lane (Ann Wilson), wandering gracefully across musical landscapes to free minds and souls through the undulating cadence of folk, rock and indie inclinations.
"Sometimes people need help and they never ask for it – sometimes people send signals out but those of us that might see them don't know what to do to help," Ramsey added. "I barely knew Neal, but somehow, I think of him often and miss what was only a potential future. Look out for each other out there."
The new track was written after Ramsey's hearing of Neal Casal's passing.  In conjunction with the track's release, Backline, a non-profit organization focused on providing customized mental health and wellness resources to the music industry and their families has announced that applications are now open for The Neal Casal Fellowship (2023-2024) though the Neal Casal Music Foundation. For more information, visit https://backline.care/neal-casal.
Listen to the premiere of Ramsey's "Flare (For Neal Casal)" below.
[embedded content]
Tyler Ramsey Tour Dates
10/13 @ Bourgie Nights | Wilmington, NC
10/14 @ Flat Iron | Greensboro, NC
10/21 @ Asheville Masonic Temple | Asheville, NC
10/22 @ Eddie's Attic | Decatur, GA
10/27 @ NeighborhoodTheatre | Charlotte, NC
2/20 @ Pearl Street Warehouse |  Washington DC
2/21 @ Milkboy | Philadelphia PA
2/22 @ Mercury Lounge | New York, NY
2/23 @ Space Ballroom | Hamden, CT
2/24 @ Faces Brewing | Boston, MA
2/27 @ Beachland Tavern | Cleveland, OH
2/28 @ Rumba Cafe | Columbus, OH
2/29 @ LO-FI  Indianapolis, IN
3/1 @ Shank Hall | Milwaukee, WI
3/2 @ Fitzgerald's Sidebar | Berwyn, IL
3/22 @ The Parish | Austin, TX
3/23 @ The Post at River East | Fort Worth, TX
3/26 @ The Casbah | San Diego, CA
3/28 @ Gold-Diggers | Los Angeles, CA
3/30 @ Bottom of the Hill | San Francisco, CA
4/1 @ Tractor Tavern | Seattle, WA
4/2 @ Polaris Hall | Portland, OR
4/3 @ Neurolux |  Boise, ID
4/5 @ Lulu's Downstairs | Manitou Springs, CO
4/6 @ Mercury Cafe | Denver, CO
4/8 @ Knuckleheads Saloon | Kansas City, MO
4/10 @ Hernando's Hide-A-Way | Memphis, TN