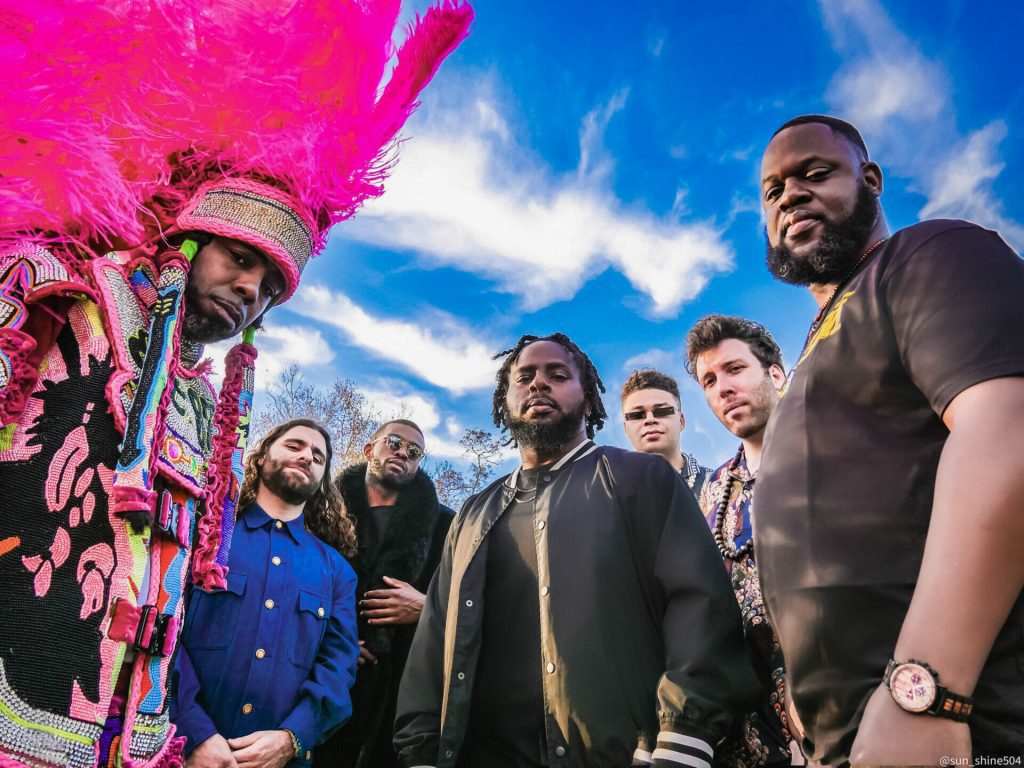 Photo by  Katherine "Sunshine" Johnson
The Rumble, a collective created by seven members of the multi-Grammy-nominated band Cha Wa – fronted by Second Chief Joseph Boudreaux Jr. of the legendary Golden Eagles Indian tribe – have a new live album Live at the Maple Leaf on the horizon set to release on May 19. The project was recorded live at the Maple Leaf Bar in their home city of New Orleans and is comprised of 14 tracks of pure Crescent City nectar.
During their performance at the Maple Leaf Bar The Rumble further the legacy of Mardi Gras Indian funk with trumpeter Aurélien Barnes and trombonist José Maize Jr. dousing the house in the gilded light of their brass while Boudreaux furthers the mystique of the culture through his presence and style. Through their steadfast stomping sound and grooving connectivity, the collection has the spirit of a parade contained within a building bursting at the seams.
Today Relix premieres "My People" off Live at the Maple Leaf an encapsulation of, and anthem to courage, preservation, and connection through unity. On the track, the inclinations of bassist TJ Norris, guitarist Ari Teitel, keyboardist Andriu Yanovski drummer Trenton O'Neal and the aforementioned Second Chief Joseph Boudreaux Jr., trumpeter Barnes, and trombonist Maize Jr. come together in bright and buoyant harmony in a way that bleeds New Orleans.
"'My People' is an anthem that celebrates the connection we all have to one another despite the hardships and disparities in life. Many people live life based on what they have that the next person doesn't, what they've been able to accomplish that the next person hasn't, or what those close to them have been able to attain," Barnes told Relix. "'My People' celebrates our kinship as human beings, while recognizing at the same time that we all have different paths and socio-economic situations in life. Some people are more fortunate than others and live a more comfortable life. Others have suffered poverty, discrimination, and torment. Despite these differences, we are united by the creator in our humanity, and in our mortality. 'My People, we still here, and one day we gon' all be in the same boat.'"
Through their performance of "My People" on that evening at the Maple Leaf Bar, The Rumble showed that the boat can be one of festivity, cheer, and noise – even right now.
Pre-save Live at the Maple Leaf here.
Listen to "My People" below.