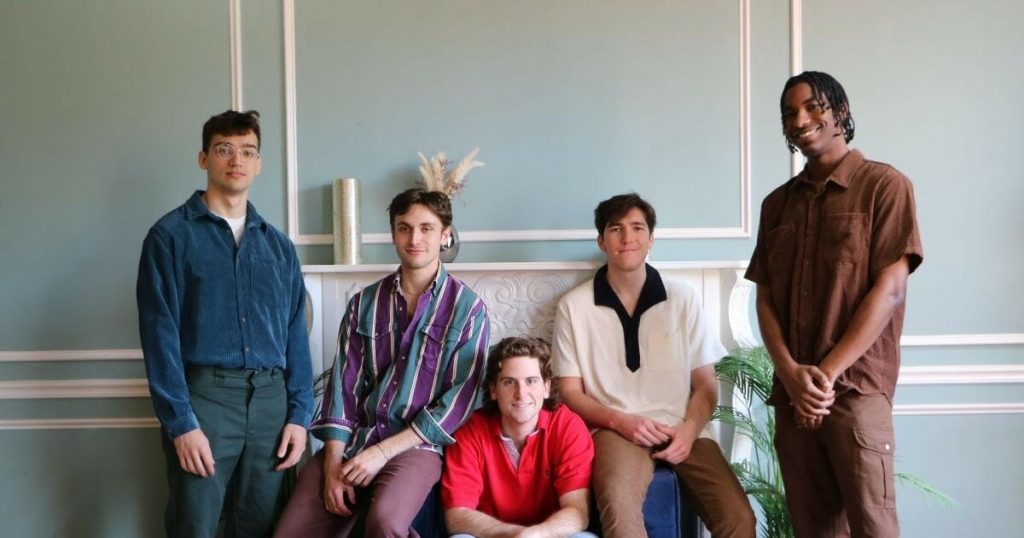 Photo by Logan Kelly
Hot off the heels of their pop-up performance at New York's Washington Square Park, funk, disco, jamband fusion ensemble Stolen Gin have announced a new single. The ensemble got their start in 2019 playing at college parties on the rooftops of New York City and have since locked into the digital space and the city's streets with their dance-inspired, raw, layered and flowing sound, which has been turning heads both online and now in parks.
Today, we premiere their new song titled "Drunk Ambition," a day ahead of its global release. The song, which was recorded at a DIY studio in Brooklyn, sees Stolen Gin–comprised of Jackson Lardner (vox, guitar), Evan Jacobson (saxophone, EWI), Will Adler (guitar), Josh Farrell (drums) and Sawyer Adler (bass guitar)–doing what they love the most: digging their heels in deep, letting loose and starting impromptu dance parties.
Of the song, the band said to Relix, "We love this music more than anything in the world, and we want to share it with as many people as possible. We love gigging, meeting new fans, and getting to listen to the sets of the bands we share the stage with. We hope to tour nationally as soon as possible, and to see as many different states, countries, and concert halls as we can."
They went on to add, "Our favorite part about the music has got to be those moments of magic that an improvising band can create: when you move creatively from one song to the next, in a way nobody expects, or when someone pulls out a cover that neither us nor the crowd knew was coming. When we create one of those unplanned and exciting moments for our audience, no matter how brief, we know that their night and ours was unique."
Notably, the band sold-out eight of their last sets in New York City over the past 18 months at venues like Brooklyn's Baby's All Right, the Lower East Side's Mercy Lounge and more. They also recently sold out their shows in Washington, D.C., and Boston and rounded out a tour with TAUK.
Listen to "Drunk Ambition" below.
[embedded content]