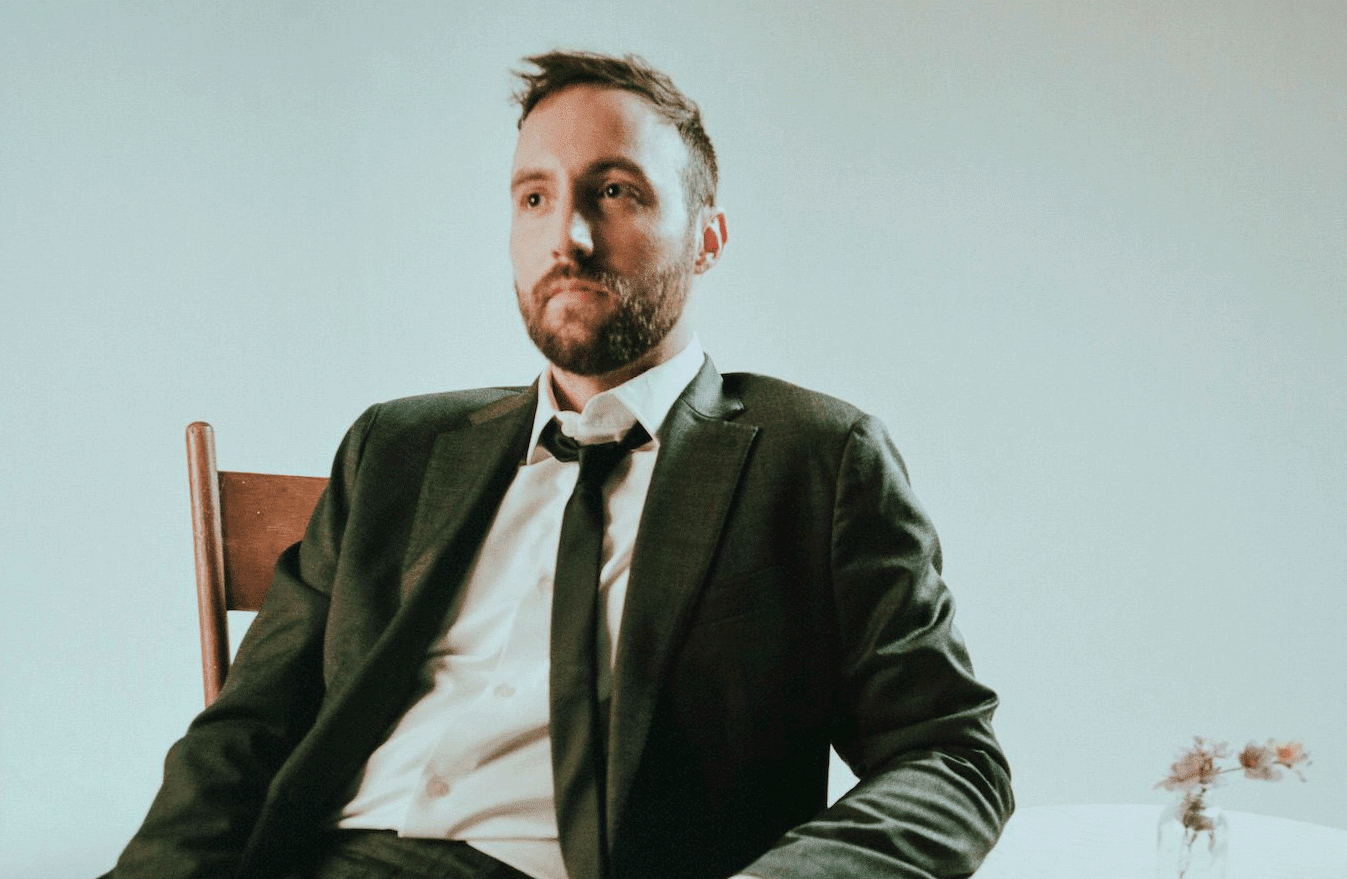 Photo: Alysse Gafkjen
***
Ruston Kelly wants a sweater. 
It's not a huge surprise—April in New York can be chilly. But this request is a bit more in jest than your normal, "It's chilly. I need a sweater" ask. It's a casual mention to one of the 20 or so fans who have bought a VIP experience for Kelly's show at New York's Webster Hall, where he's supporting The Weakness, his third album since 2018. He casually mentions that he'd like the sweater that one of the VIP dudes is wearing, and lo and behold, the guy starts undressing. Kelly is a bit taken aback and definitely tries to dissuade him to no avail. Like a rock star of yore, a piece of clothing (albeit a wool garment) is tossed up onstage, landing just at his feet. Kelly's still a bit shocked—who wouldn't be in 2023 regarding a chunky knit being tossed at you. But he graciously accepts it, having a stagehand come and take it for later. 
This short set is billed as a soundcheck, but it's really a solo acoustic performance. It gives Kelly a welcome chance to interact with fans who've come to adore his passionate and personal numbers. It's a built-in feature for every show this tour and has been for a few years. Kelly's incredibly charming, even when he's hoisted a few feet above the small crowd on a stage, with a barrier in front. And honestly, he feels way more like an audience member anyway—currently, he's wearing cut-off khakis that reveal checkered vans, a big-hooded sweatshirt and a ball cap. He mostly closely resembles someone who just clocked out of the skate shop in the '90s and will be on a half-pipe in a few. 
"I can't really speak for other artists, but I don't really see any other reason to do it other than to tour and to perform," he says a few weeks earlier, while sitting for an interview at his record label's New York office. "What else do you want? Do you want to be a millionaire? Do you want to be famous? I know that that's a goal for a lot of people. I've only ever been interested in getting to the stage." 
Kelly certainly doesn't feel like he is famous. In his dressing room after the VIP experience, he casually offers cashews to whomever might be hungry, introduces his dad—who will sit in with the band in a few hours—and gushes about one of his current favorite artists, New York-based singer-songwriter Samia. He loves to talk about other people's music. At the VIP soundcheck, a fan asks him about '90s music, and he professes his love for Counting Crows. He can go on and on about the joys of The War on Drugs and Dave Matthews Band, as well as the virtues of the songwriting industry in his adopted hometown of Nashville. If he wasn't that dude working in the skate shop, then he certainly could be that dude working in the record store that doesn't make you feel bad about whatever whim you're currently into. In fact, he loves it too.  
Case in point: "I was actually just having a conversation with my drummer," he says. "I convinced him to get a double[1]kick drum. That's a thing for a drummer. Most of them don't like that. Carter Beauford has a double-kick drum. And I was like, 'You need to listen to 'Tripping Billies' from Live at Red Rocks and tell me that that's not cool as shit.' So we brought in a double kick and it's very jamband—as much as a song person can do it. We have a song called 'Rubber,' and we take it really far out there. And he was like, 'Man, are we going to still do that?' That's because some of the drums on this record are very War on Drugs. They live in this one spot."
Kelly's clearly in a good place now, and when you're in a good place, talking about the virtues of kick-drum theory is easy and fun. There's a much bigger headlining tour on the horizon, where he'll play Radio City Music Hall and amphitheaters. But to get to that good spot, he certainly had to climb uphill and face more than a few demons.
***
If you search "Elmwood" or "Elmwood Band" on YouTube or Archive.org, then you'll discover Kelly's jamband past. Formed in 2008, Elmwood coalesced in Nashville, naming themselves after a street in town. Soon after the combo got together, they played a fateful show. 
"We got booked for one gig at this bar in Murfreesboro, Tenn.," says Kelly, who played guitar in the project alongside a bassist, drummer and saxophonist. "It was in the middle of a field. And there were four people there. And one of the people that was there was the son of the late Steve Dahl, who ran Paradigm Talent Agency. His son came up to us and he's like, 'Boys, I never do this. But I gotta tell my dad about you guys. You guys rule.' So the next week, I was in the office of Paradigm. We signed with them, and they put us on the road with Tea Leaf Green. I had just turned 19. We hopped in a van."
Elmwood would go on to support and share bills with several mainstays on the touring circuit, including Blues Traveler, The Wailers and Dave Matthews. They even played some arena gigs with O.A.R. But the band didn't last—Elmwood called it quits in 2011, with the age-old trope of "creative differences" being the reason. (You can find an old Elmwood message board online, and though it's a bit sparse, the articulation seems to be that Kelly didn't like the direction of the songs.)
Kelly then returned to Nashville, where he started working as a songwriter. He considered the experience more of a day job than a true creative outlet; he even clocked in at an actual office. Except he wasn't working with spreadsheets or making sales calls—he was crafting songs that could be pitched to musicians as potential hits. 
Kelly got the job randomly, after he met a girl when Elmwood was in Memphis for the Beale Street Music Festival. 
"We ended up dating for three-and-a[1]half years," he says. "I met her dad—this is about a year later. And he was like, 'Man, you got some really good songs. Have you ever thought about co-writing?' I was like, 'I don't even know what that is.' He introduced me to Curb Publishing and I played some songs for them. They liked it enough to set some co-writes up for me. The very first co-write that I did was with her dad and this guy Kyle Jacobs, who just passed away. And we wrote "Poured Some Whiskey" and "Nashville Without You," and I didn't think anything of it. Then he called me a week later and said, 'Tim McGraw's recording your song.'"
After Kelly received his paycheck for the McGraw number, a light bulb clicked on and he realized that you could make a living in Nashville writing songs. 
"There's a culture of publishing-circle people," he says. "Everyone knows everyone. You meet up at Tin Roof after 5 p.m., when you've clocked in at 9 a.m. and you've written a song or two. There's also a subculture to that—writers that were wildly successful but were very interested in writers like me that weren't successful. Hillary Lindsey, Lori McKenna and Natalie Hemby, people that wrote Carrie Underwood songs and Miranda Lambert songs and won Grammys—they kind of took me under their wing." 
That encouragement led Kelly to shift his sound from the combination of funk, rock and improv that Elmwood was known for to his current rawer, stripped[1]down, song-driven approach. His 2018 debut, Dying Star documented that new direction; it's a deeply personal record, filled with reflective, original numbers. 
However, at the same time that Kelly was growing into a for-hire songwriter, he was also wrestling with a drug addiction that was threatening to become all-consuming. He's been through counseling and rehab but says those recovery methods aren't really for him. He prefers to manage his addiction himself, focusing on living each day without interference. One can see that just by talking with him. He has a very focused presence and can make anyone he talks to feel like they are the only other person in the room. 
Around the same time, Kelly also made headlines due to his personal life. In 2016, he met fellow Nashville musician Kacey Musgraves and they tied the knot the following year. However, Musgraves' career was taking off into a different stratosphere, and their marriage ultimately only lasted until 2020.
All of these moments have served to fuel Kelly's third and most personal LP, The Weakness. Released this past spring, the album's 12 selections feel less like sappy Nashville twang and more like a mixture of Tom Petty rockers and early alt-country Wilco bangers. Cuts like "St. Jupiter," "The Mending Song" and the title track, "The Weakness," find Kelly in a mature space, where he's learned to control the slight drawl in his voice. On the ballad "Let Only Love Remain," he emotes the tenderness and depth of a worn veteran. And although he's just 34, in a lot of ways, he is a veteran who's now found his voice—able to offer a deep, introspective look at the human condition, with a wink of irony here and there. 
To get The Weakness going, he moved into a house by himself in the small town of Portland, Tenn., where he says survival skills were of the utmost importance. "I moved there with a singular purpose— to get out of town," he says. "And, you know, I moved there to get to know myself better. I was writing [songs] because I didn't know if there's going to be touring in the future. I didn't know what the future was gonna look like. And it was the first time in a while that I had started writing from a place of necessity."
***
Backstage at Webster, Kelly feels a bit sheepish about taking the guy's sweater. During the seconds-long conversation, it was revealed that the sweater was purchased that day. So in theory, this was a new concert sweater, bought specifically to debut this night. Though Kelly feels a bit bad about the whole thing, that quickly dissipates because it's these moments he's striving for. Three albums in, Kelly sees a very direct path that harkens back to his days growing up listening to Radiohead or playing in Elmwood. 
"I wanted to make a record that would level myself up," he says. "To me, it's all in service to tickets. 'The Weakness'—that's a song you can play at a sold-out Red Rocks show; it belongs on a big stage. I took that mentality into this record, and was like, 'Man, if we can make a singer-songwriter record sound like a rock show, what's it gonna sound like if we add some rock elements to the record?'"
Onstage later that night, Kelly dazzles a packed house. Kelly's fans have become exactly what he's been hoping for over the years; they cling (and sing) to every word he's emoting. He loves to thrash around during his performances, too—whether singing the ubiquitous 2000s Wheatus hit "Teenage Dirtbag" or the self-deprecating "Michael Keaton," where a bad take with CBD led his mind into equally bad places. 
"The people that buy VIP tickets are typically the hardcore fans," he says. "The type of fan that I have—it's really inspiring. What I understood was, it wasn't about me. They're coming to see me in my songs. But it's about the experience that they're having with something that I created. [The songs] don't belong to me anymore. They belong to the mother of two who pulled enough money together to get a babysitter so she could drive three hours to come and see me play because her husband died and she listened to 'Brave' through it. That's amazing."