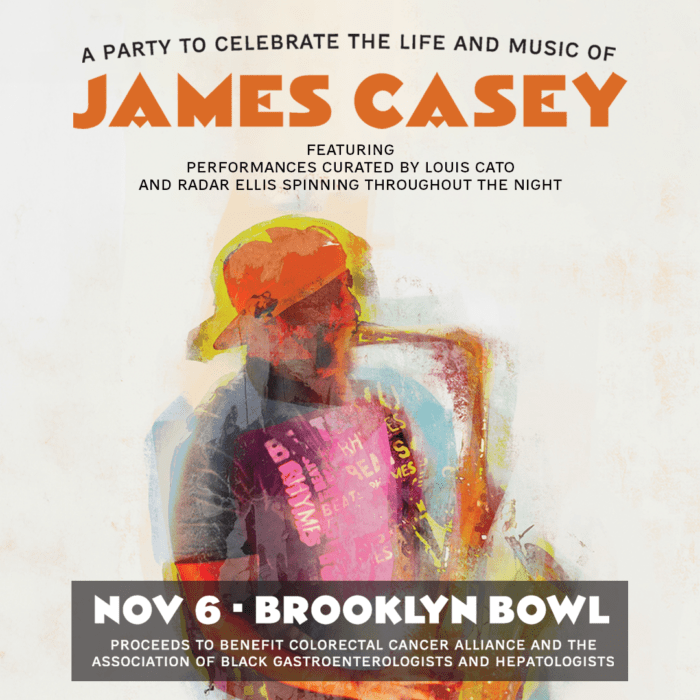 Brooklyn Bowl's upcoming concert in honor of the music and life of the late saxophonist James Casey on Monday, Nov. 6, will be livestreamed via FANS.live. The special event in New York will reflect Casey's views on life and, instead of a traditional memorial service, will be a celebration of community and music with hopes of bettering the world.
Those who cannot attend in person and choose to enjoy the show on FANS.live are also able to donate on a what-you-want basis via the website. A line of limited-edition James Casey merchandise has also been released online and will be available on-site for attendees at the Brooklyn Bowl. Merchandise includes commemorative James Casey hoodies, t-shirts, beanies, enamel pins, and posters, all available now via the Relix Marketplace.
The venue will also have special merchandise, including copies of Casey's EP A Little Something for Everyone, hats from Grassroots California designed by Casey and more. The hats will be available on Grassroots' website starting tomorrow, Nov. 3.
The concert will feature musical performances arranged by Louis Cato and DJing from Radar Ellis, who will spin some of Casey's most beloved tunes throughout the evening. The event, billed as an Evening of Joy, will donate the proceeds to colon cancer organizations, including the Colorectal Cancer Alliance (CCA) and the Association of Black Gastroenterologists and Hepatologists (ABGH).
Casey was a longtime member of Trey Anastasio Band and often guested with Grateful Dead ensembles, including Phil Lesh and Friends, along with Billy and the Kids. His unique gift of seamlessly bridging musical worlds–that led to credits with J.Cole, Lettuce, Phish, Danger Mouse and more–will surely be represented on stage during the upcoming event.
Learn more and find tickets here. Livestream the event via FANS.live here.