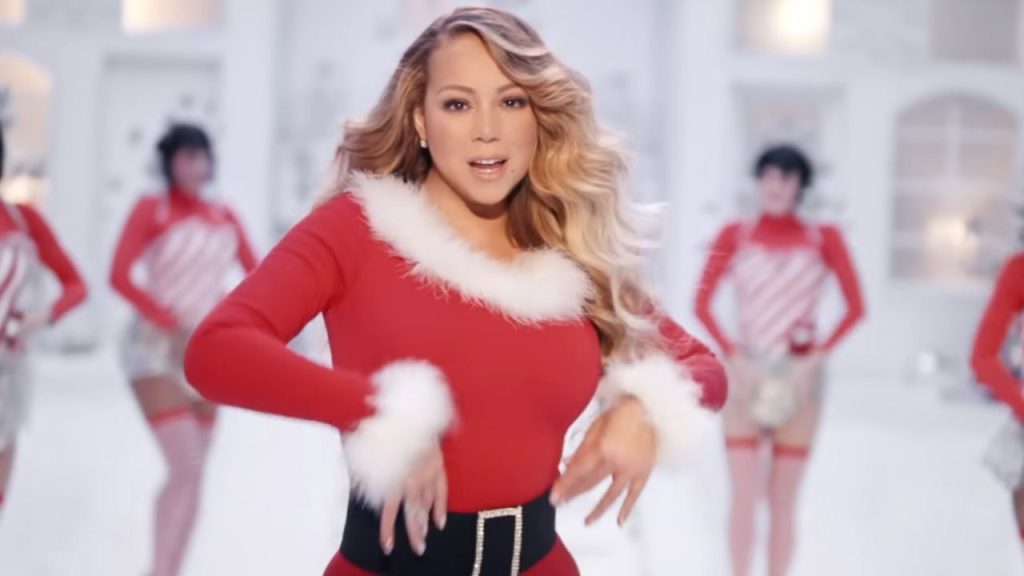 Mariah Carey finds herself embroiled in yet another legal battle. Country pop singer Andy Stone, who released a song titled "All I Want For Christmas Is You" in 1989, is suing Carey again for a whopping $20 million in damages. 
Mariah Carey Hit With Another Lawsuit
Mariah Carey has once again found herself in the legal spotlight over her beloved holiday hit, "All I Want For Christmas Is You." 
It all started with country pop singer Andy Stone, who released a song with the same title back in 1989. Despite the shared name, the two songs are not the same. Stone initially sued Carey in June 2022, but later dropped the claim five months later. 
However, he has now refiled the lawsuit, accompanied by Troy Powers, seeking a staggering $20 million in damages. According to the filing, Stone and Powers claim that Carey copied the composition of Stone's 1989 song.
Same Title, Yet Different
The lawsuit highlights substantial similarities in the lyrical hook, melody, and overall feel between Stone's original track and Carey's iconic Christmas anthem. While Stone did not originally curate the song title, the two artists assert that the similarities are between his and Carey's.
It's important to note that while Stone's and Carey's songs share the same title, they are distinctly different compositions. Despite this, Stone and Powers believe there are enough resemblances to warrant legal action and seek substantial compensation.
Mariah Carey has yet to publicly comment on the lawsuit.
Updated By: Yasmine Duhé (11/2/23 at 3:30 pm)
Mariah Carey Fans In Uproar After Hearing About $20 Million Lawsuit Over "All I Want For Christmas" Song
Mariah Carey has been sued by Vince Vance & the Valiants band member, Andy Stone, for copyright infringement of the well-known Christmas song "All I Want For Christmas Is You".
That's SOHH Petty!
Singer Mariah Carey has been sued for $20 million over the copyrights of the impactful 1994 hit, "All I Want For Christmas Is You".
The lawsuit was created by Andy Stone, who came out with his version in 1989 as a member of a country-pop group named Vince Vance & the Valiants. In documents, he claimed that the "Obsessed" singer and her co-writer  Walter Afanasieff "knowingly, willfully, and intentionally engaged in a campaign to infringe Stone's copyright for the song. They also claimed that Carey and others carried out "acts of unjust enrichment by the unauthorized appropriation of the plaintiff's work and the goodwill associated therewith."
The song has enjoyed success in streaming and has recently been on the Billboard charts since 2019.
As of now, Carey or her representatives have not responded to the claims in the lawsuit.
Some of the Mariah fan club members were displeased with the news. A Twitter user said:
'Does this unknown artist know that Mariah Carey sued her ex-boyfriend for wasting her time and won?! Does she think she has a chance?! Never come for Mariah."
Another user said:
"This is the same as if Mariah sued Taylor Swift for Shake It Off same name, completely different songs. BYE"
Singer H.E.R. also got sued last month for copyright infringement of her song "Focus" and was accused by Andre Sims of sampling his song "Endless Minds" without permission.
H.E.R. Sued For "Focus"
Grammy award-winning singer H.E.R is back in the courts with another copyright lawsuit. Andre Sims, the songwriter, and piano maestro filed the first suit. He claims the song "Focus" on H.E.R's debut album sounds similar to his smash hit "Endless Minds." 
Now, Grammy-winning group Take 6 is claiming the songwriter-producer sampled their music without permission or compensation. The song in question – "Could've Been" – is on H.E.R's debut self-titled album.
The multi-count lawsuit named David A. Harris, David A. Harris d/b/a Progressive 86, Jeff Robinson d/b/a SLIH Songs, Sony ATV Sounds, LLC, and Sony Music Entertainment Inc. for copyright claims. 
Attorney James L. Walker, Jr., lead counsel on the case on behalf of Take 6, described the group's history and demanded restitution for the alleged sampling of their hit song "Come Unto Me."
Originally Written By: Kendall Parks